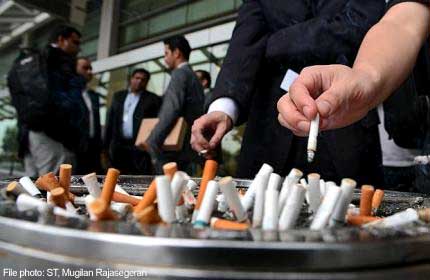 SINGAPORE - Singapore first went on the offensive against smoking in 1970, when it was banned in cinemas and on buses.
In 1971, Singapore became the first country in the world to ban tobacco advertising.
Fifteen years later on Dec 1, 1986, the Ministry of Health launched the National Smoking Control Programme, with the aim of making Singapore a nation of non-smokers. Back then, about 20 per cent of Singapore's residents were smokers. Today, 14.3 per cent of adults aged 18 to 69 smoke. The Health Promotion Board (HPB) hopes to lower this to below 10 per cent by 2020.
In support of the 1986 campaign, then-Prime Minister Lee Kuan Yew recounted in a TV interview how he lost his voice after smoking 30 cigarettes in one evening in 1957. He quit to preserve his voice.
In 1994, smoking was banned in all air-conditioned private offices and factory floors.
In 2004, Singapore introduced gory images on cigarette packets, the first country in Asia to do so.
In March 2012, HPB launched the Blue Ribbon Movement under which organisations voluntarily declare their premises 100 per cent smoke-free. Thirteen hawker centres and seven hotels, among others, have joined in.
In January last year, the National Environment Agency expanded the smoking ban to cover common areas in all residential buildings, a 5m radius around bus stops, and outdoor areas of hospitals.
This month, Nee Soon South, a Yishun estate of 50,000, became the first non-smoking constituency in a pilot project which makes all its public areas smoke-free.