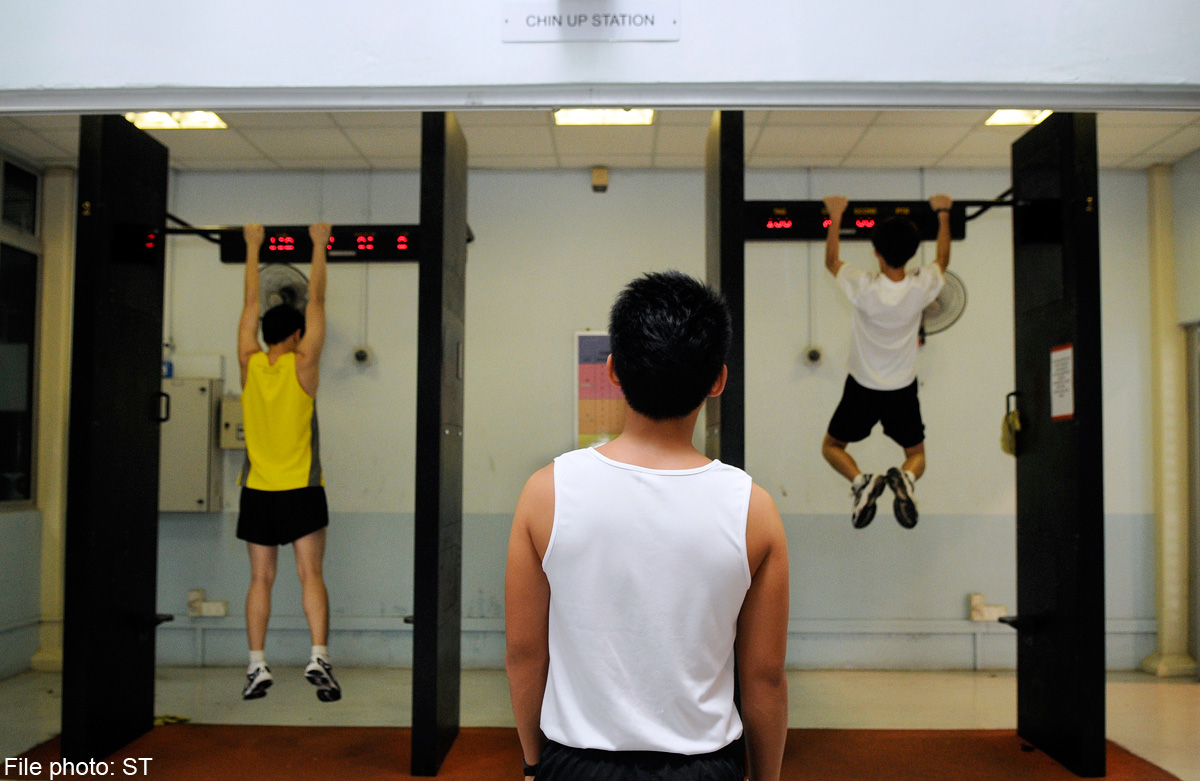 SINGAPORE - As journalists, we have always been reminded that the golden rule in writing is to Kiss, or Keep It Simple, Stupid.
The Singapore Armed Forces seems to be following the Kiss approach with its latest decision to put one of its sacred cows of combat fitness standards, the Individual Physical Proficiency Test (IPPT), under review.
The move is the first in more than 30 years. The last one resulted in today's IPPT, which has five stations: the chin-up, the standing broad jump, the sit-up, the 4x10m shuttle run and the 2.4km run.
Defence Minister Ng Eng Hen, in his interview with the media ahead of SAF Day, hinted at a simpler test format, with fewer stations.
But if a majority of militaries are already using simpler tests with fewer stations, is there a need to let the SAF's golden standard for fitness assessment remain more complicated, asked Dr Ng.
This rings particularly true for the 300,000-plus operationally ready national servicemen (NSmen) who form the backbone of the SAF.
Besides juggling daily work commitments, some already find that they have to jump through hoops just to get in shape.
According to Mindef, about 50 per cent of NSmen pass their IPPT every year.
Paring down complicated test criteria, which arguably may not be accurate indicators of how fast one can clear battle obstacles, would be a relief to those who falter - and many have - in some stations like the standing broad jump.
Granted, some citizen soldiers who grumble may really be unfit. But there are also those who hit the gym every other day and can outrun and outpull most people, yet can't reach the broad jump's 216cm passing mark.
To the SAF, they are centimetres away from fitness and have to undergo remedial training.
For many professionals with 9-to-7 work routines, shuttling to and from these far-flung camps for the dreaded extra training can be a chore, which, in turn, breeds resentment against the IPPT, turning it into the notorious four-letter word.
The Defence Ministry has insisted the IPPT serves as a "baseline measure of physical fitness", even amid questions about IPPT's relevance and accuracy as a yardstick of one's fitness.
As Dr Ng noted, fitness cannot be seen as "an imposition or a test" but as "a lifestyle".
The aim is to allow more NSmen to "train in their own environment for types of exercises which are just simpler to do", he added.
Relooking the IPPT, while bold, is necessary, at a time when sweeping changes to national service are afoot to ensure the rite of passage remains relevant and responsive to a new generation of servicemen who report for duty with different lifestyles, habits and a different psyche from those of their predecessors.
The changes, proposed by the Committee to Strengthen National Service, are aimed at easing the impact of NS commitments on the lives of citizen soldiers.
For instance, NSmen need to notify the authorities of their overseas trips only if they are longer than 14 days, and they have up to twice the current timeframe to pass their IPPT and complete remedial training.
That the SAF is now simplifying the IPPT format and easing restrictions on physical training signal its willingness to better listen and engage citizen soldiers.
Gone are the days when you build a man by first breaking him down and putting him through a battery of rigorous tests.
Making them more responsible for their own fitness empowers national servicemen to take ownership of their well-being and the country's defence.
Folks who think that the SAF is going soft on its combatants, or, worse yet, lowering fitness standards at the expense of the nation's defence, might be missing the point.
The changes are not aimed at removing the painpoints to make the test easier, Dr Ng was quick to point out.
The starting point, he said, is still to keep the IPPT as the measure of fitness standards, even though "it is not a be-all-and-end-all of fitness".
"We want a fit SAF, we want fit NSmen," added Dr Ng.
Indeed, in attempting to keep IPPT simple, the SAF shows it is not stuck in its ways, but that it is practical and pragmatic about people's changing needs.
But Dr Ng is perhaps prescient when he said it won't be the last word of the conversation.
jermyc@sph.com.sg

Get MyPaper for more stories.