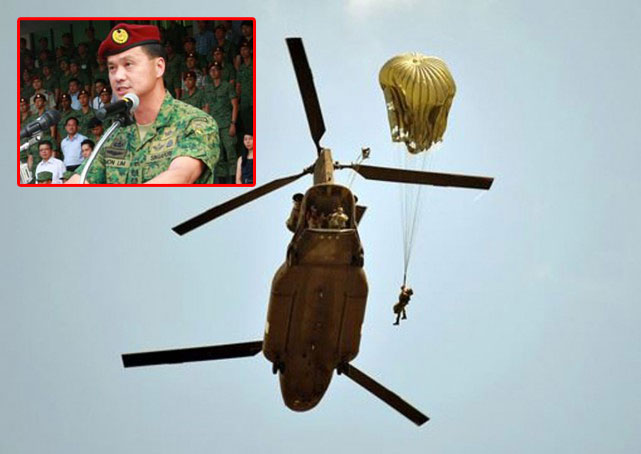 Update: The Ministry of Defence (Mindef) has released an official statement regarding the outsourcing of parachute rigging.
SINGAPORE - Has the task of packing parachutes for the Singapore Armed Forces (SAF) been outsourced to Chinese contractors?
That is what at least one Singapore netizen Leslie Ang claims, in a Facebook post made on Jan 10, which has since been shared more than 900 times. 
Mr Ang took issue with the SAF's airborne capability being made known to foreign contractors.
He wrote: "We are, literally, placing our lifes (sic) in foreign contractors' hands when we leap from the plane?"
The role of packing parachutes has long been a job of the SAF Riggers, a small, specialised unit established in 1974, and who have all undergone a 10-week long Basic Riggers Course.
Requiring meticulousness and no room for mistakes, the job involves pleating the parachute, and packing, stacking and folding it.
Riggers must also make a jump with a parachute they have packed themselves.
Mr Ang ended his post by saying that he had "sworn an oath to defend my country against enemies, foreign and domestic". He added: "Little did I realise the ones who sold me out are the ones who outrank me."
In a separate post, another netizen who claimed to be a former parachute rigger corroborated Mr Ang's post.
She wrote that the job is indeed done by Chinese contractors but that the SAF Riggers perform multiple checks and certify that the parachutes are eligible for use.
AsiaOne contacted Mindef to verify the claim made by Mr Ang. It released the following statement:
"Some of you may have seen online speculation about the packing of the SAF parachute. Here's what Chief Commando Officer, Colonel Simon Lim, says:
"The SAF continues to fully employ its Riggers, particularly for key operations and training. In order to optimise our resources, we have outsourced the parachute-packing function to Singapore Technologies (ST) - a reputable local company.
Many of ST's parachute-packing staff themselves are former Riggers from the Commando Formation, and all of ST's parachute-packing staff are trained and competent in their roles. The training that they undergo, conducted by the SAF Master Rigger, is benchmarked against the United States Federal Aviation Administration (US FAA) standards.
The SAF Master Rigger certifies ST's staff to pack the parachutes, and closely supervises the packing process. All equipment for our specialised operations pass quality assurance checks and adhere to stringent safety procedures. The packing and inspection of the SAF's parachutes, whether by our SAF Riggers or ST's staff, is benchmarked against the international standards set by the US FAA.
ST has been packing parachutes for us since 2010, and there have been zero parachute reliability issues. We are confident that this arrangement allows us to optimise the deployment of our SAF Riggers, whilst meeting the full operational and training needs of the SAF Commando Formation.""
prabukm@sph.com.sg