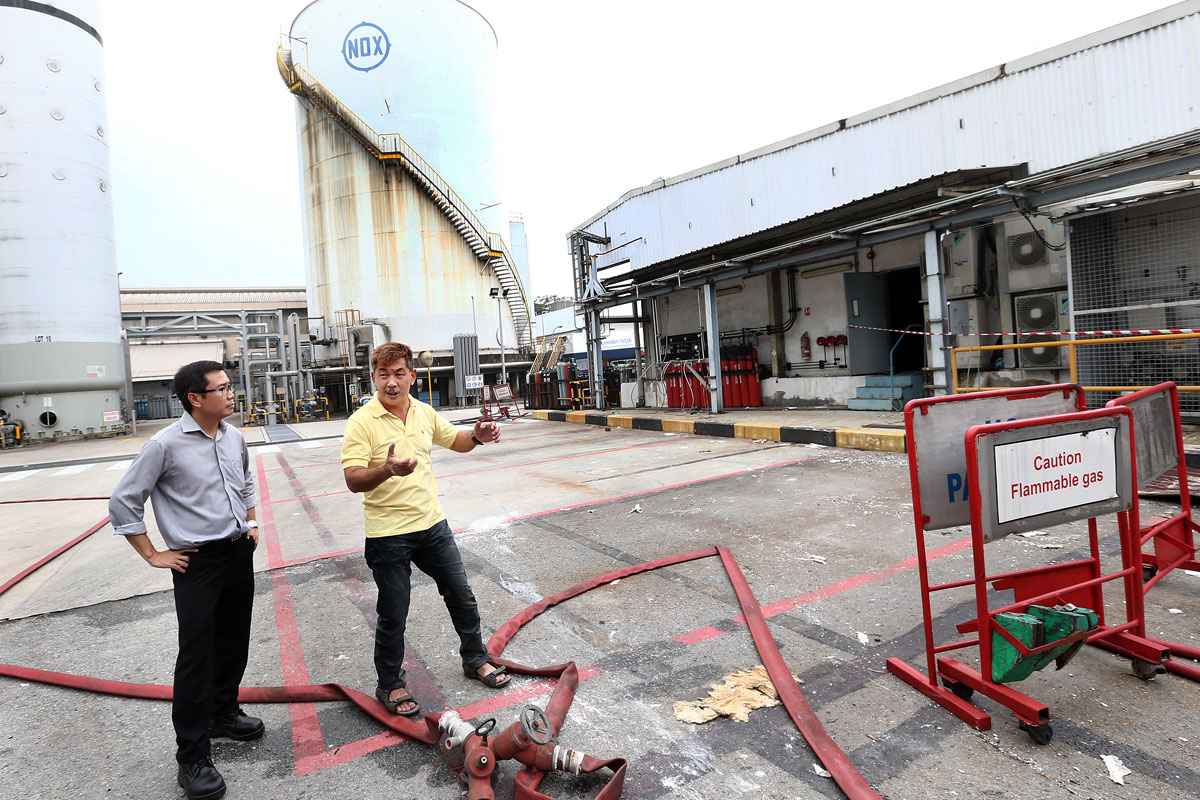 As he ran towards the laboratory where the fire was raging, Leeden safety officer Nelson Poh was alarmed when he spotted two trailers loaded with red cylinders parked near the scene.
He recognised the red cylinders as those used to contain the flammable gas hydrogen, and immediately shouted for the trailers to be moved away, averting another possible explosion.
Mr Poh, 58, and safety manager Lee Mun Hong, 45, were speaking to reporters yesterday afternoon at a press conference held by the company at its Shipyard Road office, recounting the events of Monday's fire.
Mr Poh's actions were "a good call", according to former chief fire and security officer Ramasami Sundaresan, 68, principal consultant at a London-based firm specialising in emergency preparedness, risk management and incident investigation.
Mr Ramasami said: ""When you put a pressurised gas in a container near a source of heat or flame, there is potential for an explosion to occur.
"Furthermore, if the cylinder content is a flammable liquid, it could result in a fireball.
"So his quick thinking prevented things from getting worse."
Mr Poh, who said he was with the Republic of Singapore Navy for 30 years, was one of the first people who responded to the industrial fire at Leeden National Oxygen's Tanjong Kling plant.
He had heard the first explosion and cycled over from Leeden's Shipyard Road plant, about 600m away.
"It was the fastest I've ever cycled that route," said Mr Poh, who is also part of Leeden's Company Emergency Response Team (Cert).
"On the way, I just kept thinking, 'How bad is the fire? How bad is the fire?'"
He saw smoke and flames coming out of the single-storey building and sprung into action.
EQUIPMENT
Mr Poh headed for the nearest fire hydrant and fire cabinet to get the necessary equipment.
Mr Lee said the laboratory is used for analysing flammable and inflammable gases but was unable to state what gases were present at the time of the fire, saying that investigations are still ongoing.
Mr Poh said: "Initially, I wanted to go into the lab but I didn't have the right protective gear, so I just fought the fire from the outside."
About five explosions went off while Mr Poh and nine other Cert members battled the flames.
Mr Poh, the father of two grown-up children, said: "I'd be bluffing if I said I wasn't scared - every time an explosion went off, my heart skipped.
"But I wasn't thinking about my family or my own safety, I was just thinking that I must carry on and contain this fire."
As he fought the fire, Mr Lee, who is also a Cert member, alerted the Singapore Civil Defence Force (SCDF) and helped to ensure that the rest of their over 400 colleagues evacuated safely.
He also activated the Carbon Dioxide Suppression System to help quench the flames.
Mr Poh, who is the Cert leader, estimated that he and his team fought the flames for close to 15 minutes before the SCDF arrived.
"I was already feeling dizzy from the fumes and the smoke. So when the SCDF arrived, I passed everything over to them and I blacked out," he said.
When asked why he was willing to disregard his own safety in yesterday's fire, Mr Poh said: "This company is my first home. If I don't protect my first home, I can't have my second home."
He also said that family and friends have been messaging him to praise him, calling him a "hero". But that isn't a title he wants.
"Don't call me a hero. Heroes don't live long. I was just doing my job," said Mr Poh.

This article was first published on October 14, 2015.
Get The New Paper for more stories.