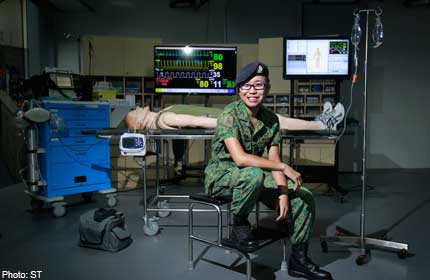 SINGAPORE - Dissatisfied with her humdrum stint in a paediatric ward, nurse Kong Hui Yun decided to switch to a military career and a more fast-paced emergency department.
She was drawn to the prospect of treating casualties on the front line, after chancing upon an advertisement about the Singapore Armed Forces' overseas deployment in Afghanistan in 2011.
"I wanted to experience the thrill and adrenaline, working against time and resources to treat war injuries," said the 27-year-old, who worked for more than three years in hospitals here.
She traded her nursing whites for green fatigues last year, hoping to emulate one of her heroes, Florence Nightingale, and tend to wounded soldiers.
She joined the SAF's Military Domain Experts Scheme, in which she would be a medical military expert.
Despite being offered a senior military expert rank, she requested to start from scratch before moving up the rank structure.
"I wanted to be with the men and get hands-on experience in the medical centres, rather than do administrative work in the medical corps headquarters," said Military Expert (ME) 1-2 Kong. She has not looked back since.
Today, she is the second-in-charge at one of the busiest SAF medical centres in Pasir Laba Camp. Since her posting last October, she has attended to soldiers with respiratory problems, fractures, seizures and fainting spells.
She has also been mentoring medics under her, teaching them how to bandage or handle casualties better.
The avid motorcylist, who rides a CBR 150 bike, said: "The discipline and regimentation in the military suits me and I definitely am more motivated to put in my best, and hopefully inspire more people to join."

Get the full story from The Straits Times.