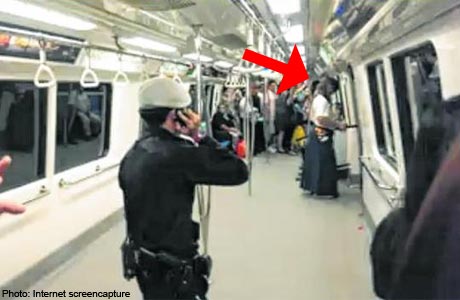 SINGAPORE - This man, dressed in a samurai outfit with a matching sword, alarmed MRT commuters yesterday afternoon.
He had jumped the fare gate at Paya Lebar Station at 12.30pm, before alighting at Dhoby Ghaut while being tailed by police.
An eyewitness told MyPaper he ended up in Victoria Street, where he unsheathed his sword and threatened police officers.
The man's costumed jaunt ended at 12.45pm, when he was arrested near Jalan Pisang after a chase on foot.

Get MyPaper for more stories.
Here is the media statement by SMRT posted on their Facebook page:
We have been alerted of the incident which took place at 12:30 pm at Paya Lebar MRT station where a male passenger dressed in a samurai outfit jumped the fare gate and brought a samurai sword on board our train. Our staff informed the police immediately. The male passenger was apprehended at 12:45 pm around Bugis MRT station, and the incident is now under Police investigation.
Passenger safety is our priority and we do not tolerate abhorrent behaviour nor allow offensive weapons to be brought on our trains. Passengers who witness such acts should activate the Emergency Communication Button to communicate with the Train Captain, who will in turn report the situation to the Operations Control Centre. Station staff at the nearest station will render immediate assistance and will alert the police and security staff.