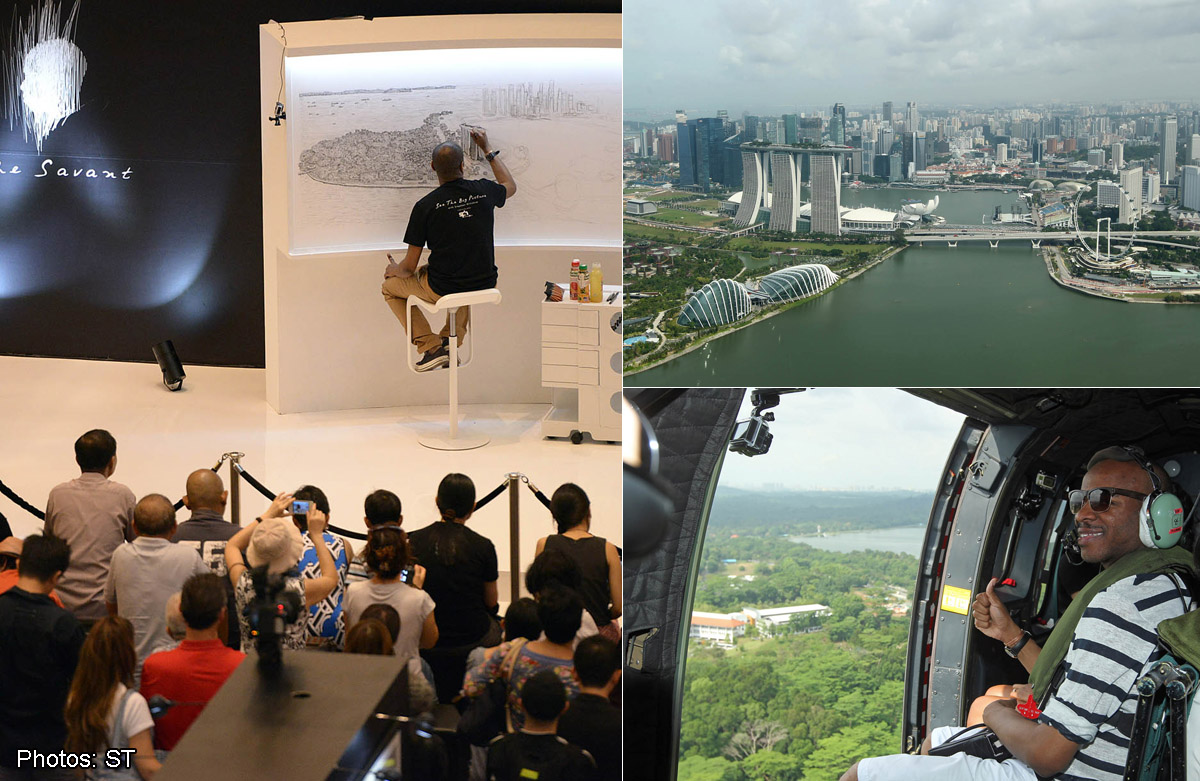 SINGAPORE - A British savant known for his ability to draw a cityscape from memory arrived this week in Singapore where he will put his skills to the test.
Mr Stephen Wiltshire began his first-ever visit to the Republic yesterday with a tour of Chinatown and the financial district.
"It's a nice city, it's very historic," said the 40-year-old, who will spend a week here. "I like the tall buildings best."
Mr Wiltshire, who was diagnosed with autism at the age of three and travels with his older sister Annette, will be drawing a 4m-long panorama of the city from memory.
Visitors can watch him doing so - and view some of his previous works - at the main atrium of Paragon from tomorrow to July 20 as part of a Singapore Press Holdings (SPH) 30th-anniversary celebration event called See The Big Picture.
During yesterday's tour, Mr Wiltshire tried durian - which he did not like - chicken noodles and ice kachang, and also took some photographs of buildings and sights that he liked.
"The walking tour helps me to understand the city," he said.
Today, he will get a bird's eye view of the skyline on a helicopter ride sponsored by the Republic of Singapore Air Force in preparation for his drawing.
The finished artwork will be formally presented by SPH to President Tony Tan Keng Yam in September, as a gift to Singapore for the nation's 50th birthday next year.
Ms Wiltshire, 42, a jewellery designer, said they are enjoying their visit so far.
"Sometimes, you can visit places and you feel like you're an outcast," she said.
"Singapore is very international so you fit in and you feel comfortable."
A spokesman from the Singapore Tourism Board said the agency, which helped plan Mr Wiltshire's tour, hopes that he will take home great memories of his trip here to share with his family, friends and fans.
"We had suggested the itinerary for Stephen's visit based on Stephen's interest in architecture, as well as our insights on experiences which appeal to travellers from the United Kingdom," the spokesman said.
joseow@sph.com.sg
This article was published on July 15 in The Straits Times.


Get a copy of The Straits Times or go to straitstimes.com for more stories.