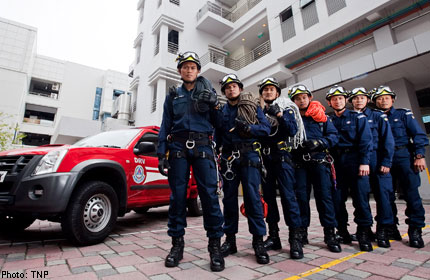 The Singapore Civil Defence Force (SCDF) can now override MediaCorp's free-to-air radio and television programming at any time to broadcast emergency messages. This means time-sensitive alerts, such as in the event of a chemical leak, can be delivered even quicker now.
Second Minister for Home Affairs S. Iswaran announced the setting up of this new system on Sunday.
Previously, emergency broadcasts would have been available in full only on radio, with MediaCorp screening scrolling text on TV. With the new system, SCDF can now control the broadcasts and the scrolling content directly from their headquarters.
"During life-threatening situations, the speed with which emergency notices and information are disseminated to the masses is critical.
This system will be used only during an incident that poses an immediate threat to the lives of the affected population," said Mr Iswaran, who is also Minister in the Prime Minister's Office and Second Minister for Trade and Industry.
A 90-second test message on the new system was aired on Sunday on television and radio, after the Important Message signal was sounded via the Public Warning System (PWS) sirens at 12.05pm.
The message explained the various signals that PWS delivers.
Mr Iswaran's announcement came in his opening speech at this year's SCDF Day parade and Singapore- Global Fire Fighters and Paramedics Challenge, which saw a record 17 international organisations from 14 countries taking part. First-timers included teams from England, Nepal and the United Arab Emirates. Competitors pitted their fire-fighting and rescue skills, from car crash extrication to medical intervention, against one another. It was also a chance to exchange technical expertise.
Said London Fire Brigade crew manager and participant Eddy Russell, 48: "Everyone wants to create and share best practice details.
It's been a real privilege to come here."
Referring to the Civil Defence Academy at Jalan Bahar, he added: "The standard of training here is brilliant, the actual training centre is fantastic, better than anything that we've got in London."
hpeishan@sph.com.sg
Get a copy of The Straits Times or go to straitstimes.com for more stories.