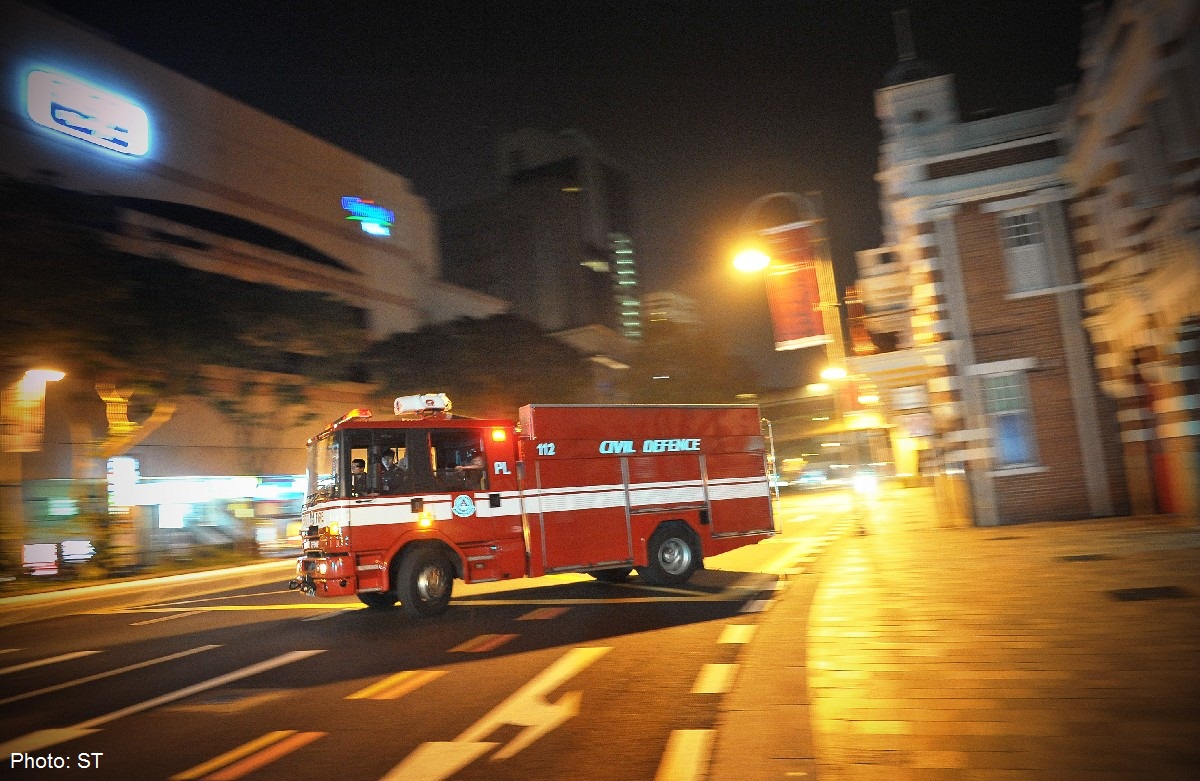 Civilians may soon take over some of the disciplinary functions within the Singapore Civil Defence Force (SCDF).
These duties include carrying out urine tests on SCDF servicemen and keeping tabs on or arresting those who go absent without official leave (Awol), according to recently released documents.
While the force has already outsourced administrative tasks such as cooking, cleaning and logistics, this will be the first time it has looked to hiring commercial companies to take over key areas such as regimentation and discipline.
Details of the plan were contained in a document issued last month by the SCDF, asking companies for quotes on how much it would cost and how many people would be needed to:
Manage and escort up to 600 absentees to and from places such as hospitals and police stations;
Search and arrest personnel who go Awol;
Conduct at least 100 urine tests daily to check for suspected abusers of controlled drugs; and
Work with the police's K9 dog units to conduct monthly anti-drug raids on SCDF premises and personnel.
Responding to queries from The Straits Times, the SCDF confirmed that it is "exploring the option of outsourcing the Urine Test Section and Escort Team, under the Provost Unit". 
Its spokesman said: "We are in the early stages now of conducting market testing to determine if outsourcing of these functions is feasible."
Outsourcing would allow it to make use of commercial companies' "more advanced facilities and know-how, and at the same time enjoy economies of scale".
She added that the SCDF has already outsourced some jobs, including the management of its warehouses.
It has also farmed out part of its emergency ambulance service to private operators and contracted out the maintenance and repair of its vehicles.
Handing overless-critical roles to civilians is also something that the Singapore Armed Forces (SAF) has been doing for nearly 40 years, leaving its servicemen to focus on core operational tasks. For example, handing over SAF cookhouses to contractors more than 10 years ago freed up more than 750 soldiers. Outsourcing aircraft maintenance in the 1990s freed up about 1,600 air force personnel. 
The practice of outsourcing also saves the SAF millions of dollars a year.
In 2004, Defence Minister Teo Chee Hean, who is now also Deputy Prime Minister, described outsourcing as a key cost-saving measure.
Outsourcing accounted for about 10 per cent of annual defence spending then, or more than $800 million, with aircraft maintenance and food catering making up the largest contracts.
More recently, the SAF has outsourced the running of its firing ranges. Civilian fitness instructors are now training recruits for their Basic Military Training.
Government agencies here, such as the police, Prisons Department and the Immigration and Checkpoints Authority, have also done some outsourcing.
A Home Affairs Ministry spokesman told The Straits Times that the ministry's outsourcing efforts "have not compromised our operational goals, service delivery standards and information integrity"

This article was first published on April 2, 2011.
Get a copy of The Straits Times or go to straitstimes.com for more stories.