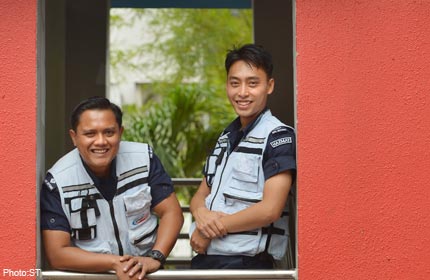 TACLOBAN - People were fleeing Tacloban city, trying to escape the path of the impending Typhoon Haiyan as it approached the Philippine coast earlier last month, but two Singapore Civil Defence Force (SCDF) rescuers were headed right into the storm.
Deployed as part of a UN Disaster Assessment and Coordination team, Captain Mohammad Fhadley Meselan and Warrant Officer Mohamed Ridzal Mohamed Hussein were there to help provide the rescue teams in the Philippines with information technology and communications support.
Both were seasoned firefighters but nothing prepared them for the scale of devastation they saw when they first arrived in Tacloban city.
"It was ground zero," said Capt Fhadley, 34, who arrived on Nov 10. "The flood was up to my thighs, and there were dead bodies all over the road. It was the smell of death."
It was the first overseas assignment for WO Ridzal, who arrived there a day earlier.
Holding up a pair of Ray-Ban sunglasses, the 30-year-old father of three said: "My wife gave me these as an anniversary present when she sent me off at the airport. I used them every day - it made me feel like she was with me."
Due to the lack of amenities, the two men had to survive on just biscuits and water for about three days. On the fifth day of their deployment, they were tasked with finding the three Singaporean university students reported missing in Leyte province.
After combing the Tacloban city airport, WO Ridzal found the women and helped arrange their return home. "One of the women cried when I found them. I was very relieved also," said WO Ridzal. "That was definitely the highlight of my trip."
After two weeks, the pair handed over their duties to their colleagues, Captain Matthew Tay, 35, and Staff Sergeant Jack Tan Say Kiat, 31.
It was also the first overseas mission for Staff Sergeant Tan, but he felt that the experience was a good testing ground.
"In natural disasters there is a lot of uncertainty and you need to do a lot of problem solving," he said. "Our training can only prepare us for so much."
yeosamjo@sph.com.sg

Get a copy of The Straits Times or go to straitstimes.com for more stories.