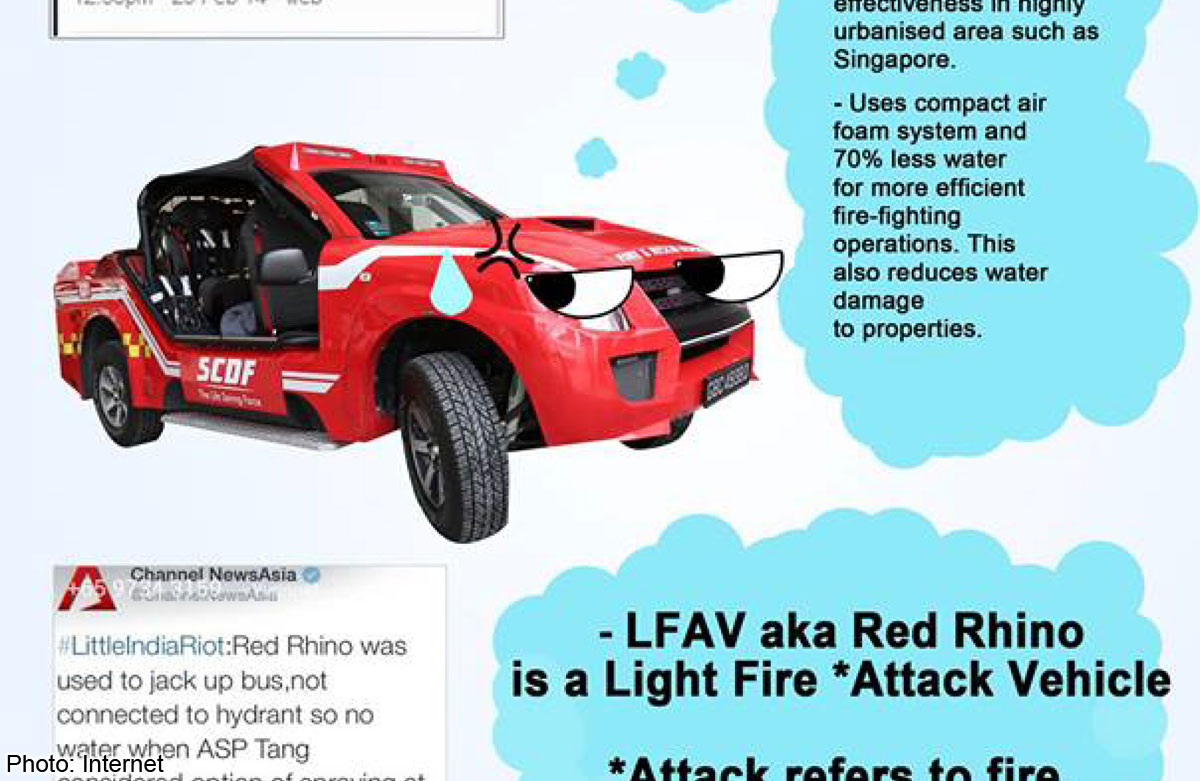 A cheeky comeback from the Singapore Civil Defence Force (SCDF) to a police officer's testimony in the ongoing Committee of Inquiry into the Little India riot made waves online last evening.
Earlier yesterday, Assistant Superintendent Jonathan Tang said he had considered spraying water at the rioters using the SCDF's Red Rhino vehicle, but could not do so as it had "no water".
In response, the SCDF put up a Facebook post clarifying that the Red Rhino uses a compressed air foam system instead.
"We use a specialised nozzle and compressed air to generate fine foam droplets for more efficient fire-fighting operations," it said.
It added the hashtags "#justsaying" and "#guagua", among others. The latter is a local Internet term usually used to describe an embarrassing situation.
It said the Red Rhino is also known as the Light Fire Attack Vehicle, and underlined the words "Attack refers to fire".
The clarification came with a photo of a Red Rhino with a face drawn on it, so that it looked annoyed.
A separate statement from SCDF yesterday said that, on the night of the riot on Dec 8, a Red Rhino was activated at around 9.25pm.
"Although it has a sizeable water monitor (used for fire-fighting) mounted in the centre of its chassis, it is not meant for riot control as its high-pressured water output will cause hurt and injury to people," the statement said.
Get MyPaper for more stories.