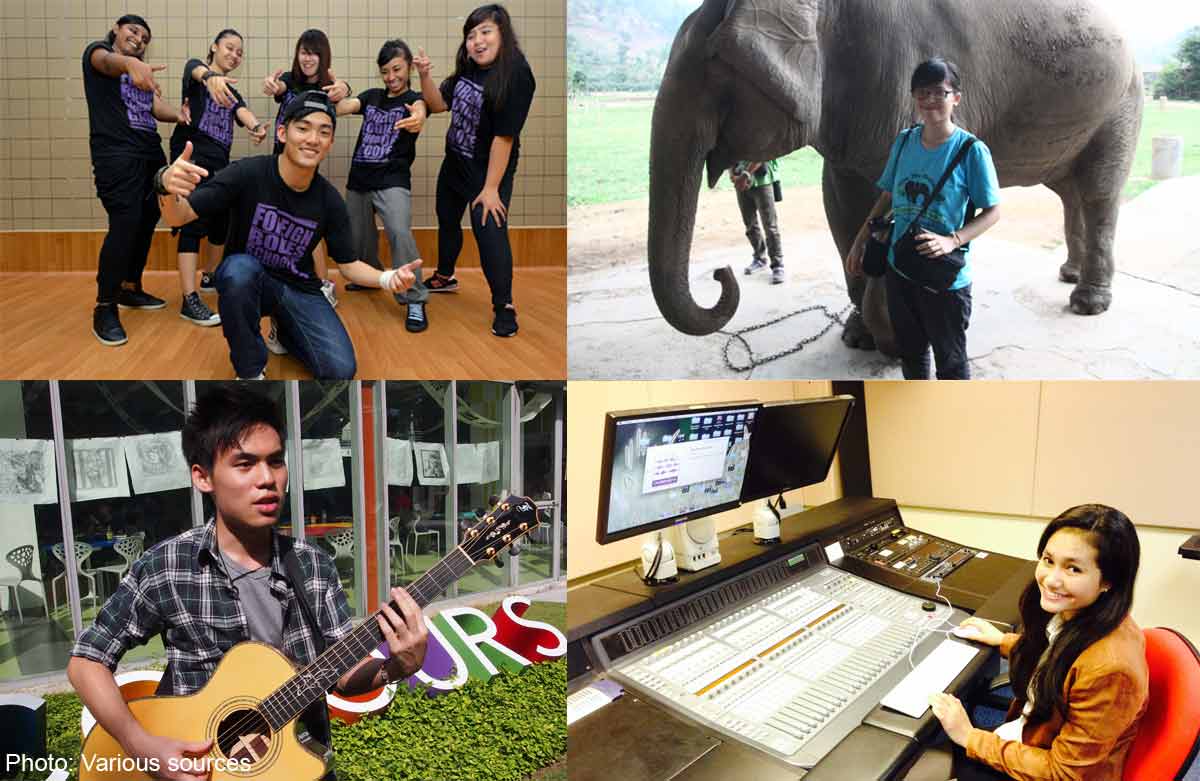 Nanyang Polytechnic's second-year Industrial Design student Tommy Cheong was confused when he first saw a number beside the "Current Grade Point Average (GPA)" on his results slip.
Tommy, 19, who scored 3.66 in his first semester, said: "My former classmates now in ITE, which also uses the GPA system, told me that I did well, but I didn't realise why at first."
The GPA, a grading tool used by polytechnics, may seem foreign to new students.
A graduating student's academic performance is assessed by a Cumulative Grade Point Average, which is calculated based on all graded modules taken over three years.
This means that students who want to do well have to perform consistently in their studies.
"It allows three years of effort to contribute to your final results, but it also helps that one exam won't screw up your final score," said Raphael Ng, 19, a biomedical science student at Singapore Polytechnic.
Project work and course work make up a large percentage of the grade.
Juliana Chia, 19, a communications and media management student from Temasek Polytechnic, admitted that she was worried about the emphasis on projects at first.
"I'm good at memorising, but I'm not sure if I'm as proficient at the technical stuff. But it turned out okay because I enjoyed the subjects and course work that came along with it," said Juliana.
Despite the academic demands, polytechnic life allows students the opportunity to pursue other activities.
Kenneth Gwee, 20, a biomedical science student at Republic Polytechnic (RP), does volunteer work.
"I was introduced to volunteering in junior college and I take part in independently organised activities in RP," he said.
Nurul Suhaila, 19, who is in the national silat team, can still take part in competitions while studying at Ngee Ann Polytechnic's School of Film and Media Studies.
"Know your goals and work towards them. Practise good time management," she advised.
Nanyang Polytechnic: Street dancer a shy student in class
Nineteen-year-old Tommy Cheong is a soft-spoken teenager who transforms into a confident street dancer after class every day.
He is the president of Foreign Bodies, a street dance hip hop group at Nanyang Polytechnic (NYP). It is one of the most popular groups among the wide range of 80 CCAs in the school.
"I was in the basketball team when I was in secondary school, but I always had an interest in dance. I went through two auditions before I finally got in," said Tommy, who joined the rather than exams, meaning I have to be consistent in my work," said the former Normal (Academic) student at Hillgrove Secondary.
"My parents wondered why I was spending so much time in school. But my school results in the first year took everyone, even myself, by surprise. I'm motivated to keep working to maintain my grades and aim even higher."
Tommy said he is glad that he is able to combine his passion for dance and design at NYP.
"I plan to pursue Industrial design further and I will come back to help out with Foreign Bodies even after I graduate," he said.
Ngee Ann Polytechnic: National athlete moves from Silat arena to Studio
Silat has been part of Nurul Suhaila Mohamed Saiful's life for almost 12 years.
But now, she has a new love: TV production.
The 18-year-old found her passion for the small screen after she joined Ngee Ann Polytechnic School of Film and Media Studies.
A Singapore Sports School student, Suhaila has been part of the national silat team since she was 11.
"I felt I couldn't do sports my whole life and I always thought that it would be fun to be behind the camera," the bubbly girl said.
The second-year student enjoys hands-on classes at state-of-the art studios on the school campus.
After taking on several roles both in front of and behind the camera, she realised how much she enjoyed TV production.
Suhaila said: "I realised there are many options that I can pursue in the industry. It also helps me to build my confidence."
Because she is a national athlete, a big challenge is balancing training and studies.
She has silat training five times a week and took part in the South East Asian Games.
She said she is grateful to her lecturers, who would arrange for extra lessons for her so that she can catch up with her school work.
"The students are competitive because everyone wants to do well. But it is also a fun and friendly environment," she said.
Suhaila will be doing an internship next year and hopes to secure a place at MediaCorp as a TV producer.
She believes the school's multimedia environment has equipped her for her future challenges in the industry.
"I really enjoy the learning environment," she said, adding that the equipment she trains with is the same as those used by industry professionals.
"It prepares us for the real world," she said.
Republic Polytechnic: He quit JC to pursue his dream subject in Poly
Three years ago, Kenneth Gwee was a junior college (JC) student.
But it wasn't long before he realised it wasn't the place for him as he wanted to study biomedical sciences.
"I was always curious about how the body works and the course appealed to me when I was exploring my options after my O levels," he said.
"(But) I chose to enrol into a JC in the end because I did not have a background in biology."
After a year, he felt unsuited for JC life and quit against his parent's wishes.
He then enrolled in Republic Polytechnic (RP) to study his dream subject.
He was so determined to pursue his passion that he paid his own fees for a semester with money from his Post Secondary Education Account.
Kenneth said the problem-based learning at RP appealed to him. Each day, students work in teams and are given a problem to solve in class.
"We are not spoon-fed and we are trained to ask the correct questions and shape our learning into something meaningful," said Kenneth.
"I become more motivated when my team works together and our effort is recognised."
His parents were eventually convinced of his passion after Kenneth, 20, scored a perfect GPA score in his first semester. They helped to pay his school fees and he eventually won a scholarship.
He also developed a love for community service while at RP.
Kenneth is the president of the Service Learning Club and has been on three trips to Cambodia to assist in providing basic dental care to rural villages in Siem Reap.
"Service learning is different from community work because we reflect and learn from our experiences when we serve," he said.
"I realised that there was something inspiring in achieving a common goal with everyone. Seeing the villagers leave the clinic with a smile really says a lot about what we are doing."
Singapore Polytechnic: Top-notch facilities a big draw
Former Anglo-Chinese School (Independent) student Raphael Ng Shea did very well for his O levels.
He qualified for his dream junior college ( JC), Anglo-Chinese JC, but the 19-year-old decided to take a different path from most of his peers by picking the polytechnic route.
He is now a Biomedical Science student at Singapore Polytechnic (SP).
"Biology was my favourite subject and I felt that polytechnic was a better option because I could just concentrate on it without taking other subjects like I would have to in JC," said Raphael, who picked SP because he was impressed by its top-notch facilities during its open house.
"We have to work in groups and my classmates are helpful and willing to share their knowledge."
His decision paid off.
He thrived in the learning environment, where projects make up a huge part of their grades, and earned a near-perfect GPA. At SP, he also manages to pursue his other passion, music.
The avid guitarist is a committee member with the SP Guitarist Club and has performed at many gigs in and outside school. In September, he performed at events organised by the Yellow Ribbon Project and the Children's Cancer Foundation.
"I look forward to the club activities all the time. Music is my real passion," said Raphael, who also uploads videos on his YouTube channel Sheamisen and formed a band named The Warrants with a fellow SP student.
After graduation, Raphael hopes to pursue a degree in dentistry.
He said: "There is science involved and I enjoy the interaction with people. On top of that, I will still have time to explore music."
Temasek Polytechnic: Poly course a natural choice for aspiring writer
As a young child, Juliana Chia was an aspiring writer.
The Enid Blyton fan would fill exercise books with her own stories.
Now a Temasek Polytechnic (TP) Communications & Media Management final-year student, the 19-year-old has become a writer with the campus newspaper Stop Press, of which she is also the president.
A former member of the Digital Media Club at St Anthony's Canossian Secondary, Juliana said that the course was a natural choice for her.
"In secondary school, I was always interested in writing, photography and film-making," she said.
She is specialising in Advanced Journalism and is one of the top students in the course, with a near-perfect GPA score of 3.97.
"It's a small cohort and there is a good teacher-to-student ratio, which I like because the teachers have a good rapport with the students," she said.
Juliana is also active in community service - she is the president of TP's Community Service Club and has volunteered for overseas community projects.
One memorable trip was to Elephant Nature Park in Chiang Mai, Thailand, in 2011, where she assisted in various day-to- day tasks and cared for the abused creatures at the sanctuary.
After that experience, Juliana decided to play a more active role in community service and took on a leadership role in the club.
"In the club, volunteering is a passion. We knew it was what we wanted to do, and it's not just about joining your friends," said Juliana, who has volunteered at the Institute of Mental Health and organised awareness events such as bone marrow donor recruitment drives. "I learnt important lessons, like stepping out my comfort zone.
"It is not always pleasant, some people we tried to help were grumpy and wary of us. But it has helped me understand them."

Get The New Paper for more stories.