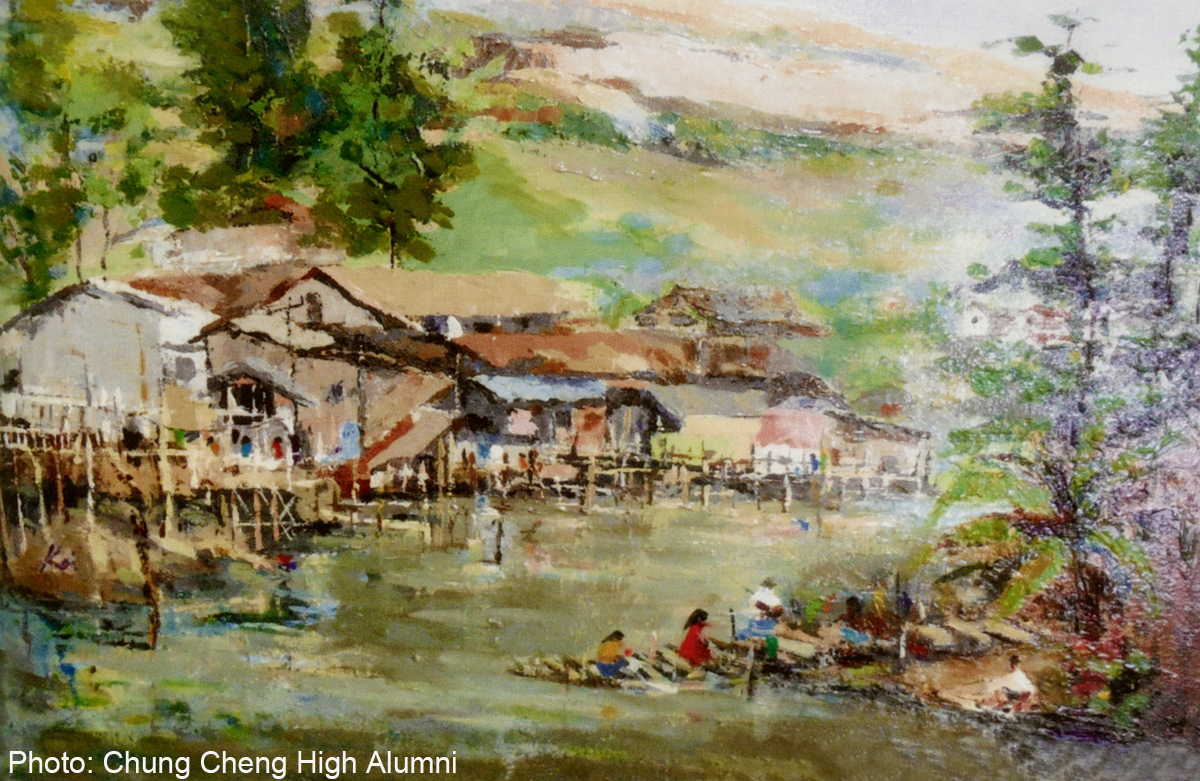 SINGAPORE - Art pieces by former students of Chung Cheng High School, a breeding ground for artistic talent in the 1950s and 1960s, will be shown at the biennial Memories By The Lake Exhibition which opens at the Ngee Ann Cultural Centre on Saturday at 3.30pm.
The more than 160 works on display include paintings in Chinese ink and brush, watercolour and oil, Chinese calligraphy, pottery and ceramic works as well as photographs by 73 of the school's alumni members, who include Cultural Medallion recipients Lim Tze Peng and Chng Seok Tin.
Also included are works by former Member of Parliament and artist Ho Kah Leong, Singapore Art Society president Terence Teo, Federation of Art Societies Singapore president Stephen Leong, Life Art Society president Tan Khim Ser and Sicheng Chinese Calligraphy & Seal-carving Society president Chang Kwang Wee.
The oldest participants are Cultural Medallion recipient and Chinese ink and brush painter Lim and calligrapher Chui Choo Sin, who are both in their early 90s. The youngest is painter Zheng Xupeng, 29, who also studied at the Nanyang Academy of Fine Arts.
Most of the other participants, however, are in their late 60s and 70s.
"The fact that many former Chung Cheng High students became artists today and some even as leaders of art groups here shows the school's ability to produce artistic talent in the past, especially for the visual arts," said the exhibition's organising chairman Tan Choo Kai, 77, a retired school art teacher and now full-time oil painter.
He explained that it was the school's art society, formed in the early 1950s and led by many dedicated art teachers and artists from China, which laid the strong foundation to groom artistic talent.
Tan, who studied in Chung Cheng from 1957 to 1960, said the society's leaders included Singapore's pioneer artists Yeh Chi-wei, Yeo Hwee Bin, Liu Kang, Chen Chong Swee and Fan Chang Tien.
He added that Liu's son, prominent Singapore architect Liu Thai Ker, 75, was a former of president of the society.
Chung Cheng, he recalled, also provided excellent facilities then and they were popular with the students. Many, like him, joined the society and pursued a career in art later.
Besides the visual arts, Chung Cheng was also well known for its music and drama, literary and science clubs in the late 1950s and early 1960s when the school was also a hotbed for the leftist student movement under the influence of the communist underground.
Founded in 1939 as a private Chinese school in Kim Yam Road, it acquired land in Goodman Road for a second campus in 1947. The Goodman Road's campus is now called Chung Cheng High School (Main) while the original one in Kim Yam moved to Yishun and was renamed Chung Cheng High School (Branch) in 2005. Another alumnus Ang Hiong Chiok, 65, a retired school art teacher known for his oil paintings of mangosteens, said the school's art society started the biennial art exhibition in 1997, originally for only its former members.
He added: "Since 2009, the show has been open to the school's entire alumni body and we have seen participation rise from about 30 members in the past to over 70 this year. We hope more of the younger ones can join us in future."
wengkam@sph.com.sg

Get a copy of The Straits Times or go to straitstimes.com for more stories.