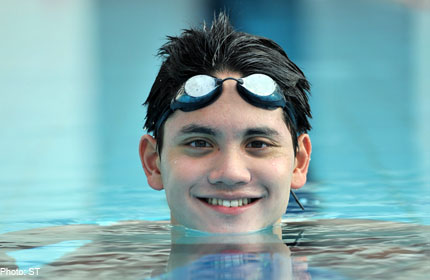 He has crossed a major hurdle towards his Olympic dream, but swimmer Joseph Schooling is not celebrating just yet.
The 18-year-old knows bigger tests lie ahead, and he will not rest till he achieves his dream of winning an Olympic gold at Rio in August 2016.
In a telephone interview from Florida, where he is based, the Bolles School student said last night: "The (national service deferment) is just one hurdle to cross and it feels good to cross it.
"But the job is not done yet and there is some way to go before I achieve my goal... which is to win a gold at the Olympics and I am setting myself up over the years to do that.
"I will celebrate when I do that." The 2012 Olympian was granted deferment from full-time national service (NS) yesterday, when Defence Minister Ng Eng Hen announced in Parliament that Schooling will now enlist after August 2016.
Dr Ng said deferment may be granted "in exceptional circumstances to individual sportsmen who are assessed to be potential medal winners at international competitions".
He also revealed that Schooling's family had submitted a written request to Mindef for NS deferment "earlier this year", which was supported by his training schedule and his coach's current targets.
The butterfly specialist said: "I have been improving steadily and am convinced I can do well at the 2016 Olympics, and right now I am setting myself in a good position to do that."
CAPABLE OF WINNING
However, his coach Sergio Lopez thinks his swimmer is capable of winning two events at the next Olympics.
In a telephone interview with The New Paper, the 1988 Olympic bronze medallist said: "Of course nothing in this life is for sure and he has to work hard for it. But I feel he is very gifted - he has a great feel for the water and he has developed himself to a very high level now.
"He is very intelligent and understands training and race strategies, but perhaps his best quality is that he works very hard and he doesn't give up.
"But he would need to polish his technique and increase his power."
Meanwhile, Schooling's parents are relieved that their only child has received a massive boost towards fulfilling his sporting dream.
Informed of the news by TNP, his father, Mr Colin Schooling, said: "Wonderful, this is just wonderful news that we have been waiting for.
"Now that this is out of the way, he can move ahead with his swimming and other major decisions such as his choice of college."
Online comments were supportive, but there were detractors too. On The Straits Times' Facebook page, Ada Tay wrote: "It's not like the country will see gold."
But Chris Jack, a supporter, wrote: "I think it's reasonable given that he's got a pretty good shot at winning an Olympic medal. I will be cheering him on in 2016, as all Singaporeans should!"
As a recipient of the new spexScholarship for elite sportsmen here, Schooling's progress will be tracked by the Singapore Swimming Association and the Singapore Sports Institute (SSI).
Said SSI executive director Fabian Lim: "We expect Joseph to do well in key competitions - winning medals at the South-east Asia Games and to be podium- ready for the Asian Games.
"He should also be progressing towards medal contention at the 2015 World Championships and the 2016 Olympic Games."

Get The New Paper for more stories.