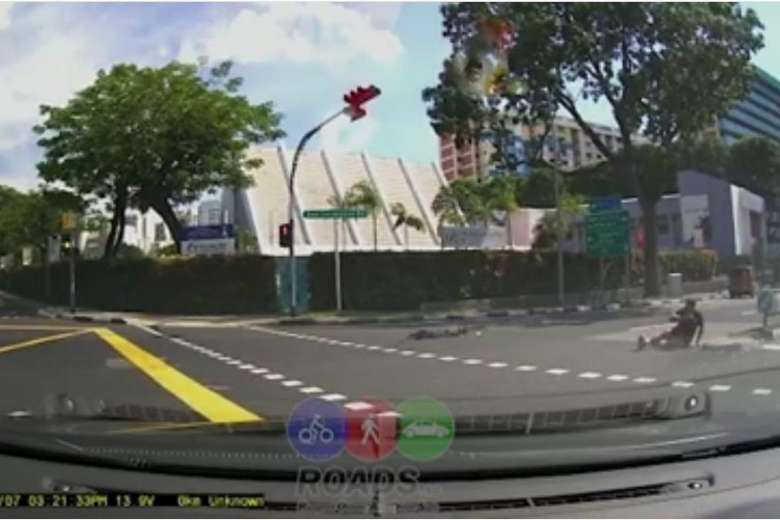 SINGAPORE - A man on an electric scooter had a close call when he jumped off his e-scooter just as a van ran into it.
The accident, recorded on an in -car camera, was posted on the Roads.sg Facebook page just after midnight on Sunday (Jan 8).
The incident happened at a junction on Upper Serangoon Road at about 3.20pm on Saturday, according to the time stamp on the video.
The 22-second clip captures a van turning just as a man on an e-scooter is crossing at a pedestrian crossing.
The van crashes straight into the scooter but the man reacts quickly, jumping off and twisting in the air to avoid a direct collision.
He is swiped by the van, but his scooter is smashed into pieces.
The video ends with the van driver stopping and getting out of the van, presumably to check on the victim who sat down on the road after he was hit.
Mr Nelson Chang, who took the video, told The Straits Times that he slowed down his vehicle when he saw the man on the e-scooter at the crossing.
Both he and the van driver stopped their vehicles to check on the man, he said in an email.
The man had some cuts, including a small one near his left eye and on his hands, but said he did not need an ambulance, Mr Chang said.
A lorry driver also came to help remove the smashed scooter from the road, he said.
Police and the Singapore Civil Defence Force said that no emergency report was made for this accident.
chuimin@sph.com.sg

This article was first published on Jan 8, 2017.
Get a copy of The Straits Times or go to straitstimes.com for more stories.