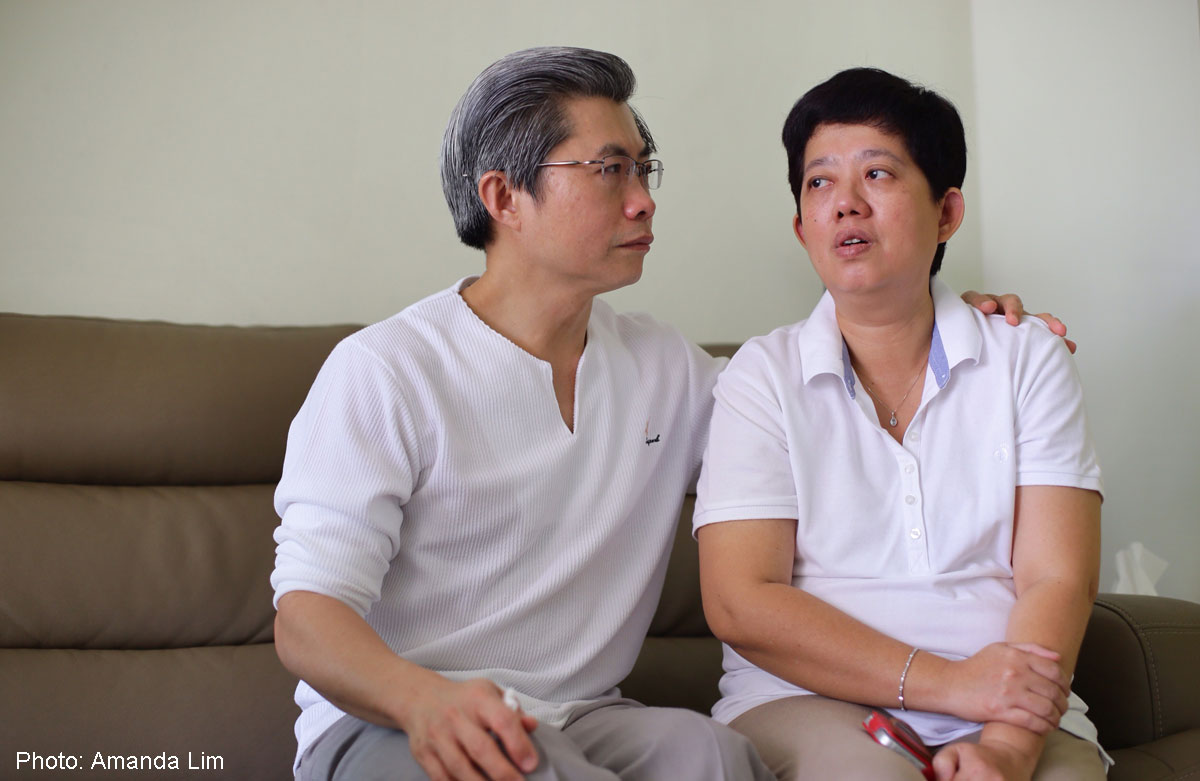 To his parents, he was a miracle baby, conceived at a time when they had lost all hope.
But in a cruel twist of fate, their only son Brian Lim, 14, was taken away when he suddenly fainted on the bus to school on Tuesday morning.
Mrs Shirley Lim, 49, got a call from Clementi Woods Secondary School vice-principal about her son's collapse at about 7am that day.
He was carried down the bus to a bus stop on Clementi Avenue 6, where passers-by tried to do cardiopulmonary resuscitation (CPR) on him while waiting for the ambulance.
But Brian never regained consciousness, the couple were told.
A Singapore Civil Defence Force spokesman said Brian was sent to the National University Hospital (NUH).
"When I heard that Brian's heart stopped, a part of me stopped functioning as well," said his father, Mr Alvin Lim, 52, chief executive officer at non-profit organisation Bizlink.
"I cannot believe it. I had said goodnight to him on Monday. He towered over me and looked stronger than me.
"My son swam and biked weekly. He was so healthy. How can this happen?"
He and his wife stayed hopeful for the next few hours at NUH, praying for their son's heart and brain to start functioning again.
"Brian's body was still warm and he's still young, so the doctor made a bold decision to put him on an external heart-lung machine, in hopes of pumping oxygen into his brain to revive him," Mr Lim explained.
But at about 6pm, when a CT scan showed Brian's brain swelling, which is a sign that oxygen was not reaching his brain, he had to be taken off the heart-lung machine.
Choking back his tears, Mr Lim said: "We were hoping for a miracle."
Mr Lim was forced to accept his son's death when he had to sign his death certificate.
It stated that Brian had died of a cardiorespiratory failure - the failure of the heart and lungs to function - with the cause pending further investigation.
TEARS
"It felt like I was signing his life away. My only comfort was that he finished the race of life ahead of me," he said, breaking into tears again.
Brian was doted on by his parents as he had entered the couple's lives in the most unexpected way.
With her husband's encouragement, Mrs Lim shared with The New Paper how she and her husband had been trying for a boy after three daughters, who are now aged 17, 18 and 21.
She had just one healthy fallopian tube and doctors told her she had only a 20 per cent chance of conceiving.
Brian was conceived when they were ready to give up, when Mrs Lim was 35.
The mother of four focused all her energies on her son and doted on him.
She would often offer him chocolate treats - his favourite - in exchange for his company when she goes shopping.
When he played board games with his sisters, Mrs Lim would tell her daughters to let Brian win.
He reciprocated her love in his own way.
"Every night, he would tell me 'Mummy, I will take care of you forever. I love you forever and ever,'" she told TNP.
Mr Lim said that watching his son die on the cusp of adulthood pained him terribly.
The Secondary 2 student, who was a victim of bullying in primary school, slowly became more sociable after some coaching from his father on how to make friends.
Brian, who used to be overweight, also lost some weight through swimming. He was 1.7m tall and weighed 60kg when he died.
"He's a good-looking boy. He'd just hit puberty and had girls admiring him," said Mr Lim with a smile.
Adding that Brian also became more popular with girls by performing magic tricks, he said: "Well, a father has to teach the son how to chase girls, right?"
Two days have passed since Brian's death and the couple are still trying to cope with reality.
"Sometimes, when I look at his things, I will smile, hoping he will come back," Mrs Lim said, staring at the chin-up bar installed in Brian's room for his pre-army fitness training.
For Mr Lim, his son's death is a nightmare he still wishes to wake up from.
"Brian was growing up to be a fine young lad. He's been my buddy," he said.
"Now, he's taken away."
Ms Low Chee Moon, the school's principal, said the school is saddened by Brian's death.
"We are rendering assistance and support to the family during this difficult period, and have arranged to provide counselling to affected students and staff," she added.
Past cases of sudden young deaths
---
Past cases of sudden young deaths
JANUARY 2014
Nicholas Gan, a Secondary 1 Integrated Programme student at Temasek Junior College, was doing warm-up exercises for a Physical Education class when he felt unwell and giddy. He keeled over and remained unconscious despite being given cardiopulmonary resuscitation. He died at Changi General Hospital later that day.
NOVEMBER 2013
Ms Goh Kai Lin, 25, collapsed when she was close to the finishing line of her 10km run. The taekwon-do enthusiast died on the same day and is believed to have suffered cardiac arrest.
DECEMBER 2011
Mr Malcom Sng, 22, collapsed after a half-marathon. A coroner's inquiry a year later found that he had an abnormal coronary artery that had gone undetected since birth.
SEPTEMER 2008
Full-time national serviceman Joe Foo, 20, was halfway into a routine exercise and doing chin-ups when he collapsed. It was later revealed he had kept quiet about a medical certificate for hamstring strains.
AUGUST 2007
Captain Ho Si Qiu, 25, platoon commander at the Officer Cadet School, died just after finishing the 21km Singapore Bay Run. His heart stopped and attempts to revive him with drugs and cardiopulmonary resuscitation failed

This article was first published on August 15, 2014.
Get The New Paper for more stories.