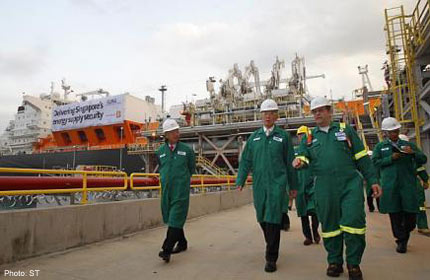 SINGAPORE on Tuesday announced plans to build a second liquefied natural gas (LNG) terminal even as the country's first terminal on Jurong Island was officially opened.
LNG is the fuel used to generate most of the electricity used here.
Prime Minister Lee Hsien Loong, speaking at the official opening of the Singapore LNG Terminal, said that potential sites in eastern Singapore are being studied for the second terminal.
"This will enhance our energy security because it will geographically diversify our LNG import infrastructure," said Mr Lee yesterday evening.
The new terminal will also support new industrial sites and power plants, he added.
More than 90 per cent of Singapore's electricity is generated using natural gas, which is cheaper and more environmentally friendly than oil.
Having LNG terminals means that Singapore can take in imports from all over the world, in addition to the natural gas coming via pipes from Malaysia and Indonesia.
The terminal, which started operations in May last year, has received shipments from Equatorial Guinea in Africa and Trinidad and Tobago in the Caribbean.
The shipments have so far been for domestic use, but the terminal has the infrastructure to reload LNG into other vessels to be shipped elsewhere.
The Singapore LNG Terminal can handle six million tonnes a year. Plans are under way for a fourth tank and additional equipment to lift capacity to at least nine million tonnes a year by 2017. The terminal has space to accommodate seven tanks.
"But that's the limit because of land constraints," said Mr Lee. "Therefore we will build a second LNG terminal."
Mr Lee said that Singapore will continue to explore new energy options, such as solar energy.
"We want to learn more about solar, so that when it becomes cheaper and more competitive we will be ready to deploy it on a large scale." Singapore is supporting solar pilot projects including those in Housing Board estates.
The Government will develop manpower resources and create good jobs in the energy sector, Mr Lee said. Singaporeans make up 80 per cent of the workforce of Singapore LNG Corp, the terminal operator, he added.
Earlier in the day, Mr S. Iswaran, Second Minister for Trade and Industry, highlighted plans to grow Singapore's LNG business. These include a framework to appoint new LNG importers to meet Singapore's domestic gas needs beyond the franchise held by British oil and gas firm BG Group.
CIMB regional economist Song Seng Wun said the second LNG terminal will help Singapore stay ahead of other countries in its bid to become a hub.
"In the region we are seeing growth in (LNG) demand. We are enhancing our position by investing more in this segment."
jonkwok@sph.com.sg
Get a copy of The Straits Times or go to straitstimes.com for more stories.