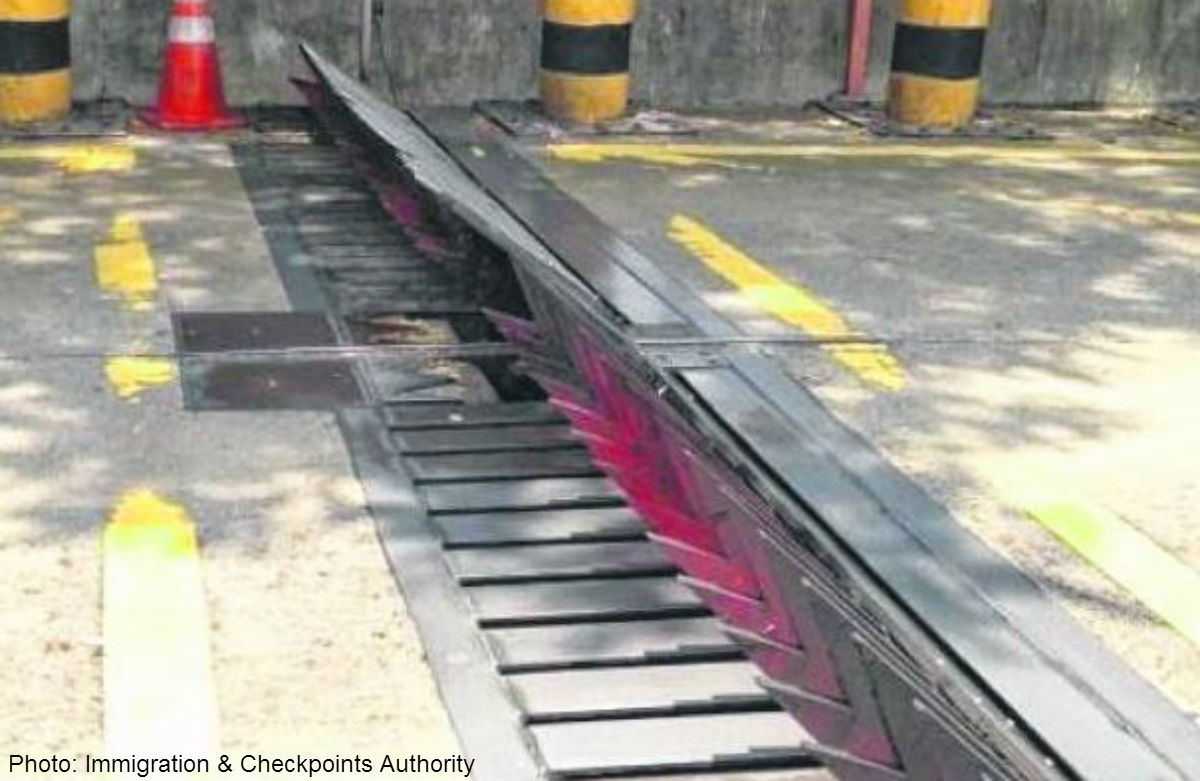 SINGAPORE - A 65-year-old man who drove off over a security barrier at Woodlands Checkpoint will be charged in court this morning.
The Malaysian, who is a Singapore permanent resident, had arrived in a Singapore-registered vehicle and cleared the immigration channel on Friday afternoon.
But when the gold-coloured Mercedes Benz sedan was undergoing a secondary check and when he was asked to open his spare tyre compartment, the man drove off.
Even though the vehicle hit the security barrier which had cat claws, he continued to accelerate and managed to drive over the barrier at 4.05pm.
At a press briefing last Sunday morning, chaired by Immigration & Checkpoints Authority's Deputy Commissioner Aw Kum Cheong and Senior Assistant Commissioner of Police, Mr Lau Peet Meng, it was revealed that four other men have also been picked up to assist with investigations.
A package suspected to contain drugs was also recovered.
Here are some key questions and answers from the press briefing:
1. Why did it take the police five hours before the man was arrested?
Mr Lau: "Firstly, he is a known person, (so the police and ICA) had to establish who he is, where he lives, where he works. And at that point, we had to start to determine where he could have gone - could he have gone home? Could he have gone back to work? Could he have gone to other various places?
"Then there was the actual physical search that required time because he is mobile and he is moving around.
"There's quite a lot of places (he can) go to while he is trying to evade arrest. You must understand that this man already knows he has committed an offence, it's not like we are waiting to ambush him in a place he is unaware of.
"He is aware he is wanted, he is clearly trying to evade arrest, he is trying to find ways to get away from us.
"One important point to make is that this is a determined criminal, who deliberately evaded arrest, he evaded customs clearance and he's definitely running away."
2. Why wasn't there a police car to go after the man?
Mr Lau: To position a man to be waiting there (at all times) first of all is a resource issue. Secondly, we have always expected the crash-through barrier to stop the vehicle from going through. It is a fairly secure barrier that is used around the world.
"Honestly, putting a man and a police car and waiting for something like that is certainly not the best use of police resources."
3. In light that this is the second incident, following the January incident where a Malaysian teacher managed to drive past immigration checkpoint, what if it was a terrorist today?
Mr Aw: "If a terrorist is determined enough, I think there are not many things we can do to stop them. But I think part of the measures that are implemented is always to make sure that we provide enough deterrence to slow people down. Proper reinforcement and investigations can then take place.
"We also want to bear in mind that if we want to make the Checkpoint terrorist-proof, essentially you are paralysing the Checkpoint.
"We always have to find the balance between what is the right level of security and what we are willing to live with to some extent."
4. How robust is the current security system, like the security barrier?
Mr Aw: "We don't want to lump the two incidents together. The first one we have explained that there were lapses involved. Heightened security was already in place since the January incident, and in this case, it reflected that some of the steps taken since then did work.
"Alarms were raised properly, but we will definitely do a review to see what has worked and what has not.
"In this case, from initial assessment, it seems that the processes have worked, except for the part of the barrier, which we have to look into seriously to see if something has to be done about that.
"It is the first incident that someone successfully drove past the barrier. In fact, during review of the previous incident (in January), this very scenario was something that we thought about. Like someone may clear immigration in a normal way, but evade secondary clearance.
"The alarm was raised properly, the problem is that the barrier did not work as well as it should have."
(The barriers are actually checked and tested every day, twice a day to make sure that it is functioning properly, and every quarterly, there is a maintenance check, said ICA.)
TIMELINE OF EVENTS:
3.53PM:
Man seeks arrival immigration clearance at the Woodlands Checkpoint, then proceeds to secondary check area.
4.02PM:
He opens the car boot for check, but flees after he is told to flip open the spare tyre compartment.
4.03-4.05PM:
Man drives over the crash barrier and leaves the checkpoint.
8.30PM:
Vehicle is recovered by the Singapore Police.
9.15PM:
Man is arrested.
maureenk@sph.com.sg
Get The New Paper for more stories.