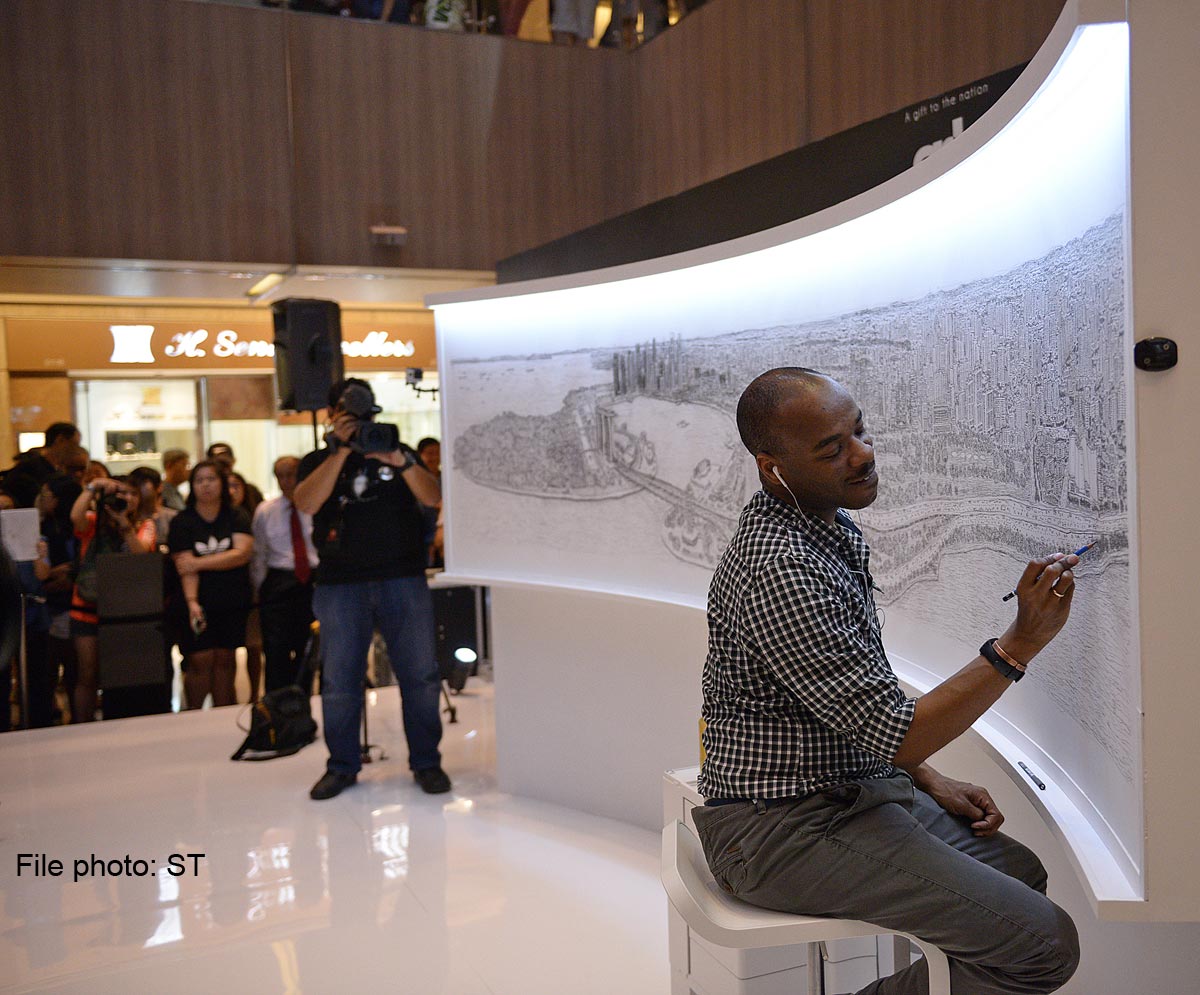 IF YOU missed renowned British artist Stephen Wiltshire's panoramic sketch of the city's skyline over the weekend, fret not.
Come September, the 4m-by-1m canvas will be permanently displayed at the Urban Redevelopment Authority's Singapore City Gallery alongside some of the artist's other works. Admission is free to the gallery at The URA Centre, 45 Maxwell Road.
The drawing, to be framed first, was completed by Mr Wiltshire on Sunday - done entirely from memory after a 45-minute helicopter ride over the local skyline. Mr Wiltshire, 40, has autism.
The work was commissioned by Singapore Press Holdings (SPH) as part of the See The Big Picture project to mark its 30th anniversary this year, and as a gift to Singapore for the nation's 50th birthday next year.
Mr Wiltshire wrapped up his 10-day visit to Singapore with a tour of autism-focused Pathlight School yesterday.
Accompanied by his sister, Annette, 42, he interacted with stuents in the foyer cafe, then perused various pieces of student artwork such as plasticine sculptures of monsters and dinosaurs and foot stools decorated with handdrawn prints.
"I felt really good meeting the students, and they are very talented," he said. "Some of the sculptures reminded me of the clay work I did as a boy.... I hope they never stop (doing the best they can)."
Mr Wiltshire also demonstrated his acclaimed artistic skills by putting pencil to paper along with nine students in the auditorium.
Within 45 minutes, he drew London's Houses of Parliament, including the iconic Big Ben clock tower and the city's 02 Arena, formerly known as the Millennium Dome. He also drew New York's Statue of Liberty and a Ford Mustang cruising near the Grand Canyon.
Aspiring artist Glenn Phua, seated next to him, said he greatly admired Mr Wiltshire's visual memory, which enables the artist to reproduce detailed buildings and landmarks with great accuracy and scale after a glance.
The 17-year-old Pathlight student said: "His work is so amazing.
I need to look at more pictures and start practising also."
Pathlight school supervisor Denise Phua, also the Mayor of Central Singapore District, said Mr Wiltshire's visit was significant as it raised public awareness for those with special needs.
"People with special needs are an integral part of the more inclusive society we are trying to build.
No one is good at everything. It's more productive to identify and nurture a person's strength," she added.
Pathlight School has been given exclusive rights by SPH to produce reprints and merchandise from Mr Wiltshire's artwork to raise funds for its autism resource centre.
Limited edition replicas of his Singapore art will also be sold to raise funds for this year's President's Challenge, while autographed T- shirts are being sold by SPH at $150 each. Interested buyers can find out more by e-mailing sphcorp@sph.com

Get a copy of The Straits Times or go to straitstimes.com for more stories.