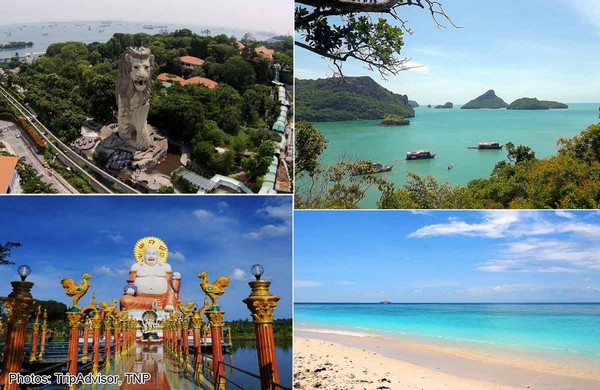 SINGAPORE - Sentosa has been named the most expensive island in South-east Asia for the second year running, while Gili Trawangan has been named the cheapest, said TripAdvisor.
The findings were reported in their second annual TripIndex Island Sun report, which compares the cost of a day out and an overnight stay for two persons across 16 popular island destinations in the region.
The islands were ranked based on the combined cost of accommodation and activities. The six categories for comparison include a one night stay in a four-star hotel, a two-course meal with coconut juice, beers, a massage as well as rental of bicycles and kayaks.
Sentosa firmly secured first place with a combined cost of $1,005, a more than $300 difference from second-placed Bintan, which came in at $694. The Singapore island scored highest in four out of six of the categories.
The third most expensive island in the list, Palawan, was ranked most expensive for accommodation costs. A hotel room for two in the Philippine island costs $533, while a similar room at Sentosa is much cheaper at $431.
Malaysian islands Langkawi and Pulau Tioman also made the top five most expensive island destinations.
Over at the other end of the spectrum, Indonesian islands Bali and Lombok joined Gili Trawangan as the cheapest destinations, together with Thailand's Phuket and Koh Samui, and Philippines' Cebu.
Famed Philippine beach, Boracay, known for its pristine white beaches, was ranked in the mid-range with a combined cost of $427.
Phu Quoc was the only Vietnamese island to appear in the list, being just slightly cheaper than Boracay at $426. According to the study, hotel prices are the most expensive category and take up around half of the total cost for most islands.
wjeanne@sph.com.sg