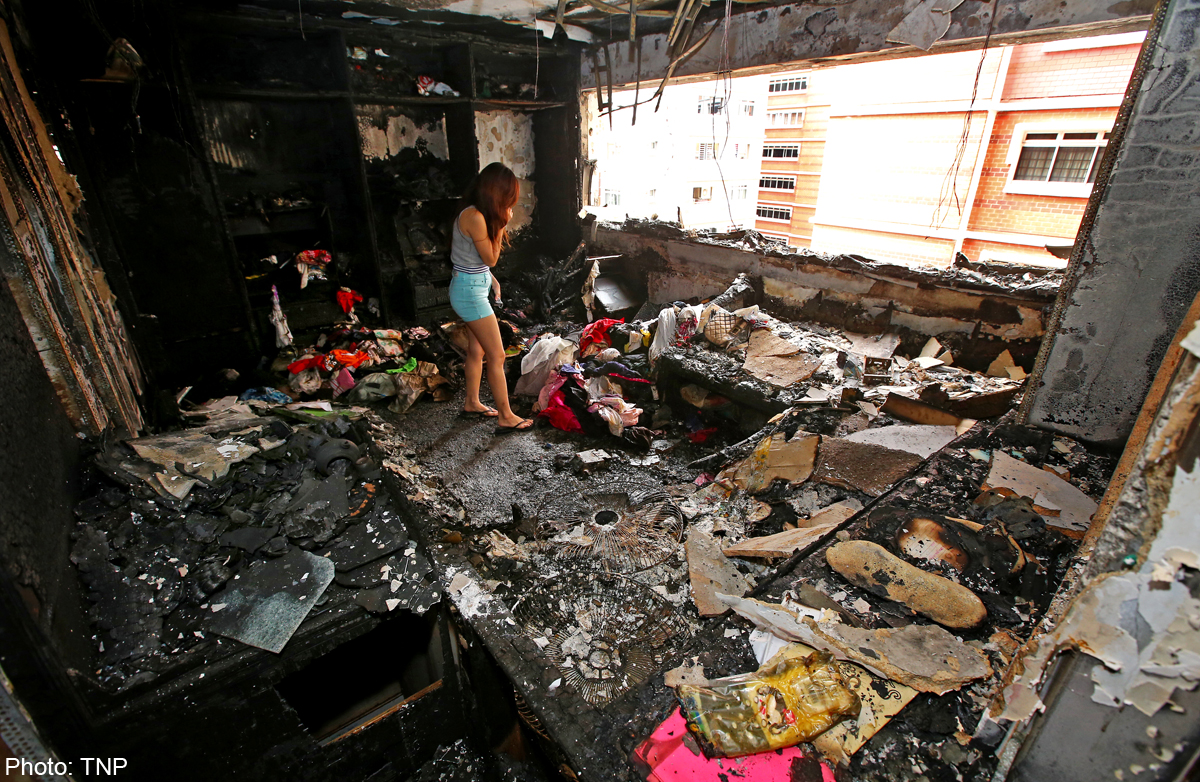 SINGAPORE - Her flat had been gutted by a fire and her maid taken to hospital for smoke inhalation.
Worried that her maid would have no clothes to wear after she was discharged, Mrs Gina Ong said she bought new clothes for her.
"But police told me not to see her," the 32-year-old interior designer added.
She soon found out why. At about 3.30pm yesterday, several police officers went to her flat on the 10th storey of Block 506, Serangoon North Avenue 4, with the 28-year-old woman from Myanmar in tow.
They took the maid around the gutted unit and emerged after about 1½ hours. To Mrs Ong's shock, the police had put handcuffs on her maid.
"I can't believe it," said Ms Ong in tears as the maid was led away.
GUTTED
A police spokesman told The New Paper that the case has been classified as mischief by fire. Investigations are underway.
The fire that broke out on Tuesday at 1.20pm gutted the flat. The family was not at home at the time.
Nine members of the family lived in the three-room executive flat, including Mrs Ong's in-laws, her husband and her four children.
Mrs Ong said the maid had worked with the family for just 11 days before the fire.
She had employed her to help look after her children, aged four to 15.
Mrs Ong, who has previously employed maids from Indonesia, said she switched to employing someone from Myanmar because it was cheaper.
She said her agency had recommended the maid to her.
According to Mrs Ong's mother-in-law, Madam Wang, the maid began crying from the first night with them and continued to do so every night.
"She would cry at 7pm every night, but when we asked her what was wrong, she would say she was okay," said the 65-year-old housewife in Mandarin.
"I don't think she understood us, because when we tried to teach her things, she wouldn't get it.
"But she never told us she was unhappy or that she wanted to go back home."
The fire has left the family scrambling to find alternative living arrangements.
Said Mrs Ong: "We're currently living with our siblings, but we don't know where we are going to live in future. We are a family now separated into three places."
She said the fire had destroyed "about 95 per cent" of their possessions.
"My children's uniforms were all destroyed in the fire and my husband doesn't even have underwear to wear now," she said. "We are living one moment at a time."
Mrs Ong said she is worried that the insurance payout would not be sufficient.
"Our insurance only covers the structural things, like the walls and windows. But how about our possessions? Our clothes, medicine, appliances and furniture, everything was destroyed," she said.
Despite her family's situation, Mrs Ong remains thankful that no lives were lost.
She said: "We are in despair, but at least we need not grieve.
davidsun@sph.com.sg

This article was first published on Jan 30, 2015.
Get The New Paper for more stories.