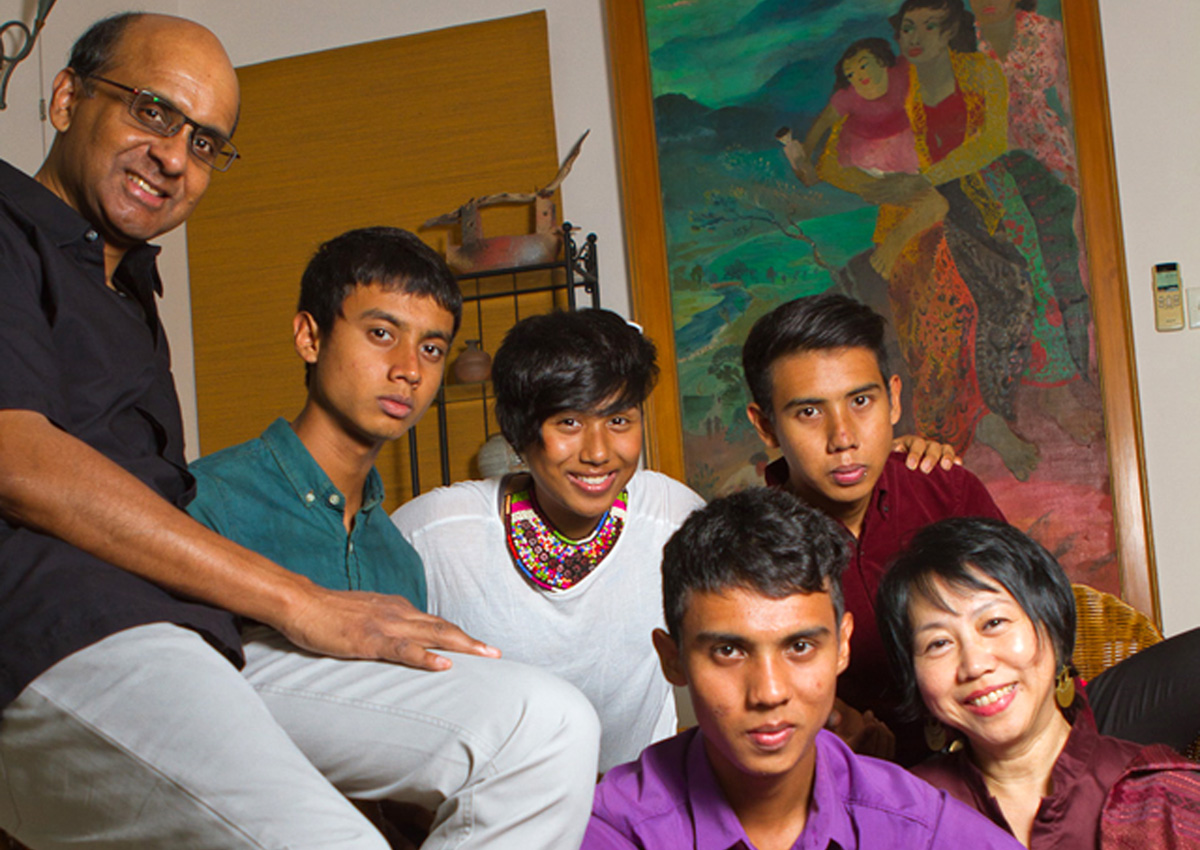 Hockey, football, cricket, athletics, volleyball, sepak takraw, rugby... you name it, he has played it. Studies were not high on his priority list and he certainly harboured no ambitions of being a medical professional like his father.
Studying medicine required arduous effort, so he decided to steer clear of it. "Studying medicine would have required time and academic effort, and I didn't have that at the age of 17 or 18. I was completely disinterested in my studies at the time, and was put off by the fact that medicine would require six years of hard study," he said.
So it was in sports that Deputy Prime Minister Tharman Shanmugaratnam diverted his energy. Hockey held a special place in his heart and the Anglo-Chinese School (ACS) boy went on to represent Combined Schools.
"At that time life was simpler and less competitive. There wasn't a need for us to spend a lot of time on our studies. My aim was to put in minimum effort to get to the next level, and spend time on my sports. But I really enjoyed my youth," Mr Tharman, 58, said.
Anaemia affected his heart
His sporting pursuits came unexpectedly to a standstill when he was diagnosed with a very severe case of anaemia when he was 17, which also affected his heart. Having to abandon his ambitions in sports was, as he put it, the "biggest setback in my life".
Doctors initially thought he had a hole in the heart, but after anaemia was diagnosed, he had to consume 25 pills a day for several nutrients that his body was not absorbing, for more than four years before he recovered. The big downside for him was having to scale back his sports life. But he was still able to play for the premier hockey league for Singapore Cricket Club and Singapore Recreation Club.
Looking back, he said sports taught him tremendous discipline.
"As someone who took sports seriously, you had to put a lot of effort into it, week after week, year after year. For some reason, I didn't use that discipline in my studies at the time. But the discipline was somewhere there in the mind, and became useful later," he said.
Having been forced to pay less attention to sports because of his health, his interest turned to reading.
"I started reading more. I had a very strong interest in social issues after my pre-university years, so my reading was mainly about society and politics. I became quite driven by an interest in society."
Mr Tharman considers himself fortunate that his parents allowed him to be himself and never told him which career path to choose.
"In those days we didn't have a lot of career advice or career counselling. I had done economics in A levels and although I did double mathematics, I decided I wasn't going to go into engineering. But I never had a job in mind, no ambition in terms of career."
Early professional life at MAS
He eventually did well enough in his A levels at ACS to secure a place in the London School of Economics and graduated with a BA in Economics. He later went to Cambridge University to do his master's in Economics. It was much later, when he was with the Monetary Authority of Singapore (MAS), that he took up an MAS scholarship to study Public Administration at Harvard University.
He spent most of his early professional life at MAS where he was the managing director and is grateful to have worked under "some exceptionally good leaders in the civil service such as Mr J.Y. Pillay andMr Lim Siong Guan".
Politics came naturally to him and he was elected MP for Jurong GRC in 2001, going on to serve as a Minister in Education and Finance, among several other portfolios. He is currently DPM and Coordinating Minister for Economic and Social Policies.
"I actually enjoy politics, both as a Member of Parliament and as a minister. Part of the reason is because I was always interested in politics from my student days. I spent a lot of time on student activism when I was in the UK.
"I also enjoy chatting with people, listening to them and trying to figure things out with them. You must enjoy it. If you don't enjoy politics, it can be a chore, or a cloud in your mind. But if you enjoy it, it keeps you going. Everything becomes an opportunity to help someone, an opportunity to understand an issue better so that we can find a solution, or do something novel in the community.
"So it's very important to enter politics for the right reasons. We must enjoy serving, enjoy being with people, working with them and immersing yourself in a community."
Mr Tharman noted that working in education was the most meaningful part of his career. "I really enjoyed working with teachers and principals, who were so well motivated. It is a tremendous asset to have a well-motivated teaching force. People who themselves are willing to learn new skills, and to shape changes in the school, so they can do the best for their students.
"Whatever change you are thinking of, whether you are introducing computers in primary schools or changing the literature curriculum, we have to adapt the pace and nature of change around our teaching force. Their ability to absorb and to shape change in the school is critical.
"You can't impose things from the top. That's the key ingredient in a successful education system - the quality and motivation of our teaching force. I found it very rewarding, but it is also very different from other vocations because you have very little certainty of success in what you set out to do. You will know only years later whether we truly get the outputs we desire, whether we get socially responsible people, innovative people in each new generation."
Hectic schedule
Mr Tharman has a very hectic schedule and often works late into the night. Finding time for his family can be challenging. He is married to Ms Jane Yumiko Ittogi, a lawyer by training, who is currently actively engaged in community work and in the non-profit arts sector. They have a daughter and three sons.
"My children have adopted their own sleeping habits, which also has meant sleeping later and later. We all keep in touch via WhatsApp now. A couple of my children are based overseas and so we share jokes, pictures and messages through WhatsApp. We try to find every opportunity we can to spend a bit of time together.
"Despite the fact that they went to SAP schools, they have developed a set of friends of different races. They have Malay and Indian friends. They just felt that they wanted it that way."
Children too love sports
As parents, Mr Tharman and his wife encouraged their children to take their CCAs seriously and develop their own interests. But they left it to their children to decide on their interests, and to let them evolve naturally. For example, the children have taken an interest in culture on their own. Daughter Maya took up Indian classical dance when she was younger.
"I just trust them to find their own way, and make the most of life. We cannot force them in one direction or the other."
One thing all his children have in common is their love for sports. Much like himself, Mr Tharman pointed out with a laugh.
"My father told me at the end of my Pre-U years that I have to find my own way in life. And that is my attitude as well towards my children.
"Encourage them in whatever they are doing. Let them do what they enjoy. Encourage them to take it seriously, whatever it is they enjoy, and trust that they will find their own way in life. You have got to trust them.
"The signals we send our children are extremely important. Respect the things they want to do, and are enjoying. That is how we can develop people who are imaginative, who do something different."
Mr Tharman also re-emphasised the importance of life-long learning, the need to develop new interests which may arise midway through life and how SkillsFuture was created to address this issue. "As we go through life, everyone is going to require some renewal in skills, and to refresh ourselves. That's what SkillsFuture is about. Some people will take some time off from work to study again, some others will continue working but learn while at work, as well as outside work. Whichever way, it should be made as convenient as possible for everyone to keep learning. That is a very exciting possibility: to maximise the potential of every citizen through life. You can't just achieve it through education in the early years," he said.
Asked how he would like to be remembered,Mr Tharman replied: "As someone who worked with others, his colleagues and grassroots leaders, to make a better society, with hope for every individual. We each can only do so much in our short span of life. You've got to do the best you can. If I can be remembered as someone who served Singaporeans well, that is enough reward."
Get a copy of tabla! for more stories.