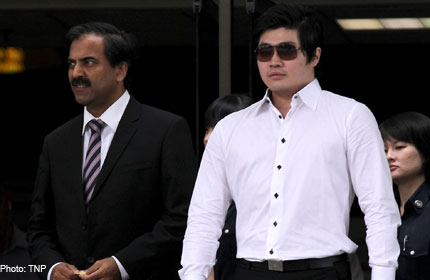 He was so interested in the match fixing industry that he wanted to write a book about it.
This was what defence lawyer Thong Chee Kun said of his client during the sex-for-match- fixing trial on Thursday.
Businessman Eric Ding Si Yang, 31, is on trial for allegedly bribing three Lebanese match officials with prostitutes hours before they were due to officiate an Asian Football Confederation match.
Mr Thong said that Ding had told Mr Stanley Ho, who was then a sub-editor with The New Paper, about his intention to write a book about match fixing.
E-mail exchanges between Mr Ho, 37, and Ding, some of which contained news articles, were revealed in court.
During cross-examination of Mr Ho, Mr Thong said that Ding had asked for those articles "for his book".
Mr Ho replied: "(Ding) wanted to know what was published in The New Paper for that day."
Ding was based in Thailand then and did not have access to TNP, he added.
A sub-editor at The Straits Times now, Mr Ho said Ding gave him insider information on match fixing.
It was Ding who alerted Mr Ho to news of match fixer Wilson Raj Perumal's arrest in Finland in 2011.
Mr Thong asked: "And from that point, you relied on him for accurate info related to match-fixing."
Mr Ho said Ding was just one of the many sources for the reporters.
Information from different sources would be checked and put together, he added.
Mr Thong said Ding had also provided his source for Mr Ho following reports on Wilson Raj singling out Dan Tan Seet Eng as the leader of a match-fixing cartel back in 2011.
Mr Ho said Ding had commented that the reports "did not have Tan's side of the story".
He told Mr Ho he knew someone who could give background information on Tan, and would get him to e-mail Mr Ho.
Mr Ho later received an e-mail from an "anonymous" source with the e-mail address "zenjames7@gmail.com".
This e-mail address was linked to Ding earlier in the trial.
Parts of the e-mail were extracted for an article, Mr Ho said.
Asked by Deputy Public Prosecutor Grace Lim if he now knew who the sender was, Mr Ho said he realised the link to Ding after it was "suggested in past court proceedings".
The hearing was adjourned after Mr Thong told the court about "developments" that could affect the statements given by two of the Lebanese match officials, Mr Ali Eid and Mr Abdallah Taleb.
The trial continues today, and is scheduled to run until Nov 15.
He was just a tipster
Eric Ding Si Yang was never an investigative journalist with the New Paper, its editor Dominic Nathan (below) told the court on Thursday.
Earlier in the trial, one of Ding's lawyers, Mr hamidul haq, had said that his client used to do investigative journalism to gather information for his colleagues in tnp.
but when another defence lawyer, Mr thong Chee Kun, yesterday referred to Ding as "writers or reporters" during cross-examination, Mr nathan pointed out that a reporter's job scope was different from "someone who's giving a prediction of how a match is going to turn out".
Ding was a freelance tipster with tnp from 2006 to May last year.
Mr nathan said he had approached the attorney-general's Chambers to clarify matters "after there was some mention in court that Eric may have been an investigative journalist".

Get The New Paper for more stories.