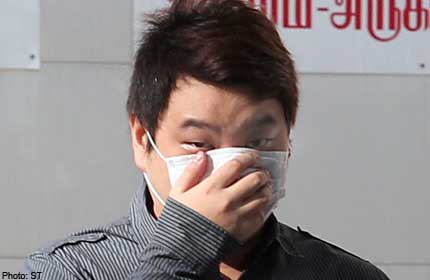 SINGAPORE - Labelled a brazen sexual predator, a 22-year-old man was put away for 4½ years on Tuesday for the sexual abuse of four girls aged 13 to 14 over a two-year period.
In two of the cases, Emmanuel Lim Chin Pin, who met his victims on Facebook, lured the girls with the promise of work.
"He had brazenly exploited the naivety of his young victims," said District Judge Mathew Joseph.
He also said the court had a duty to ensure that the Internet remains safe for young people, especially from the clutches of sexual predators who prowl it as if it was their personal "hunting ground".
The court heard how one of Lim's victims, aged 14, responded to his Facebook message on a part-time survey job offering $25 an hour.
He told her the job involved giving feedback to masseurs after a massage. He asked her if she had been for one before. The victim went to his Yishun flat in the early hours of April 14 last year and he sexually assaulted her while giving her a massage.
Lim, who works as an operations manager in his uncle's corporate gifts company, also pestered her to be his girlfriend.
When she refused another "massage", he threatened to circulate the photographs and videos of her that he had taken. He also asked for the return of $50, threatening to sell the videos otherwise.
She went to the police.
Five months later, he struck again. This time, his victim was 13. When she refused to return for another massage, he contacted her, pretending to be his supervisor, and warned that she had to go for at least two sessions, or cough up $500 for breaching a "contract". She agreed to go for a "normal" massage on Oct 4 last year but was instead subjected to a 50-minute ordeal.
His two other victims were aged 14 when he sexually abused them.
Lim pleaded guilty last month to nine of 22 charges, which ranged from having sex with a minor to criminal intimidation. He committed most of the offences after breaching a 12-month conditional stern warning given in 2011 for having sex with a minor.
The judge said that Lim's actions were an affront to the innocence of his young victims, and pointed to the devious way he singled out young girls to prey on.

Get a copy of The Straits Times or go to straitstimes.com for more stories.