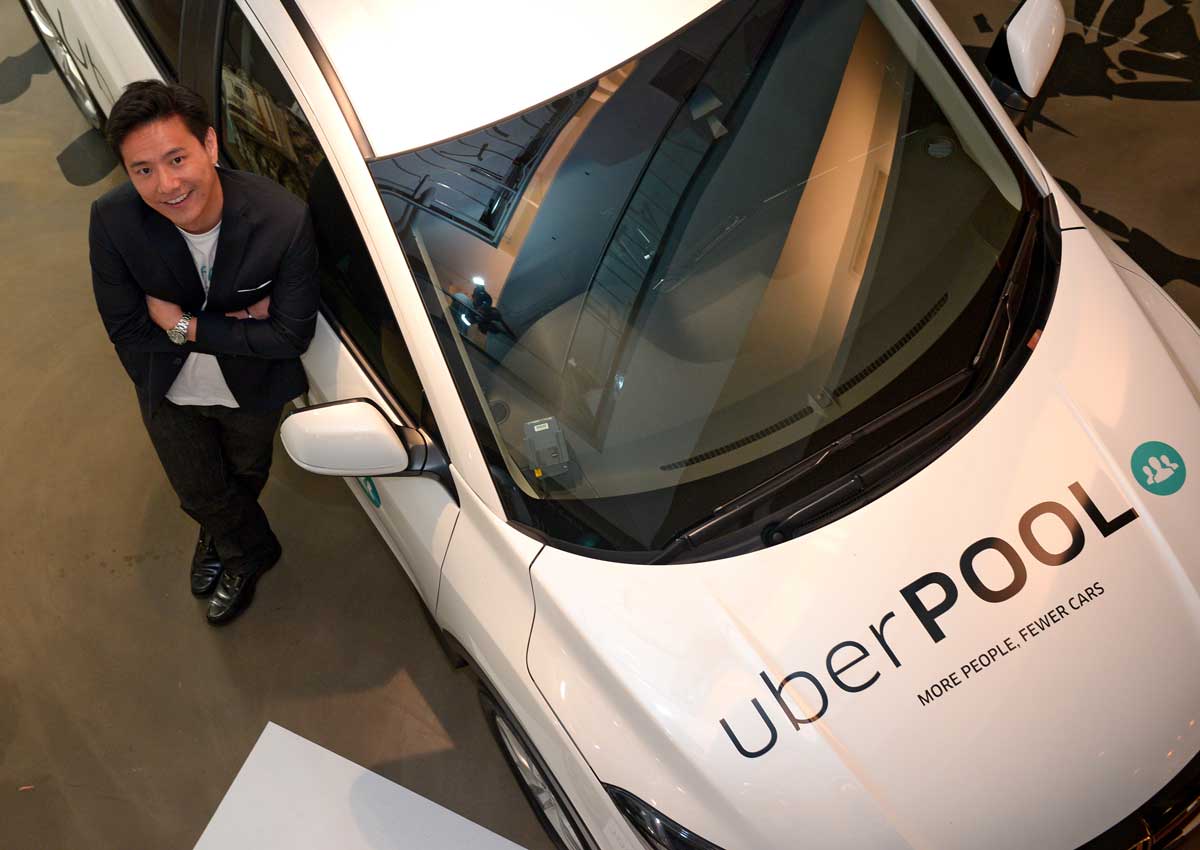 From tomorrow, Uber users will be able to pay less if they share their commute with strangers through a new ride-sharing service.
Called UberPool, drivers will be notified if there are other commuters headed in a similar direction, and will be able to pick up as many passengers as their vehicles permit.
Passengers will be able to save up to a quarter of the fare of a conventional UberX ride, typically the firm's cheapest option, regardless of whether another passenger gets on along the way.
Fares are also displayed upfront for the service, which will be available through the existing Uber app, unlike UberX in which passengers can only view an estimate of the lowest fare before booking a trip.
A trip from Tanglin to Changi Airport, which would cost at least $20.05 using UberX, would be $15 on UberPool.
Uber Singapore general manager Warren Tseng said the new service is meant to address what he termed "look-alike" trips, with multiple passengers taking similar routes.
"We see a lot of trips going in the same direction, around the same time of day," he said.
He believes UberPool would appeal to more price-conscious Singaporeans. But "UberX is still there for people who don't want to share a ride and are willing to pay a bit more to get straight from point A to point B," said Mr Tseng.
Uber driver Richard Kang, who has been driving full-time since August last year, thinks he can earn more using UberPool as it would reduce his down-time between trips.
"I will be able to get more trips along the way," the 57-year-old said, although he admits it would take some time to learn how to maximise his earnings through the new service announced yesterday.
Singapore is the third city in South-east Asia with UberPool, after Manila on June 15, and Jakarta last month.
Uber plans to launch the service, which is available in 39 cities worldwide, in at least 10 other cities in Asia.
UberPool differs from other carpooling services such as GrabHitch and Ryde in that it is a commercial service.
It is not bound by carpooling regulations which stipulate that drivers can offer only two rides a day and payment cannot exceed the expenses incurred for carrying a passenger.
Sales executive Fiza Sulaiman used UberPool several times when she visited San Francisco last year.
She said that while she was the only fare on most of her trips, it did not inconvenience her when there were other passengers.
"Their route was on the way so there was no fuss," said Ms Fiza, 33, adding that the service was "super cheap".
National University of Singapore transport researcher Lee Der Horng believes that despite the lower fares not many will be willing to try out UberPool.
"I'm not sure that people will be flexible enough to want to detour from their usual route to pick up other passengers," he said.
azhaki@sph.com.sg

This article was first published on June 30, 2016.
Get a copy of The Straits Times or go to straitstimes.com for more stories.