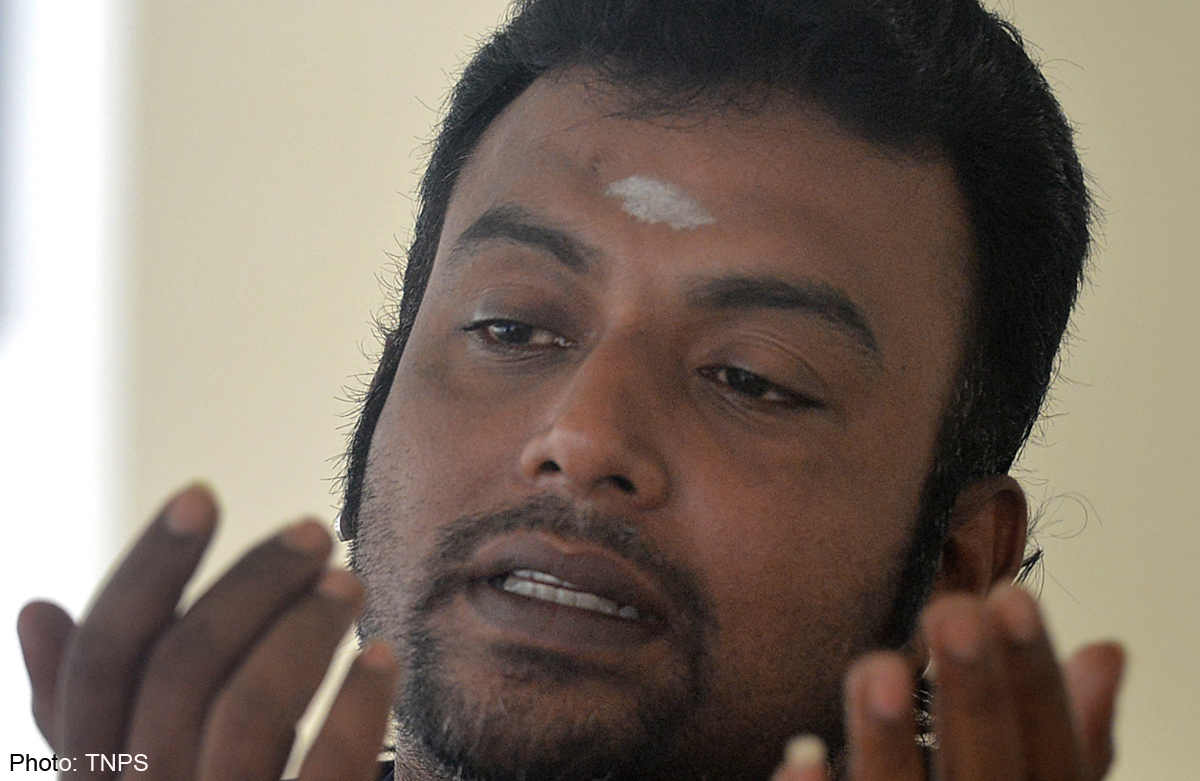 SINGAPORE- Disowned by his parents, he approached Madam Kanne Lactmy's son to help him get a job.
So Madam Lactmy, 62, told her son to give the man a chance and help him.
Fifteen years on, her family are disappointed to learn that the man who sometimes had dinner in their home and called Madam Lactmy "Amma" (mother) has been charged with her murder.
Madam Lactmy was found lying on the floor of her four-room flat at Block 875, Yishun Street 81, on Dec 9 and was pronounced dead in Khoo Teck Puat Hospital at about 1.30pm.
P. Mageswaran was yesterday charged with causing her death between 8.34am and 12.27pm that day. If convicted of murder, he will face the death penalty or life imprisonment with caning.
Madam Lactmy's eldest son, Mr Gerrard Bala, 41, told The New Paper yesterday that the family had initially thought she had suffered a heart attack as she had been taking medication for diabetes and heart problems for more than 10 years.
The limousine driver said his aunt, who lived a few blocks away, discovered the body when she and her neighbour's maid went to check on Madam Lactmy.
He said the sisters would meet to chat every morning and his mother's younger sibling became worried when her calls to Madam Lactmy went unanswered that day.
They found her in the bedroom of Mr Bala's younger brother.
Mr Bala, who was in Malaysia, rushed back when he was told of the death.
Then questions emerged even as the victim was being identified at the mortuary - like what was Madam Lactmy doing in her son's room. And why was the front gate not locked.
Madam Lactmy, whose husband died three years ago of a heart attack, lived with Mr Bala's brother, his wife and four-year-old daughter in the Yishun flat.
Mr Bala did not live with his mother, who had four children and six grandchildren.
Family members later gave police information on jewellery that had belonged to the victim including a favourite gold necklace which had been a gift from Madam Lactmy's late husband.
He had give it to her about 20 years ago.
When he received his mother's death certificate on Dec 11, he was stunned to see the cause of death as manual strangulation.
"It was very sad to see that. I can't imagine how long she must have been struggling and suffering," he said.
In their investigations, police collected evidence from closed-circuit television cameras which were at the block's lift lobby.
ARRESTED
Mageswaran was arrested at the Woodlands Checkpoint on Tuesday while trying to enter Singapore.
Mr Bala said he hired Mageswaran for his logistics company 15 years ago after his mother told him to help the man.
He said Mageswaran did not give him any problems in his five years as an employee. Mageswaran would sometimes even have dinner at his home.
"We treated him like a brother," he said, adding that his mother would buy food and sweets for Mageswaran's two children.
Mr Bala said Mageswaran has a Malaysian wife and lived in Johor Baru.
Even after Mageswaran stopped working for him, the man continued to visit Mr Bala's mother.
Mr Bala said he last spoke to Mageswaran two or three months ago, when the latter called him to ask for job tips.
"I recommended that he train to become a forklift driver instead of doing odd jobs. I always gave him advice.
"We all treated him like a son in the family," he said.

Get The New Paper for more stories.