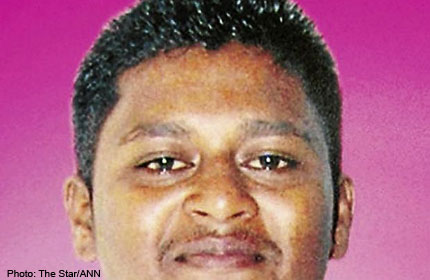 KLANG - The shooting of a lorry driver at close range in Kapar near here on Thursday is believed to be linked to gang rivalry.
S. Sambhath (above), who was shot in the face and chest, was believed to be a member of a gang.
A police source from the serious crime unit said according to witnesses, the 26-year-old victim was shot by a gunman who was wearing a T-shirt with the sign of a rival gang printed on the back.
Klang Utara deputy police chief Sup Jani Ahmad said the motive of the attack was revenge.
"We are looking at all angles to determine the real motive of the attack," Supt Jani said yesterday.
He said a man had been arrested to help in the investigation.
Meanwhile, police have obtained CCTV footage from a bank near the restaurant where Sambhath was shot.
Selangor deputy CID chief ACP Rooslan Radzi said forensics personnel also recovered a slug from the scene and it had been sent for analysis.
"We will also be recording statements from friends of the deceased," he told reporters at the Selangor police headquarters.
Sambhath was shot by a motorcycle pillion rider along Jalan Besar Kapar while talking to friends at 2.20am.
He died on the way to the Tengku Ampuan Rahimah Hospital.
He was cremated yesterday.
A close relative has urged the police to act immediately and arrest those responsible for Sambath's murder.
"The police must act on this immediately as there have been many shooting cases recently," he said.
Asked if Sambhath had any enemies or if he had been involved with any bad hats, the relative said Sambhath only concentrated on work and had very little time for other activities.
"On that night he was gunned down, he was supposed to deposit some money which he made from selling one of his lorries.
"We do not suspect anyone, nor did Sambhath tell me anything before the incident," he added.