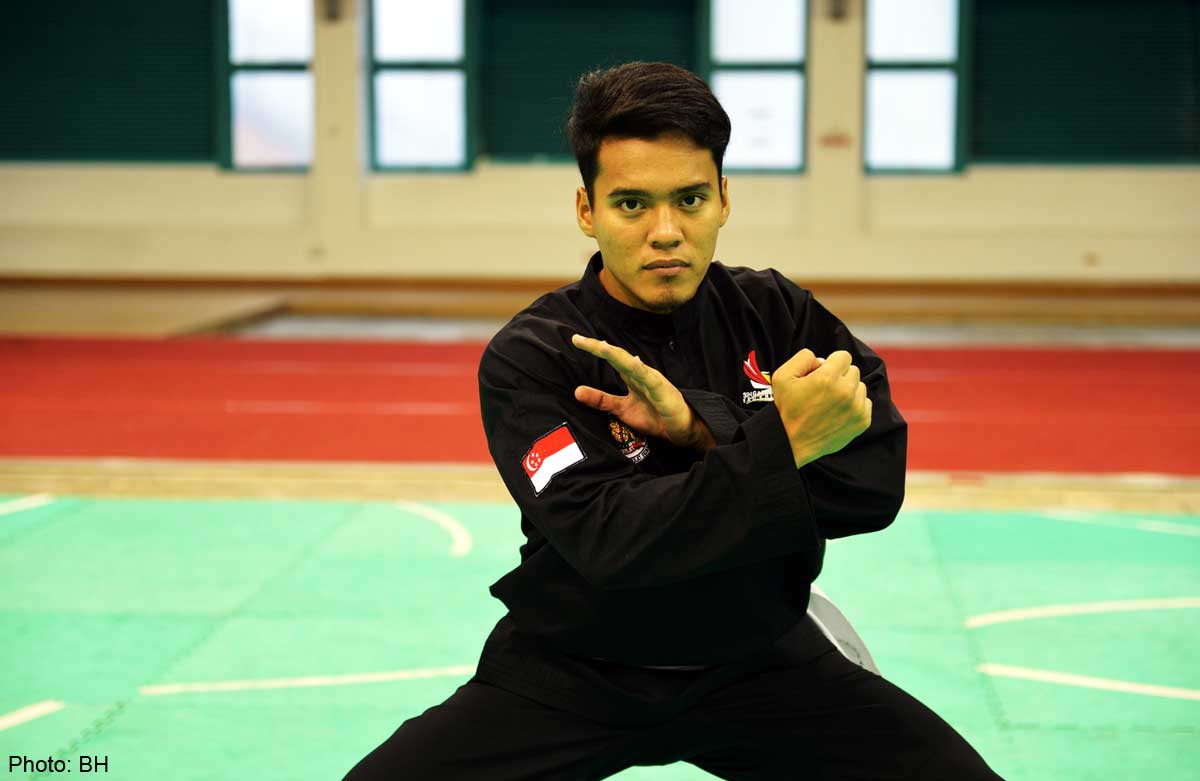 SINGAPORE - A world martial arts champion walks among us. He is tipped to bring Singapore glory at the ongoing SEA Games in Myanmar. But many would struggle to pick out 25-year-old silat exponent Shakir Juanda in a crowd.
Shayna Ng is queen of the bowling world. Yet outside Singapore's bowling centres, 2012 world champion Shayna, 24, is not a typical name that easily rolls off the tongue.
The duo are among a rare breed of Singaporeans who hold their own at the top of world sports, and will be counted upon to bring the country glory when the 2015 SEA Games are held here.
The pair are also part of an elite group of 10 who will gain access to the top tier of the Sports Excellence (Spex) Scholarship, the biggest-ever government sports fund. It is part of a scheme to further support the Republic's best athletes and encourage aspiring ones.
An annual median stipend in the region of about $90,000 per athlete - or Spex scholarship holder - on the top tier might not seem much in a sporting world where Real Madrid footballer Cristiano Ronaldo earns £288,000 (S$591,000) a week.
But in the Singapore context, it is a quantum leap.
For starters, it more than doubles what the nation's creme de la creme received previously. The $40 million investment over five years also casts the net wider, including lower-profile and disabled athletes.
But while this is a significant step forward, there is still much that can be done before talented local athletes start choosing sport as a full-time career without apprehension.
For parents to be persuaded into taking this leap of faith with their children, and for the public to identify a sporting career as one that makes a decent living, the gap between someone like Shayna and Ronaldo needs to be closed. While a figure like $90,000 may sound like a big sum, a large part of it is spent on travelling costs, coaching fees and equipment. An athlete's career is also a short-lived one.
Governments do need to take the lead in offering support. But it is not a duty that should be borne solely by the authorities.
Other parties, starting with the athlete himself and national sports associations (NSAs), are also responsible for making local athletes marketable.
Take marathoner Mok Ying Ren, for example. The 25-year-old doctor, who hopes to make the 2016 Olympics, takes a proactive role in finding sponsors to help fund his training needs. He has, over time, built up a considerable following on Twitter and Facebook. Mok, who is not part of the pioneer batch of Spex scholarship holders, also holds clinics for running enthusiasts.
His efforts have seen him raise about $60,000 worth of sponsorships from the likes of Pocari, Sakae Sushi, Far East Flora, Pet Lovers Centre and the National University of Singapore.
Corporate sponsors, while rare in Singapore, are still willing to back sport and sportsmen but only if the athlete takes the pains to show just why he is "marketable".
Mok is not the only one to successfully woo the private sector.
When interest in the Malaysia Cup was at fever pitch during the 1990s, Singapore's favourite footballing son Fandi Ahmad raked in tens of thousands of dollars a year. Corporations ranging from sporting goods and muesli bars to a stationery firm lined up to make him the face of their products.
More recently, local swim queen Tao Li secured a cash sponsorship with FedEx in 2007. She was also one of more than 60 international athletes who received financial support from credit card giant Visa ahead of last year's London Olympics.
But examples like Mok, Fandi and Tao are few and far between in Singapore. Most local athletes, especially those in those sports with a lower profile, do not have attractive deals lined up for them.
It seems ironic that while Singapore now has more athletes than ever competing successfully at the highest levels, they are not being marketed in a way that takes full advantage of this status.
It is hardly surprising therefore that parents and athletes often end up focusing instead on academic study. Blessed with one of the world's best education systems, Singaporeans often regard the latter as a more attractive alternative.
Unlike many countries in Africa, South America or even closer to home in Thailand, most Singaporeans live comfortably. That means less incentive to use sport as a means of escaping from poverty.
In that sense, while we have taken a big stride forward with the Sports Excellence Scholarship, we are still many paces behind the rest of the world. Singapore has only just started out on the road towards sporting excellence. To ensure this journey continues, our most talented and very best athletes must be convinced that their decision to choose sport is one that will pay off.
Hopefully, the Government's latest initiative, which is expected to be launched across all 15 benefiting sports early next year, will be sufficient impetus to get the ball rolling.
That way, the push for sporting glory will stretch much further than the SEA Games, due to be played on home soil in 2015, or the Olympics in 2016.
maychen@sph.com.sg

Get a copy of The Straits Times or go to straitstimes.com for more stories.