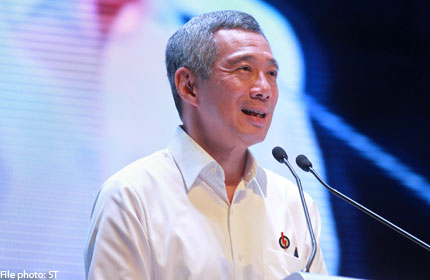 SINGAPORE - The federal government shutdown has dented the United States' diplomacy and restructuring efforts at home, Prime Minister Lee Hsien Loong said, though he believes the country is vibrant and resilient and welcomes it remaining a powerful force into the future.
Addressing a gathering of global business leaders here as the shutdown dragged on for a sixth day, Mr Lee said the shutdown had made it impossible for the administration to carry out normal diplomatic activities, and to address longer-term structural problems with the fiscal deficit, infrastructure and education.
"It is... not helpful for the American political system to be in gridlock when you have to make some basic decisions on how to keep your fiscal state in balance in the long term, and how to strengthen your competitiveness over decades," he said.
These were tasks, he added at the Asia-Pacific Economic Cooperation (Apec) CEO Summit, which would take more than one presidential term to carry out.
The crisis, a result of a stalemate in a divided Congress, has also affected the US' geopolitical role. On Friday, US President Barack Obama called off his visits to Indonesia and Brunei for this week's Apec and East Asian summits to deal with the domestic situation. Secretary of State John Kerry was tasked to replace him.
Mr Lee, in his first comments on the US government shutdown, said yesterday it was a "great disappointment" that Mr Obama called off his trip to the region.
"Obviously we prefer a US government which is working to one which is not, and we prefer a US President who is able to travel and fulfil his international duties to one who is preoccupied" with domestic issues, he added during a panel discussion on the state of the world.
"America is a very important partner for us, but we understand his problems and his priorities and we hope he'll be able to resolve them quickly."
Still, pointing to the country's vibrancy and resilience, he added: "Notwithstanding all these problems, I think 20 years from now it will still be a powerful country in the world, and that is good."
Meanwhile, there was optimism from US Commerce Secretary Penny Pritzker, who said the impasse back home would not derail plans to complete negotiations for the Trans-Pacific Partnership (TPP). The target is for negotiations on the ambitious free trade pact, covering 12 countries in the Asia-Pacific, to be concluded by December.
Trade issues aside, the US' role in keeping peace and stability in the Asia-Pacific was also highlighted by Mr Lee.
The US-China relationship is the most important and has to be managed responsibly by both sides with a long-term perspective, he said.
Today, Mr Lee will join other political leaders at the two-day Apec Economic Leaders' Meeting Summit. Discussions on the TPP, promoting physical and people- to-people connectivity, and achieving sustainable growth with equity are expected to dominate the agenda.
The Apec grouping, a 21-member forum concerned primarily with economic growth and free trade, also aims to improve the region's economic resilience in the current global slowdown, and continue working towards the 1994 Bogor goals. These are to achieve free and open trade and investment by 2010 for industrialised economies, and by 2020 for developing economies.
The TPP, meanwhile, is just one of several free trade agreements being hammered out, Mr Lee noted in his opening remarks at the panel discussion.
They were all "building blocks" towards an eventual free trade pact that would cover the Asia-Pacific.
"It's a complex region and we can't go it in one big bang," he said.
limze@sph.com.sg
Get a copy of The Straits Times or go to straitstimes.com for more stories.