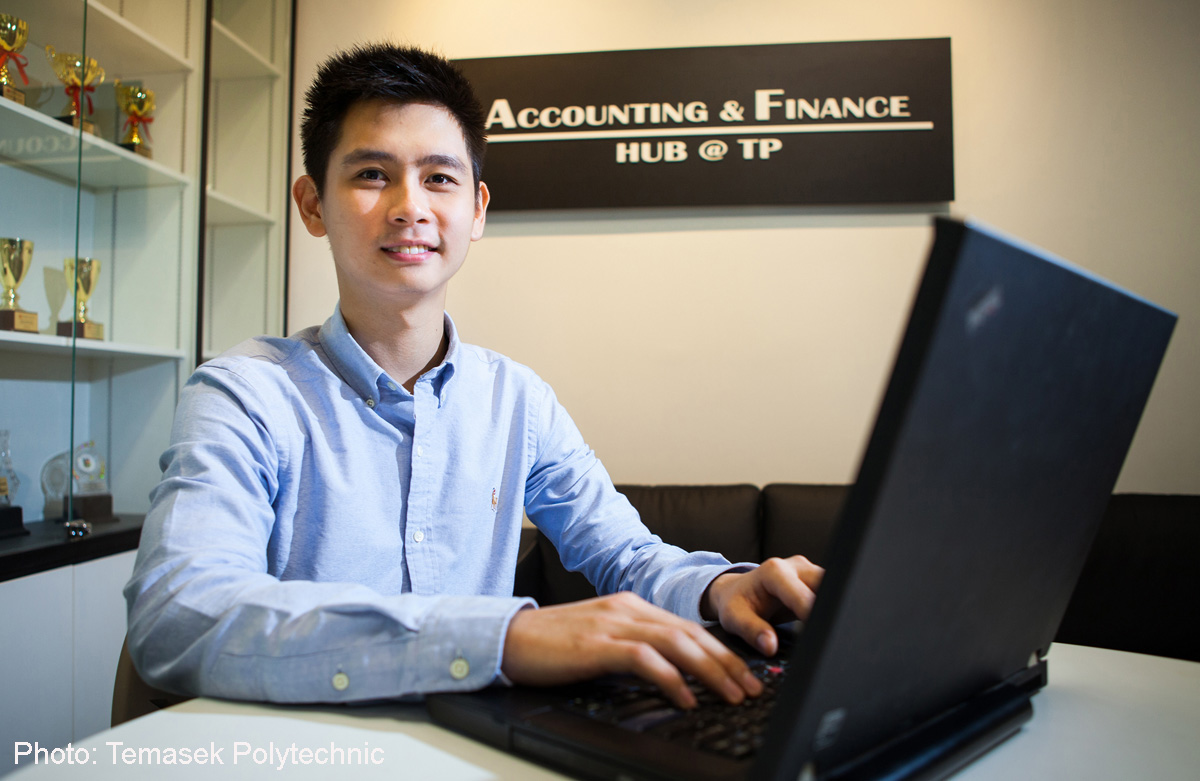 National serviceman Raymond Liu, 22, has always been a go-getter.
He was one of the top students at the N levels in 2007 and was one of the top Normal Academic student again at the O levels.
He is candid about his dream job - to be a fund manager because he enjoys making money.
So it is hard to imagine that the well-spoken and confident young man was once a quiet and shy student.
"It is the small successes that spurred me on to work harder," he said humbly.
A former student at Dunman Secondary, Mr Liu credits his transformation to his three years in Temasek Polytechnic (TP).
A TP scholar for three years, he shared his story at the The New Paper/Temasek Polytechnic Beyond O Level Seminar on Saturday at the polytechnic.
Inspired by his father and siblings who work in the finance industry, Mr Liu said he "always wanted to be in the finance industry".
He added: "My interest was also piqued because I was a principles of accounts student."
Although he scored five A1s and one A2 at his O levels, he decided to go to TP to pursue a diploma in finance and accountancy. Mr Liu graduated in 2012.
It was a decision he did not regret.
He excelled academically and was on the director's list for three years, graduating as an accountancy and finance gold medallist.
"My education at TP satisfied my curiosity in a field of my interest and provided me with the understanding I needed to decide the path I wanted," he said.
BIGGEST IMPACT
But Mr Liu thinks that the student leadership programme (SLP) that was part of the scholarship had the biggest impact on his life.
"I used to dislike speaking in public and I was never really given the opportunity in secondary school," he said.
As part of the SLP, Mr Liu attended several personal development and public speaking workshops.
He also took part in the Polytechnic Forum in 2010, Pre-University Seminar in 2011 and played host to foreign guests as an ambassador of the school.
"During the seminars, I had the opportunity to meet people from different backgrounds and gain new perspectives from them," he said.
Mr Liu was offered a scholarship and will enrol in Nanyang Technological University's double degree in accountancy and business course in August.
FOLLOW YOUR PASSION
If you love a girl, you don't love her for a year, you love her forever.
This was award-winning creative director, Mr Pann Lim's advice to potential students at the Beyond O Level Seminar 2014 held at Temasek Polytechnic (TP) on Saturday.
He advised students in the audience to follow their passions when choosing a course at the polytechnic, and likened one's passion in a particular course to a romantic relationship, where the passion and interest is something long term.
The TP alumnus added: "If you have the passion, prospects will come later."
Mr Lim, 40, who is also an adjunct lecturer at the polytechnic, was one of the five alumni invited to share their experiences studying in TP.
Manager of TP's Polytechnic outreach centre Diana Ho said that the seminar, which is in its 19th year, attracts 800 to 1,000 people each year.
Mrs Ho said: "We hold this (seminar) annually as a service to parents and students who are waiting for their O-level results.
"It helps to give them an idea of the choices and pathways they have in polytechnics and we want to share the courses at TP with them."
Mrs Ho also said that to help students choose their courses wisely, the seminar explains the application and selection process that goes on during the joint admissions exercise (JAE), which is "public information that most people are not aware of".
Lee Hui Kay, 16, who attended the seminar with her parents and has not decided whether to go to the poly or to junior college, said her first choice of study at TP would be psychology.
"I'm interested in how the mind works. My inspiration comes from Lie To Me, a TV series where the lead reads a person's body language," said the former Anglican High School student with a laugh.

Get The New Paper for more stories.