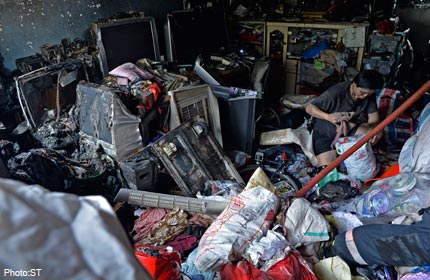 SINGAPORE - Family returns to Pending Road flat; they had collected scrap materials for extra income. The family of four whose flat in Pending Road was gutted by a fire last Tuesday morning may have returned home, but they could barely recognise it.
When The Sunday Times visited the four-room flat yesterday, the living room was a dreary sight. The walls, once painted light blue, were charred to the point of peeling, and the tiled floor was coated with grey soot. Heat from the blaze had melted the electrical wiring on the walls and caused the window's metal frame to bend out of shape.
Huge plastic bags of clothes and food were strewn all over the floor. The clutter was also seen in the other rooms and kitchen, with cardboard boxes, metal tins, bookshelves, mattresses and television sets forming many a motley pile.
These were the telltale signs of hoarding - and a stark reminder of the fire hazard that the habit can pose to dwellers. For about eight years, the family would collect scrap materials and sell them to recycling companies for extra income.
"We definitely knew that it was dangerous to keep so much stuff in the house, but no one had expected it to happen," said Mr Eason Ho, 34, a former firefighter who has been living in the flat with his mother and two younger brothers for 25 years.
Mr Ho added that the family could earn about $600 a month by selling recycled goods. Singapore Civil Defence Force figures show that there were 135 residential fires involving household items in the first half of this year alone.
The fire broke out at about 7am last Tuesday, when Mr Ho was at home with his mother, Madam Lau Kah Soh. The two managed to escape unhurt, but many of their belongings were destroyed by the fire.
Workers sent by the Holland-Bukit Panjang Town Council later helped clear the debris.
Madam Lau believes that the blaze started because she had left an altar candle unattended after praying.
"Luckily our grille door was not locked, if not we would surely have died," said the 64-year-old retiree.
She had refused to discard some of the wooden tables and shelves as they had belonged to her late husband, who died in a car accident about 10 years ago. "Of course I regret it, but I just couldn't bear to throw away all of his stuff."
yeosamjo@sph.com.sg

Get a copy of The Straits Times or go to straitstimes.com for more stories.