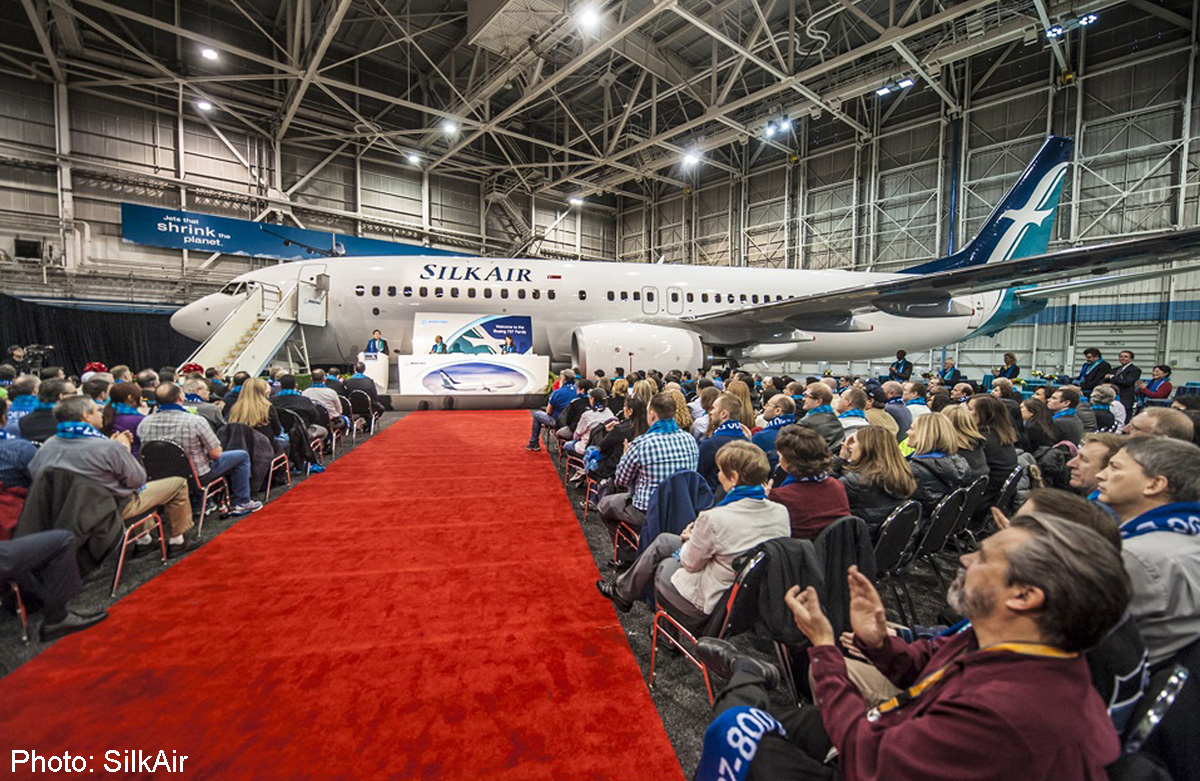 SINGAPORE - Regional carrier SilkAir marked a new chapter in its history when it received the first of 54 new Boeing jets on Tuesday.
Its new B737-800 will depart Seattle on Sunday for a 21-hour flight across the Pacific that will see it make stops in Honolulu, Guam and Majuro in the Marshall Islands.
The narrow-body aircraft will arrive in Singapore at 11.45am on Feb 12 and go on static display at the Singapore Airshow two days later.
SilkAir will put the new 737 into service on Feb 20 and deploy it on routes to Kuala Lumpur, Penang, Phuket and Medan.
The delivery marked the start of the full-service airline's transition to an all-Boeing fleet, from its existing fleet of 24 Airbus aircraft.
SilkAir chief executive Leslie Thng said the new 737s will support plans to expand the carrier's network.
"The transition to an all-Boeing fleet will enable us to efficiently serve more destinations, fly longer routes and increase capacity on existing routes."
Passengers can look forward to a "more complete" travel experience on the new 737, he added, noting that the cabin interior has been upgraded with a new "mood lighting" system and bigger overhead luggage bins that provide more headroom.
Seats will also have power sockets and audio programming. SilkAir's current fleet of A320s do not have either, with only silent programming available on shared overhead screens.
Mr Thng said a trial to provide downloadable wireless in-flight entertainment content has seen encouraging results so far in terms of technical stability and feedback from customers.
This service will be implemented on all new 737s and existing aircraft from April this year.
SilkAir will offer up to 20 movies, 10 shorter television programmes and 100 music albums that travellers can stream directly into their personal devices such as laptops and smartphones, he said.
In August 2012, SilkAir bought 23 B737-800s and 31 B737 MAX 8s worth US$4.9 billion (S$6.2 billion) - its largest aircraft order.
The new Boeing jets will be delivered between now and the end of the decade. They will more than double SilkAir's existing fleet of 18 Airbus A-320s and six A-319s which will be phased out gradually.
Eight B737-800s will arrive this year, and SilkAir will retire four A-320s as it renews its fleet.
The B737-800s will provide an 8 per cent increase in seat capacity compared to the A-320, with 12 more economy class seats.
Pilot training for the 737 has kicked into another gear.
Eight SilkAir pilots have been trained in the Boeing flight systems so far, including SilkAir chief pilot John Lee, who said that 24 pilots are currently being trained in Singapore.
SilkAir currently flies to 45 destinations, including Singapore. It will add Kalibo in the Philippines and Mandalay in Myanmar to its network this year.
The Centre for Asia Pacific Aviation, an aviation think-tank, said the B737 MAX 8s will open up the possibility of longer medium-haul routes to parts of China and India in future.
roysim@sph.com.sg

Get a copy of The Straits Times or go to straitstimes.com for more stories.