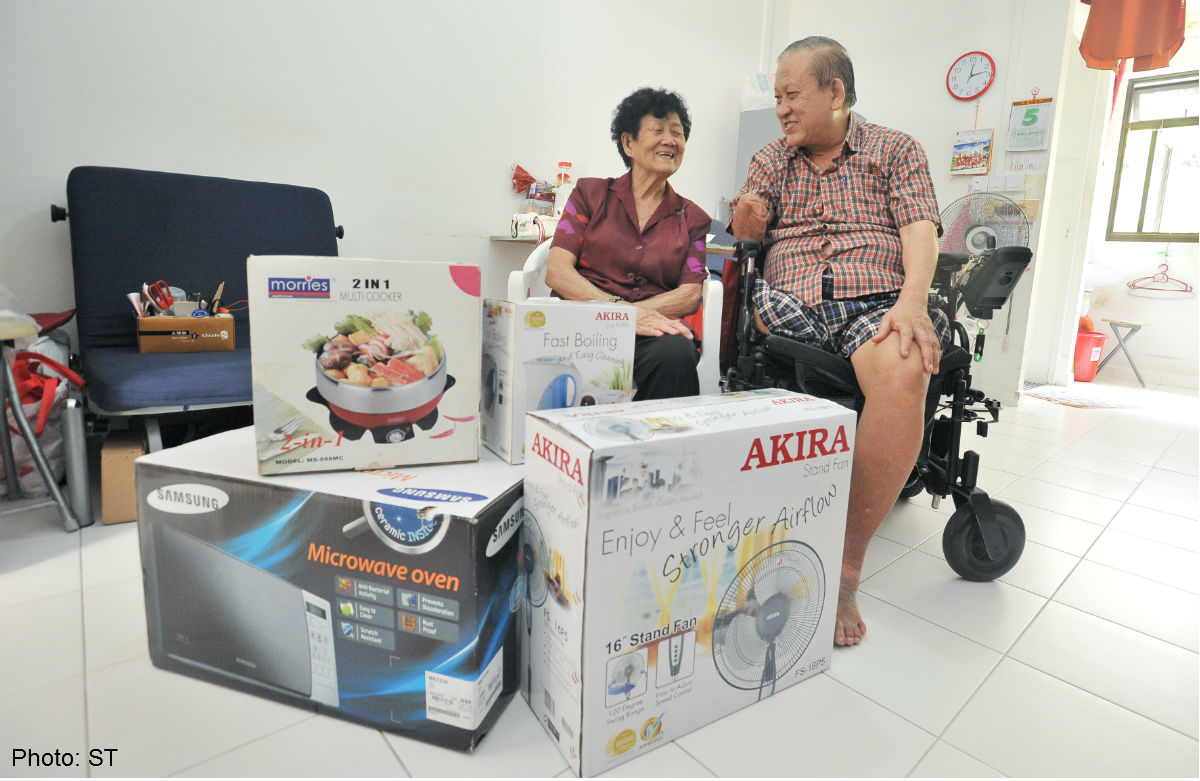 SINGAPORE - For the past few months, 78-year-old Ong Siew Choo and her flatmate Lim Boon Keng, 69, have had to put up with a faulty television set that would turn off without warning.
On Wednesday, the pair of friends, who live in a Tampines rental flat, received a brand-new TV set as a present for Chinese New Year, along with a hotpot, microwave oven and standing fan worth $400 altogether.
The money for the gifts came from a fund-raising project, which involved about 40,000 volunteers.
They folded origami stars under the "Wish Upon a Silver Star" project, organised by the North East Community Development Council and the NTUC FairPrice Foundation. Every 10 origami stars received a $1 sponsorship from the two organisers.
The volunteers, made up of students, staff from various companies and prison inmates among others, managed to raise $100,000.
Student Tan Jing Ting, 20, who folded about 5,000 stars, said: "Folding stars is not difficult. But if my effort can bring cheer to the elderly - it's a meaningful way to spend my free time."
The fund-raising effort is expected to benefit about 250 low-income senior citizens in the North East District. They include Madam Ong, who suffered a mild stroke in 2008, and her flatmate Mr Lim, who had his right arm and leg amputated in 2009 due to diabetes.
Tampines GRC MP Irene Ng on Wednesday presented the gifts to Madam Ong and several other residents.
She said: "They hardly complain about their circumstances and have a stoic attitude to life. I am glad we are able to lift their burdens and give them hope in a meaningful way."
Madam Ong, who usually spends the festival eating out with grassroots befrienders, said: "I like the hotpot, now we can have a steamboat meal at home for Chinese New Year."
Mr Lim and Madam Ong, who met in their youth, decided to apply for an HDB rental flat together so that they could take care of each other.
Grassroots befrienders also visit the two divorcees at home and organise outings for wheelchair users like Mr Lim.
They each receive $450 of social assistance from the Government every month.
"We save by buying cheaper groceries and not going out so often, so it's enough," said Madam Ong, who sometimes joins exercise groups at the nearby community centre.
Added Mr Lim, a former watch repairman and security guard: "In our condition, we try our best to be optimistic, and be good companions to each other."
kashc@sph.com.sg

Get a copy of The Straits Times or go to straitstimes.com for more stories.