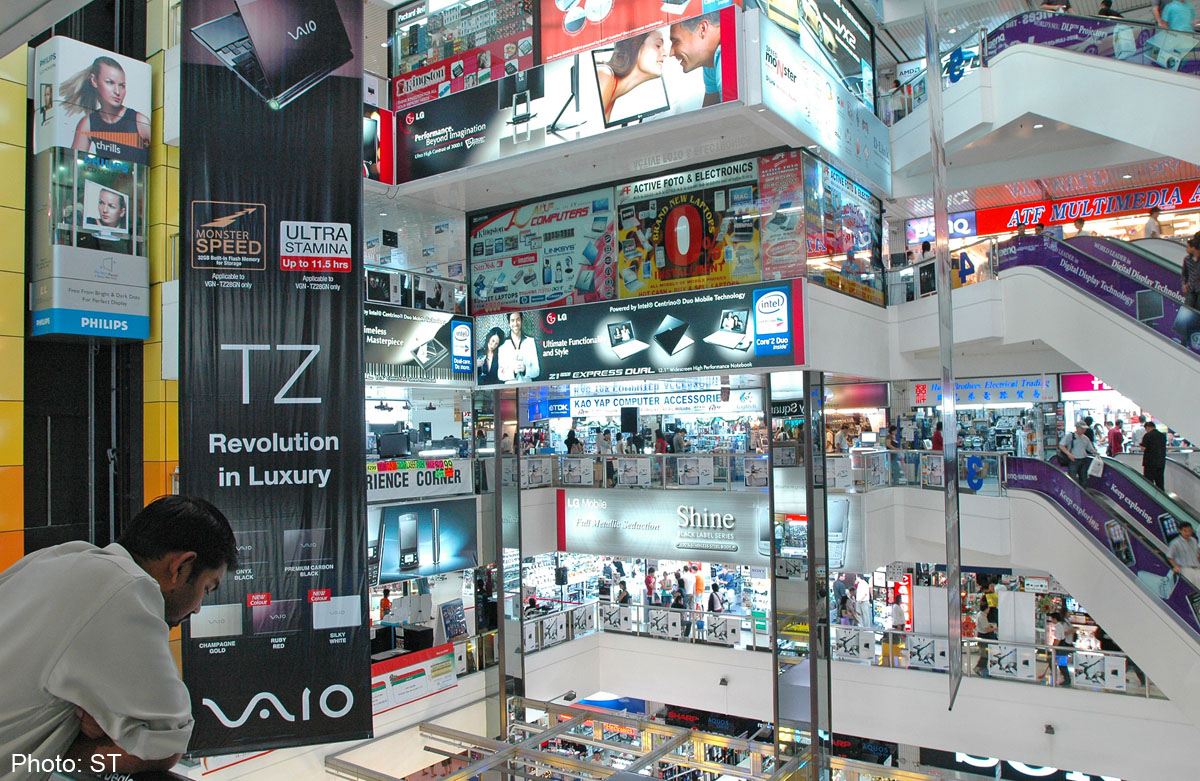 SINGAPORE - The bad reputation of Sim Lim Square, which has been driven by the dubious sales tactics of some of its tenants, is apparently not confined to Singapore.
The mall's bad name has gone international, with travel website TripAdvisor giving it bad reviews and a rating of two out of five stars.
The six-storey mall at Rochor Canal which specialises in electronic gadgets, was recently in the news after a retailer tried to give a customer more than $1,000 in coins after it was ordered by the Small Claims Tribunal to give a refund. The retailer is now being investigated by the Consumers Association of Singapore.
Out of the 213 reviews on TripAdvisor, 112 rated it "terrible". At least 50 of the negative reviews were from Singaporeans warning tourists against going there.
On Nov 3, a man who identified himself as a Singaporean said: "Foreign visitors, do NOT go to Sim Lim Square to get your electronic products, you will get ripped off for sure."
Another Singaporean woman wrote in October: "To shop here, you will either need to do extensive research or try your luck. Often the scammers simply set up shop under a different name again."
Tourists, meanwhile, gave reviews on faulty products, rude services or being charged twice or thrice the actual price. According to the reviews, overcharging was often done at the time of purchase, with the service staff keying in an amount much higher than what was agreed upon.
The tourists came from all over the world, including countries such as Italy, India and Australia.
A search on Google for "Sim Lim Square scam" results in a seemingly never-ending list of bad experiences. Many are emotional and detailed accounts of painful, sometimes frightening experiences. They are shared on forums, blogs and YouTube. Some experiences even involve alleged physical abuse and vulgarities, with the police being called in to intervene.
However, there are others who defend the mall, saying that there are still honest shop owners amid the black sheep.
One Singaporean who bought computer components wrote on TripAdvisor: "I know there are many negative reviews on SLS (Sim Lim Square) but I feel obligated(sic) to say gems do exist in SLS! With proper research you can find them!"
Another reviewer from Kazakhstan said on the same site: "Sim Lim Square is a must visit venue for all travelers to Singapore. You name it, they have it." In fact, his only gripe was that the lifts are slow.
In response to a blog entry on a bad experience, another Singaporean said: "It isn't untrue that you can get a good deal at Sim Lim; it's just that the place is, well, polarised. It's like a 50-50 split between criminals, and solid businessmen."
Those who have successfully bought products without being cheated advise shoppers to avoid the first and second floors, and say that the mall is good for buying computer components.
jalmsab@sph.com.sg

This article was first published on Nov 4, 2014.
Get a copy of The Straits Times or go to straitstimes.com for more stories.
-->