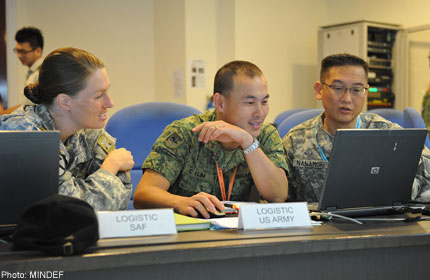 The brigade-level exercise involved about 300 personnel from both sides. Together, they conducted a command post exercise.

Get the full story from The Straits Times.
Here is the full statement from MINDEF:
The Singapore and the United States (US) Armies concluded an annual bilateral training exercise codenamed Tiger Balm today. Chief Infantry Officer/ Commander of 9th Singapore Division (9 DIV), Colonel (COL) Chiang Hock Woon, and Deputy Commanding General of Army National Guard, US Army Pacific, Major General Gary M. Hara, officiated at the closing ceremony of the exercise at Pasir Laba Camp this morning.
Held from 15 to 26 July 2013, the brigade-level exercise involved about 300 personnel from the 23rd Singapore Infantry Brigade (23 SIB), 9 DIV; the 201st Battlefield Surveillance Brigade (201 BfSB), 7th Infantry Division, the Hawaii Army National Guard and the US Army Pacific Command. Together, they conducted a command post exercise which enhanced the professional cooperation between both armies. This year's exercise was the 32nd in the series since 1981.
On the value of the exercise, Brigade Commander of 23 SIB, COL Mohamad Fadzully Bin Abas said, "This exercise has allowed both armed forces to interoperate and exchange battle strategies. The combat experience of our US counterparts has enhanced the level of realism in our training." Brigade Commander of 201 BfSB, COL Daniel Soller, added that his troops had accomplished the training objectives of improving work processes at the command post and learnt to better operate alongside their Singaporean counterparts. He was also impressed with the professionalism shown by the Singapore Armed Forces personnel. "We have made very good friends in Singapore," he said.
Exercise Tiger Balm is one of many bilateral interactions between the Singapore and US defence establishments. Both countries share an excellent relationship, and the armed forces interact extensively through exercises, professional exchanges and cross-attendance of professional courses. These interactions have enhanced the interoperability between the two armed forces and fostered mutual understanding among their personnel.