UPDATE: This story has been amended to reflect corrections made by Bloomberg and include NEA's statement
---
On Wednesday (June 10), the Instagram account of Bloomberg Green put out a rather alarming graph. 
Comparing the amounts of solid waste produced by 22 key countries around the world, Singapore sits right on top of the heap. According to the graph (with data sourced from World Bank), the Little Red Dot generates way more waste than the likes of the United States, Canada and Germany. 
Or even China for that matter, which is ranked in the bottom three of the graph alongside the Philippines and Vietnam. 
That's insane, you might think — how can a country with a smaller land area than Hong Kong put out so much more trash than the entirety of the US? 
It was erroneous, as it turned out. Bloomberg has since taken down their original post and replaced it with a corrected table. 
NEA responds
The National Environment Agency (NEA) has since taken issue about the chart — that the data concerning Singapore is wrong, the government agency clarified. 
According to NEA, the figure for Singapore has been grossly inflated. The data Bloomberg used to produce the chart is from the 'Total Municipal Solid Waste (MSW) Generated (tonnes/year)' dataset for 2017 of the World Bank. This would only count waste generated from households, institutions and commercial premises, excluding sources such as construction, industrial and mining activities. 
But the dataset the World Bank used in its findings is actually the total amount of waste generated in Singapore. 
"This figure is the aggregate of the waste from households, institutions and some commercial premises, as well as the waste from the non-domestic sector,  i.e. construction and industry," NEA stated.
Thus the alarming picture on the Bloomberg chart. NEA has since written to the World Bank and Bloomberg Asia to correct Singapore's figures. 
The graph was released as part of the inaugural print issue of Bloomberg Green, Bloomberg's quarterly magazine featuring premier climate journalism. 
PHOTO: Issuu screengrab
In the comments section of the Bloomberg Green post, folks demonstrated confusion over why Singapore is considered the top waste producer.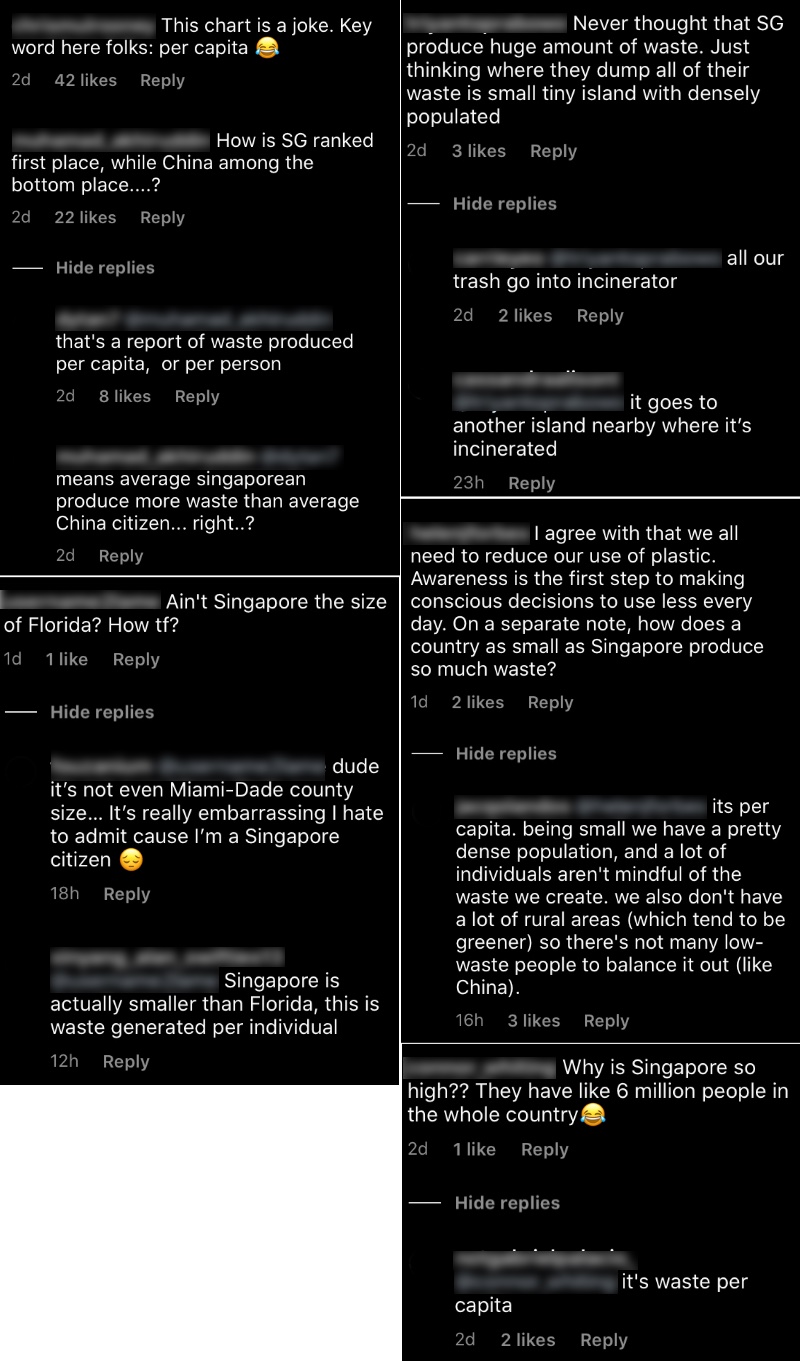 PHOTO: Instagram screengrabs
ilyas@asiaone.com