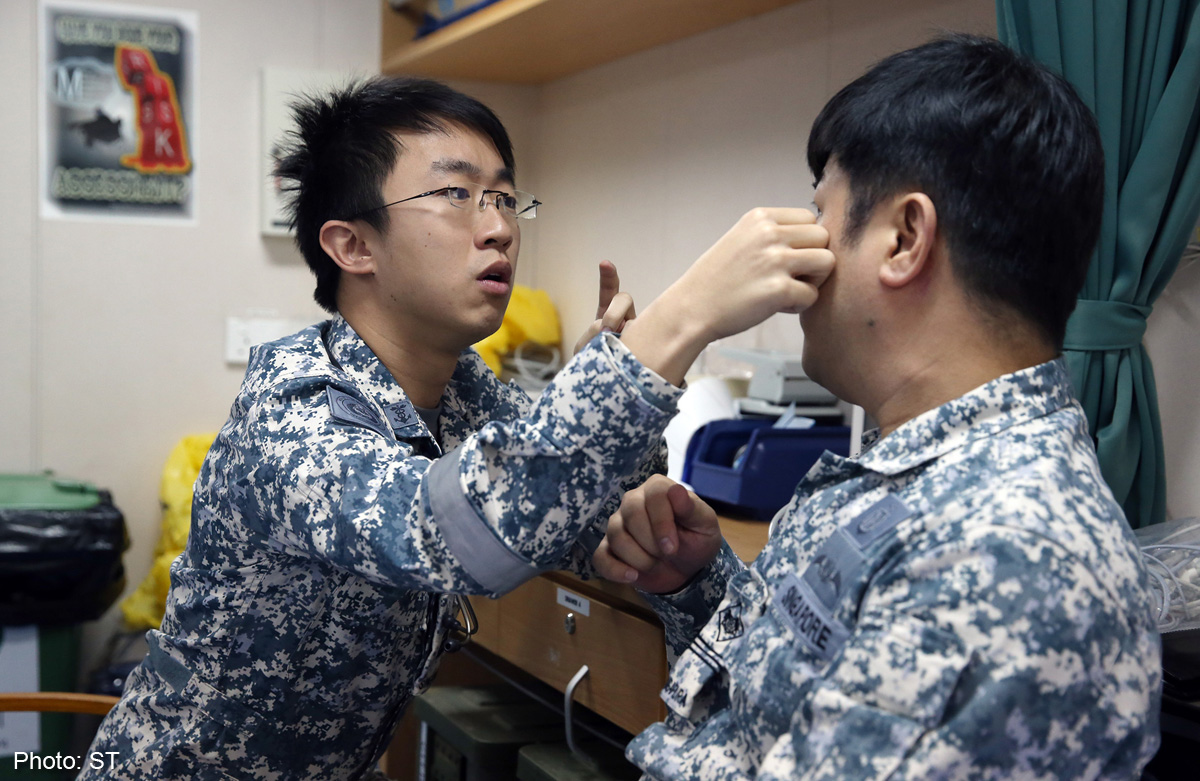 Dec 28 was a typical Sunday morning until they received the message.
Senior Lieutenant-Colonel Chow Khim Chong was at home in Upper Serangoon, having breakfast with his family.
Captain (Dr) Darren Choy was in church at Commonwealth. Military Expert-3 (ME3) Edwin Tan had just woken up in Bukit Panjang where he lives with his wife.
They were all told the same thing - Indonesia AirAsia Flight QZ8501 had gone missing and they were on standby to help in search operations on submarine support and rescue vessel MV Swift Rescue.
"I started packing immediately though I didn't know when I would be leaving," said ME3 Saravanan, a 42-year-old father of two.
Others, such as diver Low Cher Zhi, 29, volunteered after reading about the call in a WhatsApp groupchat. He was clearing his annual leave but decided to cancel it. The staff sergeant said: "I wanted to be able to contribute in any way to help the affected families. That was one of the reasons I joined the (divers) in the first place."
On Monday, the ship was being prepped. The next day, it set off with a crew of 35. And that meant them cancelling all New Year plans.
For the past decade, Dr Choy had been faithfully joining around 25 friends from junior college for an annual potluck gathering. "But my friends understood the importance of the trip," said the 26-year-old full-time national serviceman who has been in the force for only six months.
ME3 Tan was supposed to go on a weekend trip to Malacca with his wife. "She told me that she would take care of matters at home," the 41-year-old said.
When the New Year did come, the mood on board was muted, save for the sound of waves knocking against the ship's sides and the whirring of the engine.
"Some of the divers made instant noodles and had some ice cream," said Staff Sgt Low. "When it was midnight, we just wished each other and went to bed."
The grave nature of their mission kept them focused on their jobs. The divers conducted repeated checks on their equipment such as the pinger receiver, which is used to listen for signals from a plane's flight recorder underwater, and the Mark V, a yellow lifting bag that can carry up to one tonne.
They also made sure that their two black rubber seaboats remained properly inflated daily. "We need to be ready to move out any time," said Staff Sgt Low.
The medical team made sure that everyone remained fighting fit. "We stay in close proximity, and breathe circulated air which can cause diseases to spread quickly," said Dr Choy.
Today is MV Swift Rescue's sixth day at sea. One of its key priorities is to locate the plane's black box, which contains flight data and records conversations in the cockpit. It is one of five navy ships that have been sent by the Singapore Armed Forces to help with the search operations in the Java Sea.
Senior Lt-Col Chow, 48, the naval officer in charge of MV Swift Rescue, has been in the service for the past 28 years. He said: "We are committed to helping the families and Indonesian authorities seek closure. It is human nature to want to help, and we also have a duty."
ME3 Saravanan, one of the watch supervisors, said: "Instead of knocking off after a four-hour shift, the team keeps watch for an extra two hours to help those on the later shift. That allows us to have more eyes on the waters."
awcw@sph.com.sg

Get a copy of The Straits Times or go to straitstimes.com for more stories.