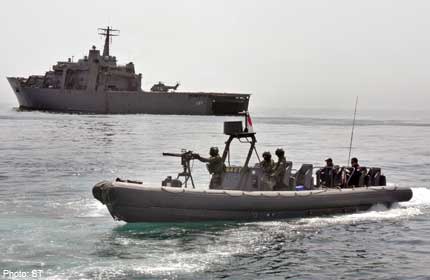 SINGAPORE - Singaporeans interested in finding out more about the navy can visit the Republic of Singapore Navy's (RSN) RSS Endurance ship at the Navy@Vivo event this week.
The RSN's Endurance-class Landing Ship Tank, which has been deployed for various Singapore Armed Forces overseas deployments, such as the counter-piracy operations in the Gulf of Aden in 2010, and humanitarian assistance and disaster relief mission for the 2004 Tsunami in Indonesia, will be docked at the VivoCity Promenade from November 14 to 17.
Some visitors will also get the opportunity to ride onboard the RSN's Fast Craft Utility.
Commanding Officer of RSS Endurance, Lieutenant Colonel (LTC) Jason Yee said that RSN personnel would take the opportunity to share their experiences with the public. He said:"My crew and I are looking forward to welcoming visitors to our ship and share with them our experiences during operations and exercises, both in Singapore and overseas."
Apart from the exhibitions and video screenings of the various missions and operations that the ship has undertaken, the public will also be able to witness the conduct of a ceremonial sunset - a long-standing naval tradition - at 6.45pm daily during Navy@Vivo.
In addition, an exhibition illustrating RSN defence missions will be held in VivoCity. The public will also have the opportunity to take photographs with members of the Naval Diving Unit.
While tickets for visiting the ship have been snapped up in an online ballot, some tickets are still available via lucky draws held at the exhibitions.
More information can be found on the Singapore Navy Facebook page.
ljessica@sph.com.sg