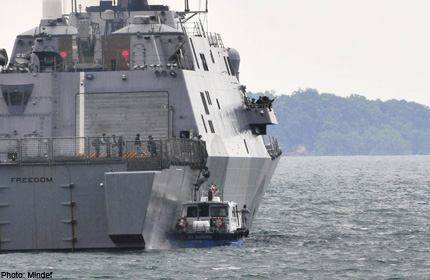 SINGAPORE - The Republic of Singapore Navy (RSN) participated in the 12th annual Southeast Asia Cooperation Against Terrorism (SEACAT) exercise held from September 2-12.
Navies from the United States, Brunei, Indonesia, Malaysia, the Philippines and Thailand also took part in the exercise aimed at enhancing maritime information-sharing and coordination of maritime security responses in the region.
The participating navies conducted planning exercises at the Changi Command and Control (C2) Centre at Changi Naval Base. Other drills included the tracking of ships and the boarding of a merchant vessel simulating to be engaged in terrorist-related activities at sea.
Assets involved in SEACAT included a patrol vessel from the RSN, patrol boats from the Singapore Police Coast Guard and a maritime patrol aircraft from the Republic of Singapore Air Force.