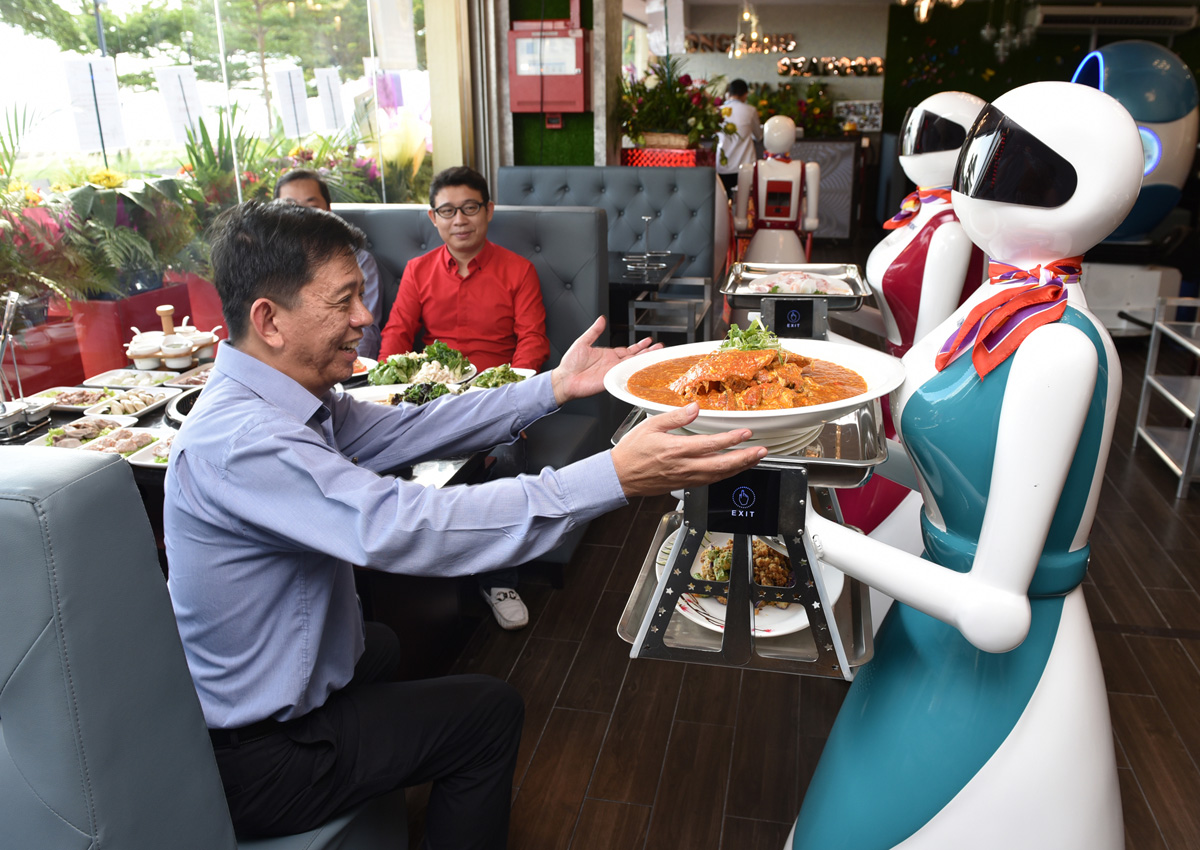 A new seafood restaurant at East Coast Park is believed to be the first here to use robot waiters to serve food to customers.
Rong Heng Seafood Restaurant, which opened last Monday, uses robots to meet some of its manpower needs, Chinese newspaper Lianhe Zaobao reported yesterday.
The eatery hopes to save a third on manpower needs via this initiative.
Restaurant boss Zhang Zhinong told Zaobao on Saturday that "people are hard to hire".
The outlet needs 15 waiters but only six have been hired so far. However, with the three waiter robots, he needs to employ only four more.
The 39-year-old first got the idea when he saw robots serving food in a restaurant in Kunshan city, near Shanghai, in late 2014.
Said Mr Zhang: "No matter how you aggravate it, the robot will not get angry.
"Disputes can sometimes arise between waiters and customers. Robots do not need pay rises, bonuses or welfare. They can work 24/7, do not need to take annual or sick leave and will not quit.
"With Chinese New Year coming, they will also not have any issue with doing overtime."
The robots require maintenance only once a week.
Mr Zhang added that curious customers will touch the robots but this has not resulted in any damage so far.
The battery-operated robots are produced by a Chinese company - the outer shells are made in China while the interior components and sensors are made in Japan.
Each robot costs more than $14,000 while waiters are hired for about $30,000 per year. Therefore, to Mr Zhang, it is more cost-effective to go for robots.
However, he pointed out that they cannot fully replace human servers, adding that the job of a waiter in the future could shift instead to building customer relationships.
Yang Shuning, 23, a waiter at Rong Heng, told Zaobao that the robots have lightened her workload and drawn more customers.
In order to create a 1.2m-wide path for the robots to move about, the restaurant had to adjust the arrangement of the furniture and reduce the number of tables and chairs.
There are magnetic strips on the floor of the eatery to guide the robots on their paths to and from the kitchen and tables.
Waiters in the kitchen will place the dishes on the robots' trays and press the appropriate buttons to send the machines to the designated tables.
Sensors on the robot will ensure a distance of 15cm from any obstacles in its path.
Liang Lihao, a 55-year-old businessman who was eating at the restaurant for the first time, told Zaobao that the use of robots was "far-sighted" and created a fresh dining experience.
Once the robots arrived at the table, a waiter or customer would retrieve the food from its trays.
Mr Liang said this self-service is something that can be cultivated and is not inconvenient.
Mr Zhang plans to add more robots with different functions such as order-taking, changing of cutlery and welcoming of customers to his restaurant.
Currently, the robots speak only Mandarin but he is looking at how to get them to handle English as well.

Get MyPaper for more stories.