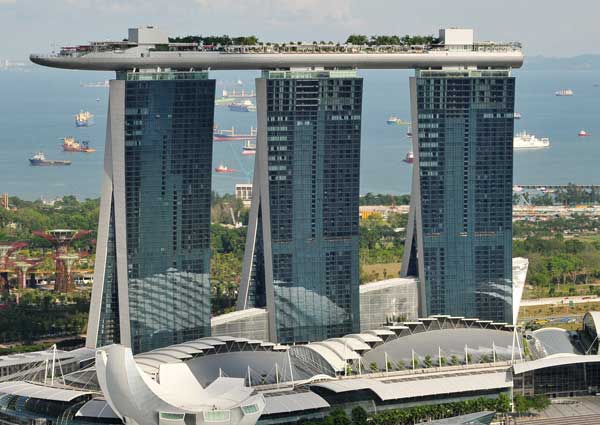 With its government pushing for the development of "smart nations," Singapore this year leads other Asian countries to not only set eco-friendly cities with zero-waste culture, but also fully utilize smart technologies in flourishing a green economy across the region by 2030.
Through Build Eco Xpo (BEX) Asia 2015, the eighth edition, held Sept. 2-4 at the Marina Bay Sands & Expo Convention Centre, Singapore, regional players of the building industry around the world share and collaborate on how to fight climate change and reduce energy consumption and cost.
"Going green and building sustainable buildings require the collective effort of government bodies and private corporations [like] developers, architects, consultants and other industry stakeholders," said Michelle Lim, Reed Exhibitions managing director. Reed Exhibitions is BEX Asia's event organizer.
Practical solutions
Lim said that with BEX and International Green Building Conference, a colocated event organised by the Building and Construction Authority, like-minded stakeholders would be able to find practical solutions to build sustainable buildings and be encouraged to adopt energy conservation technologies together. Over 500 exhibiting companies globally participated and an estimated 30 per cent growth in terms of scale and product representation was seen compared to last year's.
Project development director Louise Chua of Reed Exhibitions said that for countries going green, it is best "to do what is suitable."
"The challenge here is to retrofit old buildings into green buildings… to [change] from traditional to green products," Chua said.
She added that it is possible to turn a country into a "Smart Nation" by spreading awareness on how the technology works.
In addition, Reed Exhibitions brought Mostra Convegno Expocomfort (MCE), a show brand from Milan, Italy, for the first time in Asia.
The MCE Asia 2015 exhibition on heating, ventilation and air-conditioning focused on cooling, water, renewable energy and heating sector. International brands such as AGC Pacific, Daikin, Mitsubishi, Panasonic, REC Solar, Schneider Electric and Philips were among the frontliners of the said event.
Fourty-four industry experts discussed various green building topics and best practices at the "Green View" and "Mostra Xchange" seminar areas.
Lim said: "I am happy to share that overseas delegations from Indonesia, Nepal, Thailand, [the] Philippines and Vietnam, and across Europe from Italy, Belgium and Brazil are attending this year's show… More than 400 business meetings are set up to facilitate deeper one-on-one engagements between sellers and buyers."
Merit prize
Meanwhile, a group of students from the University of Santo Tomas competed at BEX's International Tropical Architecture Design Competition 2015, themed "Urban Green Office Building."
Liza Patricia Sia, Liza Marie Sia and Ana Rose Libang received merit prize for their project "Vercon," a Filipino urban smart green office building that incorporates culture and technology in this modern world. They were the first Filipinos to be shortlisted in the Top 5 since 2012, out of the 91 entries from 19 countries.
"With these exciting developments and programs, we are now in a better position to tackle the challenges related to building a sustainable built environment," said Lim.