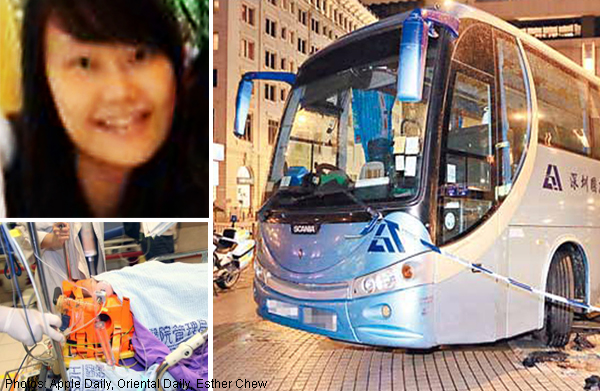 Hurrying to catch a performance, the last thing she heard while crossing the road was her colleague shouting: "No!"
Turning around, she saw the dread on her friend's face and knew something bad was about to happen to her.
True enough, Ms Yeong Kai Ting stared as a tour bus hurtled towards her.
Everything then became a blur.
When she came to, she found herself bloodied, lying face down on the tarmac, and to her horror, with the huge vehicle on top of her.
The accident happened on April 2 in Hong Kong. Ms Yeong, 25, a Singaporean, was on holiday with two colleagues.
They had been looking forward to catching the Symphony of Lights show at Victoria Harbour as they had twice postponed seeing the light display earlier during the trip.
Realising the show had already started, Ms Yeong had quickened her pace and walked ahead of her friends.
Distracted by the lights in the sky, she failed to notice the bus turning into the road she was crossing at Tsim Sha Tsui.
The New Paper reported on April 4 how the accident had crushed her left leg and pelvis and landed her at Queen Elizabeth Hospital in Yau Ma Tei in Hong Kong.
Ms Yeong, an assistant sales manager with Print Classified at Singapore Press Holdings (SPH), returned to the Republic only last Friday. She was taken to Singapore General Hospital.
Speaking to TNP yesterday, she said: "The moment I turned back to look, it was too late."
Ms Yeong said she had tried to step back to avoid getting hit, but the slippery road slowed her.
She said: "I didn't have time to react."
Hit by the left side of the bus, Ms Yeong fell and the bus' front left wheel rolled over her left thigh.
She then found herself lying face down on the road and felt a sharp pain in her pelvis and leg.
Ms Yeong strained to look behind her and was stunned to find the bus on top of her, its wheel pinning her down.
She said: "I could feel the whole weight of the bus resting on me. I wasn't scared, but I wanted the ambulance to come quickly. There was no choice but to tolerate it."
As she lay on the road, Ms Yeong said she thought of her family.
"I thought of what a bombshell it would have been for them," the youngest of three siblings said. Ms Yeong has two older brothers.
As she lay helpless and bleeding, she saw a couple call for help on their phone as her panicked colleagues tried to reassure her.
Finally, the bus driver reversed the vehicle.
"The next thing I knew, I was on a stretcher and the paramedics were putting an oxygen mask on me," she said.
According to her colleague, Ms Esther Chew, 27, she was rushed into the operating theatre at the Hong Kong hospital and emerged only 17 hours later.
The accident left her with a fractured pelvis and seriously injured her left leg.
Ms Yeong said she was groggy after her first operation and did not realise that her family had already arrived to see her.
She said she was pleasantly surprised to find out that the couple who had helped her, visited her in hospital.
She said: "I didn't get to see their faces as I was probably still on anaesthetic, but I believe my family thanked them."
After spending more than a month in Hong Kong and eight operations later, Ms Yeong is glad to finally be back home.
When TNP visited her at the hospital, her left leg was covered with a blanket while her right leg looked like it had pieces of skin removed.
A machine was pumping out fluids from her body.
Despite this, Ms Yeong looked to be in good spirits. Flowers and gift baskets littered the hospital room.
She said her father and brother had stayed in Hong Kong to take care of her. She was happy that their lives could return to normal.
Her brother, Mr Jeremy Yeong, 32, an assistant engineer, said that doctors in Hong Kong stabilised her condition and stopped the bleeding.
They also put in a fixator, a frame with long screws that are inserted into the bone, to stabilise her pelvis.
Ms Yeong said that doctors had to insert long metal rods into her lower leg, from her ankle to her knee cap.
Her wound is still open and she needs skin grafts from her uninjured leg.
Ms Yeong was thankful that she had bought travel insurance.
Her brother said that her overseas medical bill, which totalled more than $50,000, had been covered by it.
The insurance company had also helped to arrange her flight back to Singapore.
Bedridden for more than a month, Ms Yeong said she was looking forward to a full recovery.
She said: "I am really thankful to the people who were around to support me. I feel quite fortunate."
Mr Tan Ooi Boon, head of SPH's Print Classified, said the company is glad that Ms Yeong is finally back.
He said: "The team will take turns to visit her and we will do our best to keep her spirits high as this will certainly help in her recovery process. And we will continue to do that until she is fit enough to come back to the office."
Mr Yeong said that the doctors could not promise if his sister would walk again.
He said: "They want to ensure that the wound heals and infection doesn't set in.
"Only then will they move on to the next step in her recovery."
He said that while there was a chance Ms Yeong might not walk again, he preferred to look at the brighter side of things.
"She's still here and that is what's most important."
yufengk@sph.com.sg
This article was published on May 16 in The New Paper.


Get The New Paper for more stories.