As Singapore sees a rise in coronavirus infections among its migrant worker population, rights groups are calling on the authorities to improve the living conditions of these workers, pointing to how they are housed in dormitories that are too cramped for them to practise physical distancing.
Low-wage migrant workers make up about one-sixth of Singapore's 5.7 million population, and non-governmental organisations estimate that about 200,000 of them sleep in dormitories that house 12 to 20 men in each room.
"The notion of safe distancing in the room itself is laughable. All the distancing [they] do outside the rooms would not make much difference," said the Transient Workers Count Too (TWC2) NGO on their website.
Apart from sharing sleeping quarters, workers also share toilets and eating areas with dozens of others, said Luke Tan, case work manager at Humanitarian Organisation for Migration Economics (Home).
Local media reports have highlighted poor living conditions in some dorms, ranging from kitchens infested with cockroaches to overflowing urinals.
Some workers told The Straits Times that toilets in their dorms were not disinfected, and trash was not regularly cleared.
"These factors create a perfect storm for massive rapid infection," Tan said.
Singapore is battling a surge in locally-transmitted cases, fuelled by residents returning from overseas. Local clusters have since grown from six in February to almost 30. From 102 cases recorded on Feb 29, the rate of infections escalated in March by almost tenfold.
Of the more than 1,300 infections as of April 6, more than 150 have been linked to seven worker dormitories and another 26 to construction sites.
In the first wave of infections, five cases from a worksite at the Seletar Aerospace sparked fear among the migrant worker community.
On Sunday, the authorities gazetted S11 Dormitory @ Punggol and the Westlite Toh Guan dormitory as isolation sites, requiring workers to remain on the premises for two weeks. The workers would still be paid and get three meals a day, the government said.
The S11 Dormitory houses 13,000 workers, while the Westlite Toh Guan has 6,800 residents.
Veteran diplomat Tommy Koh was among local commentators who called attention to the plight of migrant workers when he wrote on Facebook on Monday that their treatment was "not first world but third world".
"They stay in overcrowded dormitories and are packed like sardines with 12 persons to a room. The dormitories are not clean or [sanitised]. The dormitories were like a time bomb waiting to explode," Koh said. "They have now exploded with many infected workers."
John Gee, executive committee member at TWC2, said workers wanted to protect themselves, but they received advice about physical distancing with mixed feelings. "It makes sense, but their conditions of life simply make it very hard to practise," Gee said.
One resident at the S11 Dormitory, who declined to give his name, said he used the same shower facilities as about 150 others.
"Each room has 12 people living in it, and all 14 rooms of people use one toilet," he said. "If one man has the virus, we may get infected after using it. The toilets are cleaned about twice a day but I don't feel safe."
The worker said he believed other occupants were not properly briefed on how to protect themselves against the virus.
"We need some counselling and to be given instructions on how to prevent the spread. I think this would be helpful," he said, adding that workers were not just concerned about their living conditions but also about the possibility of wage cuts or being laid off.
When asked about the workers' living conditions and concerns, Westlite said it was focusing "very much on the health, safety and well being of its residents" and would not be able to respond to queries.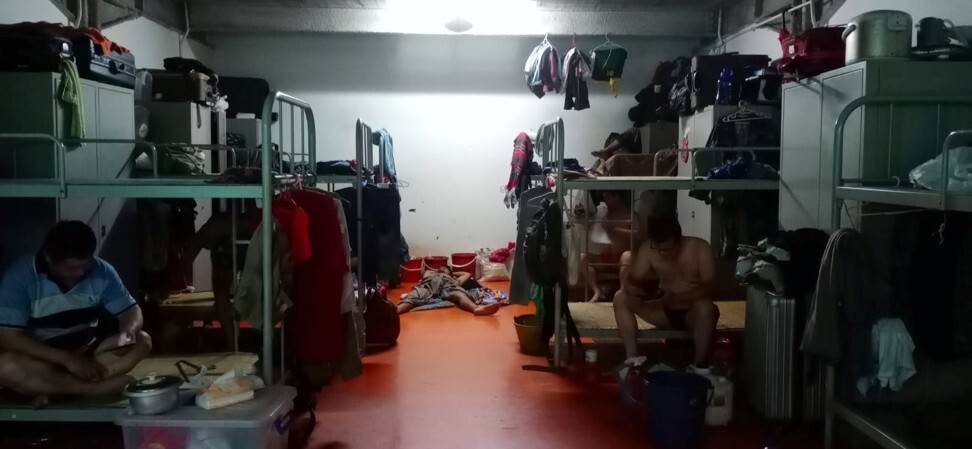 Workers in a dormitory where a quarantine is in effect. PHOTO: Reuters
One Westlite resident, 35-year-old Aayu, said he and his fellow residents had been provided free meals, Wifi and regular updates on the current situation. However, he was worried that his monthly salary of $2,200 would be docked.
"Everybody is worried and we always try to share a clear picture [with our families]," said Aayu, who declined to give his full name or say which country he was from.
"If just 10 per cent of my wage is cut, that means adjusting my meals for the following months," added the father of a 10-month-old girl.
"I have to adjust the financial plans I have for my family. We were told that wages will be given, but the email we received said the [Ministry of Manpower] will discuss with companies what the final decision will be. We won't know for sure until the end of the month."
Dipa Swaminathan, the founder of Raining Raincoats, a non-profit organisation, said that any kind of wage deduction would have major repercussions on the workers and their families.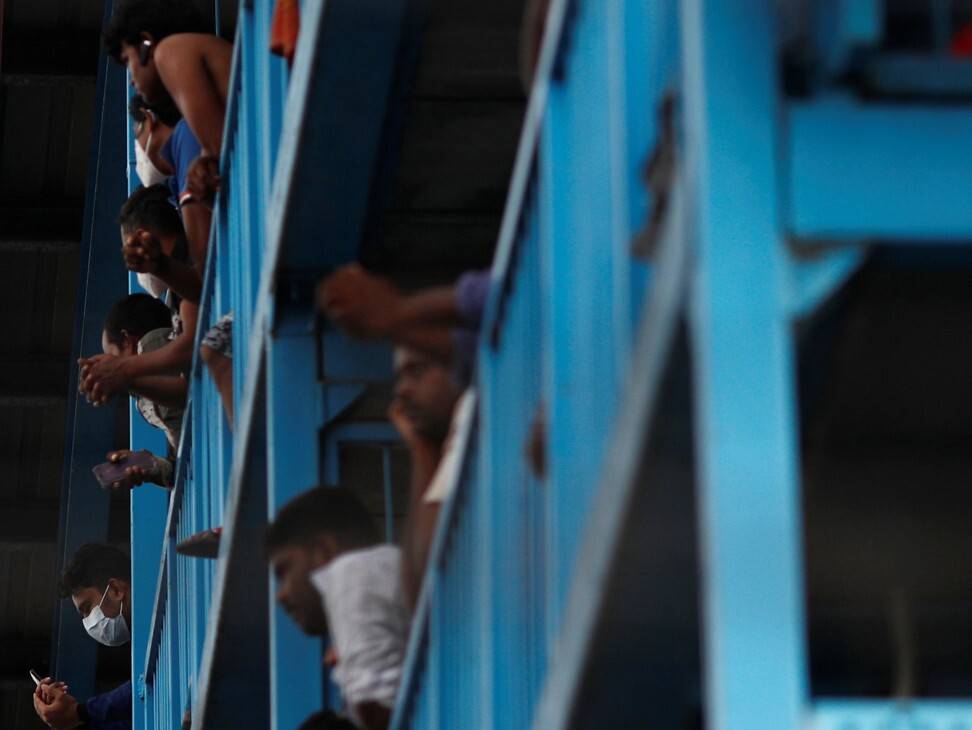 Workers from Bangladesh and India look out of their balconies at the S11 Dormitory on April 6, 2020. PHOTO: Reuters
"Even in the best of times, migrant workers have payment disputes and ... they may not have a Plan B or C in times of desperation," she said. "They are already working on the fringe and we don't want to push them past that point."
Manpower Minister Josephine Teo acknowledged that it was crucial to "raise standards" at worker dormitories, but pointed out that employers were worried about the costs of housing migrant labour and if end-consumers would accept that these costs had to be passed on.
"I hope the Covid-19 episode demonstrates to the employers and wider public that raising standards at worker dormitories is not only the right thing to do, but also in our own interests. 
We should be willing to accept the higher costs that come with higher standards," she said in a late-night Facebook post.
Meanwhile, activist groups have stepped up to help migrant workers, with a public Google Sheets document created to consolidate contributions from larger institutions and community partners.
One of the organisations, Project Chulia Street, will be distributing 38,000 care packages, containing necessities such as prepaid cards and hand sanitisers to migrant workers.
One Bag One Book and Migrant Writers of Singapore are also working together to provide essential items and facilitate communication with migrant workers to provide mental health support, given that other dormitories have implemented physical distancing measures, including stopping workers from interacting with those who live on different floors.
Tan from Home said he hoped the coronavirus outbreak could spark action by the city state to finally address the longstanding issues related to workers' lodgings.
"Singapore has benefited so much from enjoying the fruits of their labour while keeping their costs low," he said. "We owe it to them and their families to spare no effort to protect them."
For the latest updates on the coronavirus, visit here.
This article was first published in South China Morning Post.