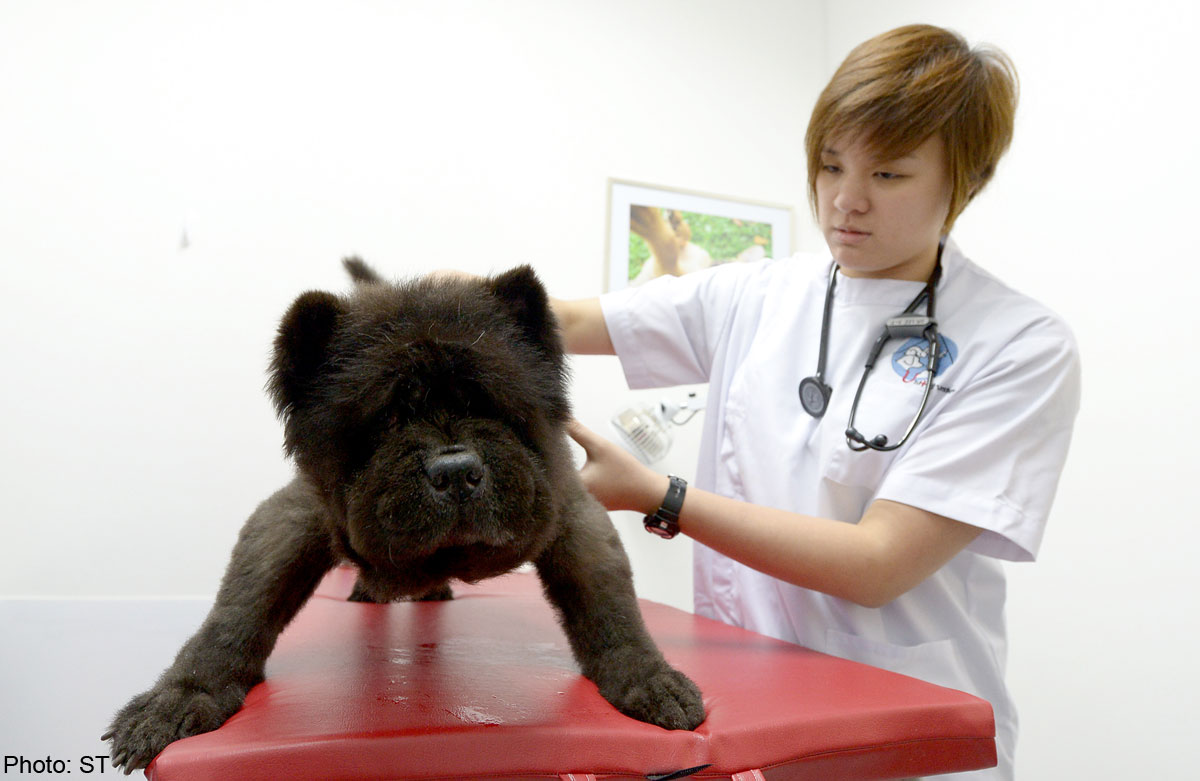 SINGAPORE - Calmly lying on a vet's table yesterday, 13-year-old chow chow Bear did not flinch as veterinary surgeon Chang Siew Yee inserted 10 acupuncture needles all over its body.
The dog lay there quietly for 30 minutes, before the needles were removed and it was up and about again.
Bear, which has osteoarthritis, is among the growing number of pets getting treated with traditional Chinese medicine (TCM), as more pet owners seek alternative remedies.
Vets here say that they are seeing a rising number of Singaporeans asking for treatments such as acupuncture and herbal remedies, particularly for dogs and cats.
Dr Kenneth Tong, committee member of the Singapore Veterinary Association, estimated that out of the 30 veterinary clinics open in Singapore a decade ago, only one or two incorporated TCM.
"Today, almost half of all clinics will have one form or other of TCM in their practice," he said.
Since he began offering TCM treatments four years ago, veterinary surgeon Lee See Yang has seen a 30 to 40 per cent rise in patients.
In the last month alone, United Veterinary Clinic in Ang Mo Kio, where he is a partner, has seen almost 30 patients.
Using traditional Chinese herbs such as eucommia bark and liquorice, Dr Lee specialises in creating oral supplements, especially for dogs suffering from skin conditions.
"Western medicine, when taken too regularly, will cause liver issues in the long term," said Dr Lee. "Chinese herbs need a longer time to take effect, but it is less damaging and the effects usually last longer."
In Bear's case, the treatment has been particularly effective. He has been going for weekly acupuncture treatments for the past six weeks.
The dog was bedridden initially, but after the first round of treatment, he began to regain strength in his legs in just three days, and is now able to walk.
However, Dr Lee stressed that TCM is not a substitute for Western medicine, but a complement.
Dr Tai Yesun from Nam Sang Veterinary Clinic said: "There is no better or worse between the two, they have to be used together to achieve maximum effect."
Dr Tai, who is also a certified veterinary acupuncturist, said that almost 80 per cent of her patients are treated with TCM together with Western medicine.
Not all animals can take TCM. For example, Dr Lee said that because vets do not sedate dogs for acupuncture and have to calm them down, dogs that are frisky and cannot sit still are not suitable for acupuncture.
Dr Tong noted that, nevertheless, TCM remains a "good form of alternative medicine, useful when Western medicine alone cannot achieve the desired results".
Not all dog owners are convinced about these unconventional treatments.
Mr Vivek Dinodiya owns two golden retrievers but has not caught on to this growing trend. "Putting needles in dogs without any form of anaesthesia is so inhumane. The dog must definitely feel the pain from it," said the 22-year-old student.
The use of TCM treatment in pets will be the topic of one of the seminars at the Pet Expo at Singapore Expo Hall 6A from Friday to Sunday, 10.30am to 9pm. Dr Oh Soon Hock from Animal Ark TCM Clinic will be leading the seminar.
dtang@sph.com.sg
Get MyPaper for more stories.