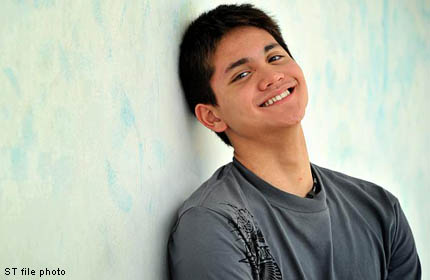 IT IS Thanksgiving week in the United States. But while his friends indulge in the usual feast of turkey and cranberry sauce, all Joseph Schooling can think of is the SEA Games.
More specifically, his entrance to the exclusive six-gold club, of which only three other local male swimmers can claim membership to, is on his mind.
A double-gold medallist at his SEA Games debut two years ago in Palembang, the US-based swimmer is looking to go six for six at the Dec 11-22 Myanmar Games.
"I'm feeling good and confident," said the 18-year-old schoolboy, in a phone call from Florida.
"Six golds is the target. I've always wanted to set a high target for myself at the SEA Games and I want to make that six golds a reality."
At the Wunna Theikdi pool in Napyidaw, he will compete in the 100m and 200m butterfly, 200m individual medley, and three relays (4x100m and 4x200m free, 4x100m medley).
His personal best timings in all three individual events are faster than the winning results of the previous Games in 2011.
Should he achieve his six-gold target, he will match the efforts of Tan Thuan Heng (1967), Alex Chan (1969) and David Lim (1985).
Lim, who will be Team Singapore's head coach in Myanmar, has no doubt that Joseph has the ability to pull off the feat.
He said: "He has always been a fierce competitor and a perfectionist.
"When he sets his mind on something, you can be sure he will go all out to achieve it."
Joseph's quest for perfection in Myanmar is one of the reasons why he dropped the 200m free from his race schedule, despite being the national record holder in the event. This, so he can focus on the 200m fly, his pet event, as both finals are scheduled one after the other.
Said the swimmer: "I'm dropping the 200m free to focus fully on the 200m fly, because they are scheduled back to back and I want to make sure I swim a good race."
Of all his events, he picked the 4x100m medley relay as the trickiest race.
While Singapore have dominated the freestyle relays by winning the 4x100m and 4x200m for the past three editions of the Games, the medley gold has proven elusive.
Said Joseph: "That event is going to be the last race of the meet and everyone is going to be really tired.
"The Indonesians have got a great history in that race but I feel that we have got a seasoned group of guys this time around and we are better this year. I have no doubt that we have the talent and determination to pull it off."
Besides it being his second appearance at the biennial competition, the Myanmar Games is also his first major meet since the Ministry of Defence's landmark decision last month to grant him deferment from national service.
But the swimmer, who participated in last year's London Olympics, is keeping cool about it.
He said: "I know it's my first big meet since the deferment announcement. I'm feeling happy and relaxed at the moment.
"When I'm in the pool, I don't think about anything like that. I'm still going to swim fast, swim my hardest, and focus on my races."
With his recent accolades, including a new 100-yard butterfly US high school record set earlier this month, he is fast rising as the star of the team.
But the University of Texas-bound student does not see himself as a leader of Singapore's 24-member squad just yet. He said: "We have older guys in the team to get the team together.
"For me, if someone asks for my help, I'll gladly oblige. But my main goal is to swim fast and help set the ball rolling for the team with good performances."
ugenec@sph.com.sg

Get a copy of The Straits Times or go to straitstimes.com for more stories.