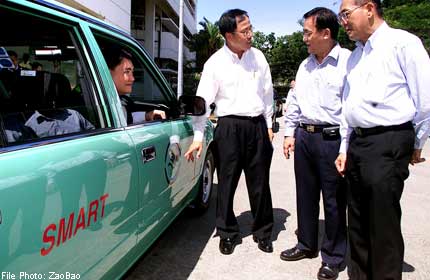 SINGAPORE - The Land Transport Authority (LTA) will not renew Smart Cab's taxi service operator licence (TSOL) when it expires on Sept 30 this year.
In a statement on Thursday, LTA said the "decision is based on a review of Smart's compliance with the taxi Quality of Service (QoS) standards and its ability to meet the minimum requirements for TSOL renewal''.
Smart, it said, has had multiple failures in its QoS performance over the past two-and-a-half years.
It noted that the company had consistently failed to meet the call booking cater rate standard throughout the entire period.
Said LTA: "Call booking is an important part of the taxi QoS standards as it gives commuters the assurance that they will be able to get a taxi for an urgent and/or important journey."
Smart has also failed in other QoS standards, such as accident rate and first inspection passing rate, which are a concern as this affects the safety of commuters.
LTA added that Smart has not made substantial progress towards meeting these TSOL renewal conditions.
The company has been shrinking its taxi fleet from 701 in January 2012 to 268 last month, instead of increasing it to meet the minimum fleet size requirement of 800 taxis.
It added that it will be facilitating the transfer of Smart's eligible taxi licences to other taxi companies.
The taxis taken over from Smart will not be counted towards the annual 2 per cent cap on the growth of each taxi company's fleet. This is to ensure that the overall taxi fleet does not decline as a result of Smart's exit from the industry.

Get The New Paper for more stories.