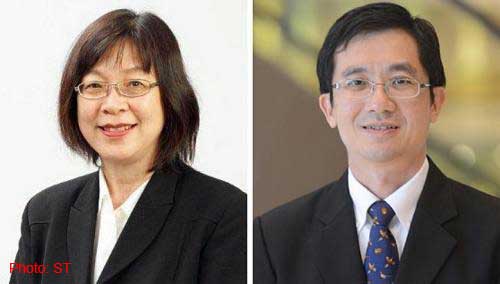 SOLICITOR-GENERAL Koh Juat Jong will retire at the end of this month after 31 years in public service, the Attorney-General's Chambers (AGC) said yesterday.
She will be succeeded by Senior Counsel Lionel Yee, who completes a one-year term as a judicial commissioner the same day, Jan 31. Mrs Koh, 54, a senior counsel, said she had decided to follow a path that would allow her to "devote more time" to her family and make them her "primary focus".
"I am hopeful that... I have been able to make some positive difference to those whose paths have crossed with mine... including the various litigants who have had their cases heard by me, the public service generally and the public as a whole," Mrs Koh said in a statement.
She added she had derived "immense" satisfaction from her work, which included working on policies, giving legal opinions, making judicial decisions and managing the courts.
A President's Scholar, she served in the Administrative Service from 1981 to 1986 at the Finance Ministry and began her legal career in 1989 as a state counsel in the AGC.
She was appointed a senior assistant registrar of the Supreme Court in June 1994, a district judge in the Subordinate Courts in October 1995 and a registrar of the Supreme Court in November 2003 before returning to the AGC as Solicitor-General in April 2008.
It was in this role that she oversaw the institution's growth from 250 officers in 2008 to more than 500 today, the statement said.
She was awarded three National Day Awards - the Public Administration Medal (Gold) in 2005, Long Service Medal in 2007 and Public Administration Medal (Gold) (Bar) in 2011 - for her contributions to the public service.
Attorney-General Steven Chong said Mrs Koh had been a "stalwart member" of the AGC family.
Mr Yee, 47, returns to the AGC to take up the post from next month, having previously held various roles there, including that of Second Solicitor-General and director-general of its International Affairs Division.
He said his time spent on the Bench had "enriched" him professionally and will stand him "in good stead" for the post.
Chief Justice Sundaresh Menon said in a Supreme Court statement that Mr Yee had completed his stint as a judicial commissioner with "dedication, commitment and honour" and offered him his best wishes in the new appointment.

Get a copy of The Straits Times or go to straitstimes.com for more stories.