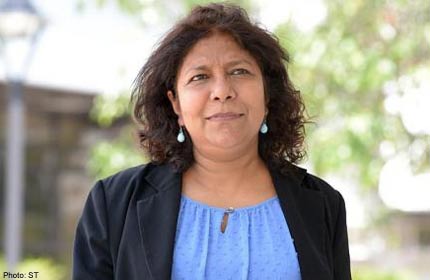 SINGAPOREANS should do some soul-searching on whether some of the initial responses to the riots showed latent prejudice against guest workers here, said the president of human rights group Maruah, Ms Braema Mathi.
Ms Mathi was sharing her views yesterday with the Committee of Inquiry (COI) into the Dec 8 riot in Little India.
Foreign workers are here to stay, she added, and a healthy and open approach must be developed to deal with this reality, including at the level of schools.
Taking the committee back to the immediate days following the violence, Ms Mathi said reactions to the violence ranged from "being bigoted to being compassionate", with some labelling groups of foreign workers as a mob.
"We cannot fluctuate from a moment of dehumanising them, and then suddenly... we humanise the person," she told the inquiry. "It has to be consistently borne from a value system."
The law to enforce public order that was subsequently implemented in Little India, was also a case of "too fast, too quick, to quickly put it all on alcohol", said Ms Mathi, who asked what this signalled to migrant workers.
Instead, she recommended that frontline officers who deal with foreign workers regularly be given soft-skills training, such as an understanding of South Asian cultural norms, language and behaviour.
She cited the example of an incident that happened in January at Rex Cinema, which is located near Little India.
She said police officers responding to a case then had used the word "dey" (Hey, in Tamil) to address the crowd of South Asian foreign workers, rather than "thambi" (younger brother) or "annai" (older brother).
Some 150 angry Indian movie-goers had refused to leave the compound that night, after a Tamil movie's premiere was postponed.
Some had been workers who had taken the day off specially to catch the movie.
"I think the guys in uniform will be the most important folks, the most neutral folks, to help us in bridging (communities) because they are walking the streets every day."


More work also needs to be done in schools to inculcate a value system from a young age, added Ms Mathi.
"(Education) Minister Heng Swee Keat, when he first came to Parliament, said values are the most important thing," she noted. "Are we doing enough value training on how we treat guest workers? I think this is the biggest area we have to work on."
Maruah is one of the non-government groups invited by the COI to share their views on what led to the riot, and what more can be done to help prevent another outbreak of violence.

Wedding planner K. Vataramathi, who had volunteered to appear before the inquiry to share her thoughts on the issue, also suggested that there should be better integration of foreign workers.
This could be done, for instance, by having a more racially diverse mix of shops in Little India, she added.
Interacting with Malay and Chinese merchants in the Indian enclave could help migrant workers pick up local languages and "would be more representative of Singapore society", added Ms Vataramathi, who used to have an office in Little India.
She also cited the example of successful prata shops opened by Chinese entrepreneurs in places like Australia.
"In Singapore, our multiracialism is much appreciated," said the 53-year-old. "I think in these foreign workers, we have to instill that too."
yanliang@sph.com.sg

Get a copy of The Straits Times or go to straitstimes.com for more stories.