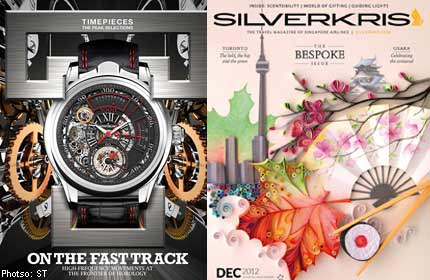 SINGAPORE - SPH Magazines Pte Ltd ("SPH Magazines") has clinched four awards for its custom-published titles at the APEX 2013 Awards. Into its 25th year, the APEX Awards for Publication Excellence are based on excellence in editorial content, graphic design and the ability to achieve overall communications excellence.
2,400 entries from around the world were submitted and despite intense competition, SPH Magazines picked up a Grand Award and three Awards of Excellence. This is on top of the seven awards it had won at the 2013 Content Marketing Awards earlier this month.
SilverKris, the travel magazine of Singapore Airlines and a consistent winner at the APEX Awards, bagged the Grand Award in the Magazines & Journals category. The judges commented: "Consistently high quality is the hallmark of this magazine.
Each issue gives the reader an elegant visual tour. Striking, dynamic photos are well captioned and described. The layout is interesting, with varied spreads (which still maintain a consistent theme throughout) and carefully arranged, concise copy to keep the reader involved. The mix of short items and tightly written features play their part as well. The whole exceeds the sum of its parts."
In the Custom-Published Magapapers & Newspapers category, previous winner Singapore Health, a bi-monthly publication of the Singapore General Hospital and the SingHealth Group, won an Award of Excellence.
Two other custom-published titles picked up their first APEX awards. In the New Magazines & Journals category, SO/HO, a quarterly bilingual lifestyle magazine published for Far East Organisation and targeted at affluent, independent and well-travelled readers with a penchant for indie brands, bagged an Award of Excellence. SPH Magazines first published SO/HO in September last year.
ASCENT, a quarterly publication of Ascendas that underwent a content and design revamp in July last year, picked up an Award of Excellence in the Most Improved Magazines & Journals category. Ascendas is Asia's leading provider and innovator of business space solutions and its real estate portfolio includes science, IT, business, high-tech manufacturers and customised developments for a host of industries.
At the MPAS Magazine Awards 2013 ceremony held last night at Ramada Singapore, luxury titles published by SPH Magazines also won accolades. Organised by the Magazine Publishers Association of Singapore (MPAS), the awards recognise the best magazine publishing efforts and professionals in Singapore.
The Peak Selections Timepieces was named winner for Best Use of Photography/Illustration. Timepieces, an annual publication, showcases some of the world's most exquisitely crafted timepieces, and offers exclusive insights into the dynamic world of horology.
The Peak's Gourmet & Travel received a merit award in the same category. Gourmet & Travel is a definitive and authoritative gourmet guide for highly discerning palates.
Mr Dennis Pua, Managing Director, SPH Magazines, said: "These achievements are a testament to our teams' sterling effort and commitment in producing top quality publications; and affirms the trust and confidence our business partners have placed with us."
SPH Magazines' commitment and promise is to deliver the best to meet the diverse needs and interest of readers and advertisers.