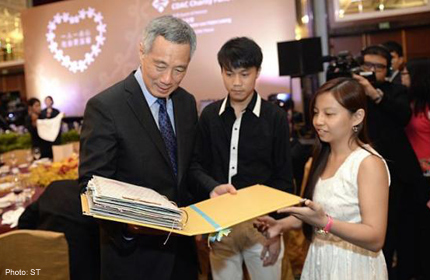 FACED with mounting debts, Mr Lai Siew Kuan turned to the Chinese Development Assistance Council (CDAC) when he lost his machinist job during the financial crisis of 2008.
The council helped by finding and subsidising skills-upgrading courses for the sole breadwinner of a family of four, and helped match him to a job.
Now a sales executive, Mr Lai, 41, is paying it forward by volunteering at the CDAC. His two sons, aged 13 and 12, have joined him in volunteer work, which includes distributing rice to low-income families.
"Given how much they've helped me, not giving back - however I can - would be ungrateful," he said.
Mr Lai's story was cited by Prime Minister Lee Hsien Loong last night, when he noted that the spirit of giving back was alive and well at the CDAC.
Community self-help groups play a key role at a time of changing needs, he said, noting that an ageing population required stronger social support, and poor families faced challenges from the impact of globalisation and technological advances.
"Self-help groups keep the pioneering spirit of 'mutual help' alive, enable every beneficiary to strive for a better future, and foster a society where everyone, including those who have benefited, contributes," he said in Mandarin at the CDAC's charity dinner at Shangri-la Hotel, where $17.8 million was raised for its Endowment Fund.
"From CDAC and the lives they have touched, we can see that the spirit of mutual help, self-help and giving back is alive and well," he added. "This is what we stand for in Singapore."
Mr Lee thanked those who make monthly contributions to the CDAC, regardless of the amount they give. This was an important gesture which "shows that we all bear a shared responsibility to each other".
The CDAC supported 17,000 low-income households last year.
Through its "holistic family-centric approach", it has helped to nurture students' potential, and helped their parents become more employable through skills upgrading, said Mr Lee.
In doing so, it has also helped strengthen family resilience.
Yesterday's fund-raising dinner, only its second since the CDAC's inception in 1992, and attended by 820 guests, came against the backdrop of rising costs associated with running its programmes. This has outpaced the contributions it receives.
Its operating deficit - which rose from $5.7 million in 2012 to $6.4 million last year and is projected to be $7.5 million this year - has been funded by government grants and CDAC reserves, including its Endowment Fund.
The $17.8 million sum was raised from 183 donors - individuals, organisations, foundations and clan associations. In addition, the Government has pledged a one-time $10 million grant over the next five years.
The injection of funds will enable the CDAC to expand its outreach and initiate more programmes, said its Board of Trustees chairman Chua Thian Poh.
With these new initiatives, the number of household beneficiaries is expected to rise by 25 per cent to 21,000. The CDAC has raised the income ceiling of some of its help schemes to a monthly household income of $1,900 - up from $1,500 previously.
It also hopes to set up more inschool student care centres - its first was launched in Bendemeer Primary earlier this year - and expand its outreach to the elderly through information-sharing sessions conducted in Mandarin and in dialect.
waltsim@sph.com.sg

Get the full story from The Straits Times.